While chowing down on a tempura roll slathered in wasabi and soy sauce, ever wonder how sushi, a food so different from standard American fare, became so popular in the U.S.?
The origins of sushi can be traced back to 3rd and 4th century A.D. Chinese writings, which described using fermented rice as a practical means to preserve fish. The dietary restrictions of Buddhism helped sushi spread to Japan, as people turned to fish in place of meat. The Japanese have credit for first eating sushi as a meal, with the fermented rice and preserved fish together.
The preparation of sushi changed drastically over the millennia, with the levels of pickling decreasing before being phased out altogether and swapped out for fresh, raw fish. By the 1920s, nigiri sushi was being served all over Edo (modern day Tokyo). Refrigeration allowed it to spread across Japan by the 70s, while it began to make inroads across the Pacific.
It's safe to say the 1960s were a whirlwind of change in the United States. Popular thinking about a laundry list of issues was changing, and amidst this perfect storm of social shift was a change in taste—fashion, entertainment, and food. In 1966, a small sushi bar opened in the upstairs of a building in the Little Tokyo section of Los Angeles. Downstairs they served more accessible Japanese dishes like tempura and teriyaki, while upstairs offered sashimi, nigiri, and all-around traditional sushi. The restaurant, called Kawafuku, was the first sushi restaurant in America that we know of, and the beginning of a national love affair.
Sushi's journey stateside started in 1964, when Noritoshi Kanai moved to the U.S. He arrived to serve as general manager of Mutual Trading Company, a Japanese import business in Los Angeles. Kanai wanted to further spread Japanese cuisine in the country, which had thus far been limited in its scope. Kanai, along with his American business partner Harry Wolff, paired up with sushi chef Shigeo Saito to open Kawafuku. Saito's wife was the only waitress, and while it was initially popular with Japanese businessmen, they brought their American business partners. The restaurant became a Los Angeles hot spot. Movie stars took up the "healthy food" trend, and pushed sushi mainstream.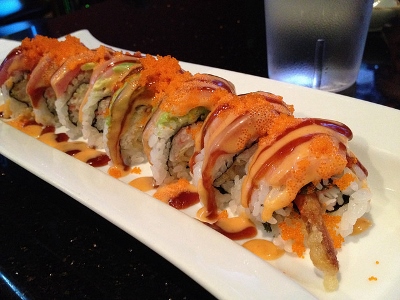 Flickr/Ray Bouknight
More restaurants opened in California and then other major cities, and things really heated up when sushi chef Tokyo Kaikan invented the California roll in the 1970s. This opened the door to experimentation and customization to the American palate, and sushi spread across the U.S. Menus evolved to include regional tastes like spicy jalapenos, cream cheese, and lots of toppings. Although some authentic sushi establishments remained, concern grew over the experience of chefs and the quality of their food. Many restaurants cut corners of Japanese tradition, using regular rice rather than sushi rice, and not rigorously training their chefs. Sushi schools opened in an effort to better educate chefs, who came from all ethnicities and backgrounds.
These concerns remain, with the popularity of sushi holding fast and the number of Japanese chefs willing to work in the U.S. diminishing. Visas are hard to come by, and jobs are available in Japan. Although there are over 4,000 sushi restaurants in America, only a small proportion have Japanese owners. Many great American sushi chefs are not of Japanese heritage, but they typically are well-trained in sushi technique and customs, a process that is becoming less and less common.
But Americans don't seem to mind, and now enjoy sushi everywhere imaginable, from fine dining establishments to the airport. Menus range from traditional sashimi to conveyer belts loaded with deep-fried rolls stuffed with steak. Sushi has transformed into a new American food medium, and even if it often deviates from its roots, it is still a perfectly portable meal that's open to creativity and enjoyed by food lovers everywhere.
Laurel Randolph is a food and lifestyle writer hailing from Tennessee and living in Los Angeles. She enjoys cooking, baking and candlestick making. Tweet at her face: @laurelrandy.