Do you believe that baking good pot into crappy grocery-store brownie mix is like killing a unicorn with a bomb? Do you consider the terroir when deciding exactly which variety of marijuana—you have a selection at hand at all times—you'll smoke next?
If so then you just may be a cannaisseur—that is, an enthusiast of pot-laden foods and pot-and-food pairings. Lucky for you, the trend towards pot-focused cuisine takes its cues from the delicious path paved by wine and cheese. And it's taking off.
Recreational marijuana use is now legal in Colorado and Washington, and will be soon in Alaska and Oregon. But pot-infused dining remains on uncertain legal ground thanks to provisions banning "open and public" use of the drug. There have been crackdowns on smoke-easys in the Colorado Springs area, and hundreds tickets have been issued for open use in Denver.
At the same time, the AP reported that pot dispensaries are selling plenty of weed-based cookbooks and foods with pot infused one way or another—there's clearly consumer interest in the trend. And of course, college students have been baking marijuana into brownies for decades. But these culinary offerings go much further than your average batch of sticky icky-laced Betty Crocker dessert, covering ground from pizza to high-end entrees.
Here are five places to enter into a never-ending, munchie-causing-and-relieving cycle by eating foods laced with marijuana, or those paired with pot for ultimate tastiness. As laws change around North America, we can only expect this list will grow.
1. Hapa Sushi in Boulder, CO and Denver, CO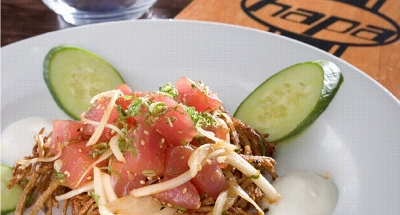 hapasushi.com
Is there a technical name for a sommelier of weed? At this Colorado sushi restaurant, the menu offers suggestions for sushi-and-pot pairings—for example, Pakalolo Shrimp with Pakistani kush.
2. Samich Truck in various locations
From the people behind plant-extraction gadget Magical Butter comes the Samich Truck, a food truck serving a variety of marijuana-infused dishes. The menu includes offerings like Kushie Tomato Soup—watch for the truck at pot-themed events in the Pacific Northwest in order to try that and other dishes.
3. Mega Ill Cafe in Vancouver, BC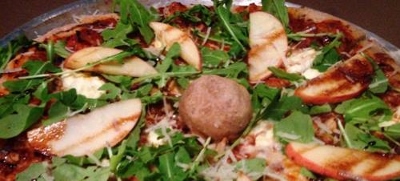 megaill.com
If you have a prescription for medical marijuana and bring in your own weed, this pizzeria will bake you a pie with your own pot-infused sauce. The infusion is done through oil extraction, High Times reported, and conveniently enough the Mega Chill dispensary and lounge is located next door.
4. The Adagio in Denver, CO
Giving new meaning to "happy hour," this restaurant provides samples of marijuana paired with standard apps like bacon-wrapped chicken bites during specific times each day. Visit during happy hours—which start at 4:20PM, of course—to give it a try, complete with tasting notes from the grower. Or stay in the "bud and breakfast" and enjoy the wake-and-bake breakfast.
5. Sinsemil.la in New York, NY
This underground supper club has higher aspirations that getting you baked. "Marijuana varietals are tested not just for their organic properties," the website reads, "but specifically to balance the flavors of each dish and for their psychoactive properties throughout the flow of the dinner." You can feel very fancy about your pot-laced dinner while eating dishes like potato gnocchi with White Widow buttered wild mushrooms and fresh Diesel.
Terri Coles is a freelance writer living in St. John's, Newfoundland. She's a recovering picky eater.