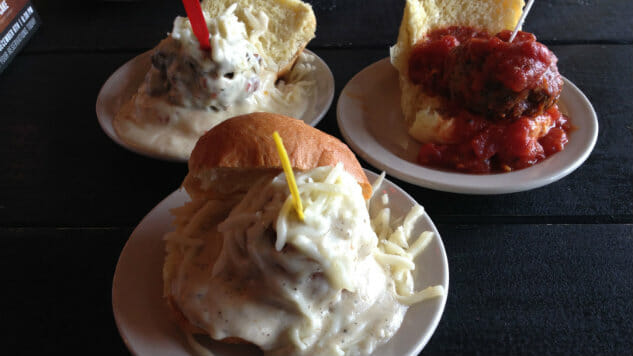 Most of us think we know meatballs: beef swimming in a crockpot of sweet barbecue sauce, or even a really good crispy sausage ball appetizer — we think we've seen their range. The truth is that meatballs aren't just a way to stretch the ground chuck a little or a way to fill your spaghetti with protein — they are a way to vary spice, texture, and flavor in a perfect spheroid of surprise.
I recently visited Packhouse Meats in Newport, Kentucky, which makes meatballs the centerpiece of their menu, with five standard "packs" or packed meats, and one daily special per day. It was among the jerk chicken and jalapeno pork meatballs that I realized that the breadth of meatball-dom was far wider than I ever imagined. Packhouse has a variety of housemade sauces and gravies they use to make every meatball experience unique; I particularly favored their parmesan cream sauce, even when not served on pasta. I'm sure other restaurants have taken and elevated the meatball concept, but this one really clued me in to the possibilities.
Meatballs are the perfect party food for your holiday entertaining: they don't crumble, they are a single serving size, and they are customizable for your gluten-free, paleo, vegetarian, and vegan friends. During the stressful holidays, you can simply precook, label your trays for the friends with special diets, and heat in the oven before serving.
Here are some amazing meatballs that push the envelope and class up the humble spaghetti-topper to the point of a real art form.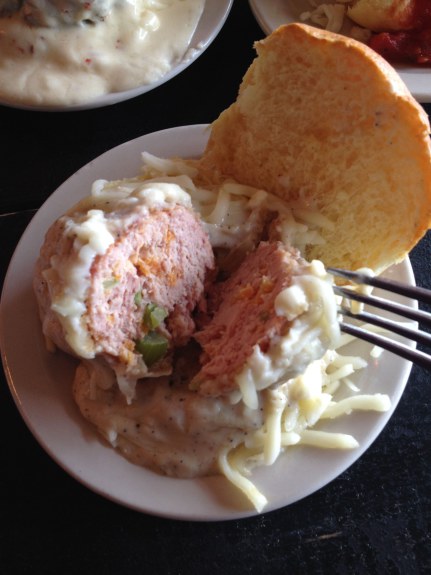 1. Vegan Cauliflower Quinoa Meatballs
While not at all meat-y, these quinoa and cauliflower balls are well spiced, hearty, and a wonderful way to get some serious nutrition while snacking at a party. The original poster did them on top of pasta with marinara, and the garlic and oregano seem to match the brightness of a tomato sauce.
2. Apricot Basil Breakfast Meatballs
Packhouse does a "brunch" meatball most weeks on Sundays, and I found this amazing apricot basil pack that could create an exciting prep-ahead addition to your holiday breakfasting. If you aren't in it for the Whole30/Paleo factor, these would be even better with a little side of maple syrup to dip.
3. Salmon Baked Meatballs with Avocado Cream Sauce
I recently became an all-out salmon lover, and when dipped in this avocado sauce, these fishy, crunchy mounds really come to life. Make sure you get all the little bones out of your salmon before you shape them, but other than that, this really isn't a hard dish to pull off.
4. Turkey Cranberry Apple Meatballs
If you crave the flavor of Thanksgiving throughout the season, these fruit-accented turkey meatballs are a unique spin. All that leftover frozen turkey can go to great use and will conjure up the memory of being blissed out in front of the football game. Also good for using whatever parts of the turkey aren't as popular around your house, dark meat and light meat are equal in the meatball universe.
5. Lobster Risotto Arancini
While more of a rice ball than a meatball, this lobster risotto arancini packs all the compact convenience of a meatball and looks incredibly classy when people figure out you have actual lobster in there with the risotto. Anyone who favors cheese can make these their own with a sharper or milder cheese choice or a nice light cream sauce to round the whole cheese symphony out.
6. Moroccan Lamb Meatballs with Lemon and Cardamom
I think of gyros when I think of lamb, and these Moroccan meatballs combine some of the most delicious Mediterranean spice palates. Their use of fresh ginger and cilantro make them super spicy but not in a peppery kind of way. Use this to create a dish for an international-themed party or just to impress all the people who just bring fruitcake to the company end-of-year shindig. These, served along side some crispy fried falafel, are well paired with everything from tahini to tzatziki.
7. Broccoli, Almond, and Parmesan Balls
Another non-meat ball, these vegetarian cheese balls pack the hearty health benefits of eating your greens and the nutty crunch of almonds with all the crispiness of parmesan – a great mixture of textures instead of just another pile of steamed veggies. Substitute other veggies but make sure you pick something pretty sturdy and fibrous – it gives the dish holding power.
Laura Leavitt is a writer and teacher in Ohio. She blogs at www.recipeinabottle.com and has written for The Billfold, Roads and Kingdoms, and The Financial Diet.