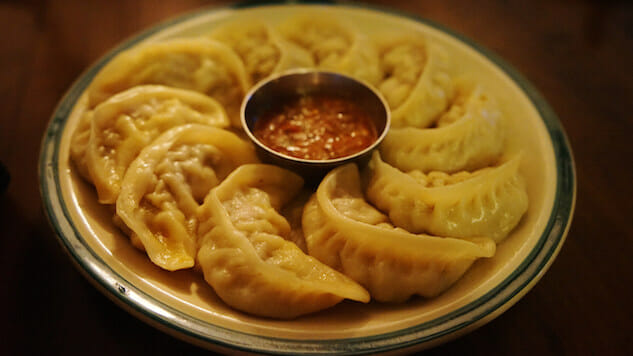 Nepal, home to eight of the globe's 10 tallest mountains, draws a committed crowd of adventure travel enthusiasts each year. From first-time climbers to veteran mountaineers eager to ascend Mount Everest, the world's tallest mountain, the journey universally begins in Kathmandu, Nepal's capital city. Home to some of South Asia's most eclectic cuisine, from Bourbon-drizzled ostrich to Thakali set platters, Kathmandu is a gastronomist's hidden delight. Before climbing the slopes, these are the gustatory gems that are most likely to exceed your expectations in the Himalayan country.
1. Momos
Embers, Krishna Galli, Patan
The most ubiquitous food item in the Himalayan country is the momo, a delicious dumpling brought over from neighboring Tibet. Warm, fresh, and packed with diverse fillings from chicken to spicy vegetables, momos leave you craving more even when you're not hungry. The wrappers can be steamed or fried, but the steamed varieties definitely offer a fresher (and healthier) base for the innards—especially if the insides are minced meat. The Nepalese momo isn't a complete wild card on the plate, either; anyone familiar with other Asian cuisines might recognize it as the cousin of China's baozi or the Korean mandu.
2. Thakali platter
Tukche Thakali Kitchen, Gairidhara, Kathmandu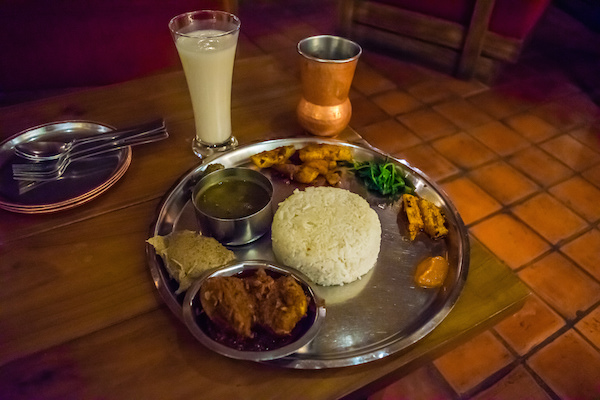 Photo by Byron Gray
The Thakali ethnic group originate from the upper Mustang region in Nepal, but luckily some of their specialties are available to try in Kathmandu. From the ever-present buckwheat that is common in the region, to the liberal use of timbur (Szechuan pepper), even Nepalis find Thakali dishes a local novelty. I loved eating kachhyamba chips ("buckwheat finger-fries") in a tin container, dipped into a peppery sauce of tomato and timbur. To truly appreciate what the Thakali eat at home, however, try a large plate of the set platter, featuring a base of rice, daal (lentil soup), radish pickles, saag (spinach), gravy chicken, timbur aloo (spicy mashed potatoes), black daal (lentils), and aloo tareko (fried potatoes). The classic Thakali flavors come across as bold and vibrant, a fresh kick after a week of ordinary dhaal bhat fare.
3. Bourbon Ostrich
The Old House, Durbar Marg, Kathmandu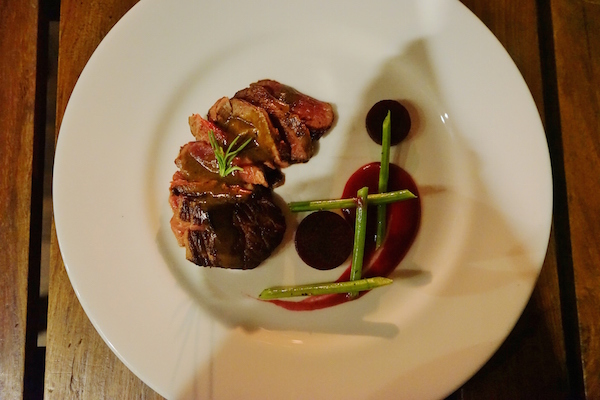 Photo by Sabrina Toppa
Nepal is one of the best places to try unusual proteins like ostrich, a game meat served as a main or stuffed inside momos at some Nepali eateries. At The Old House restaurant in Kathmandu's Durbarmarg neighborhood, dining inside the beautiful courtyard garden with its twinkling fairy-lights gives the meal a definite romantic ambience. Ostrich cuts of meat are typically lean, succulent, and less fatty than beef. The Old House's Bourbon-drizzled ostrich is sure to get even the most unadventurous eater in your crowd a little curious.
4. Drums of Hell
Embers, Krishna Galli, Patan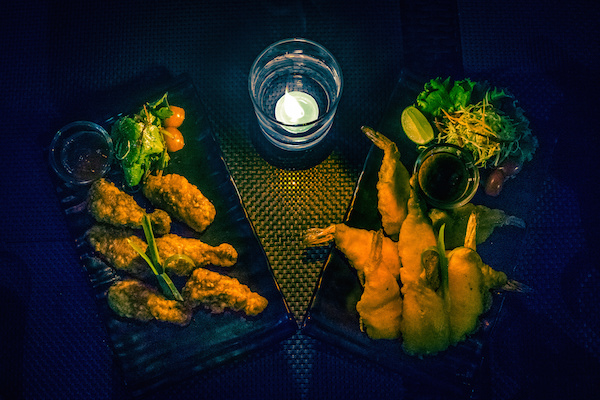 Photo by Byron Gray
Embers sets itself apart with more than just its catchy name, beginning with venue's trendy yet relaxed modern aesthetic. Weary western travelers looking for a taste of home will appreciate the peppery zest of their "Drums of Hell" chicken wings and crunch of their freshly battered prawns. Like its best continental counterparts, Embers prioritizes flavor over grease and offers a spicy garlic sauce for anyone needing an additional kick of heat.
5. Angels on Horseback
The Ship Restaurant, Thamel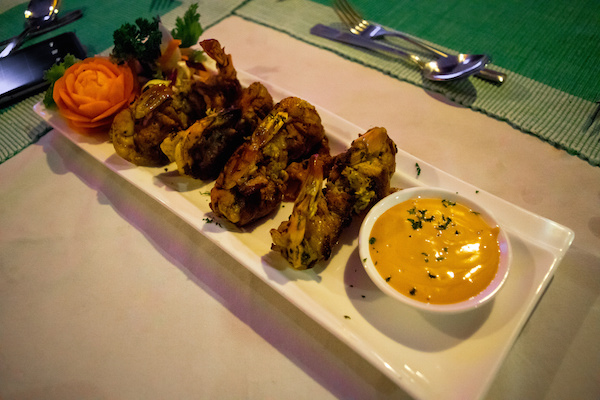 Photo by Byron Gray
Located in the bustling backpacker-friendly Thamel neighborhood, the seafood-friendly Ship restaurant can whet anyone's appetite for continental food in the Himalayan country. The venue's Angels on Horseback are bacon-wrapped marinated prawns that are well seasoned and singed. With a menu that's partly imported, it's easy to question how Nepal — a country not exactly known for its coastlines — might fare in terms of seafood, but The Ship's presence should put most travelers at ease. Options like the Norwegian salmon are a great bet for anyone craving coastal fare.
6. Pizza
Fire and Ice Pizzeria, Thamel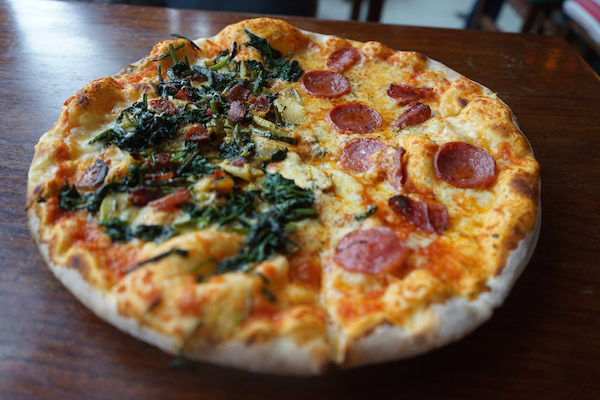 Photo by Sabrina Toppa
Ask any resident of Kathmandu where to find good pizza in their country, and all signs will invariably direct you to the mouth of Thamel, a 24-hour party district in downtown Kathmandu. While pizza may not be the first food one associates with Nepal, for the homesick, Fire & Ice Pizzeria draws a heavy crowd. The pizzeria opened in the '90s by an Italian expat from Naples, who gave Nepalis some of their first tastes of Margherita and quattro Formaggi pizza. Other top pizza contenders in the city are Roadhouse Cafe, which offers stunning outdoor rooftop seating, and Pronto Pizza Nepal.
---
Sabrina Toppa is a New York-born writer whose work has appeared in The Guardian, TIME, NBC News, VICE, and other outlets. Follow her on Twitter @SabrinaToppa.