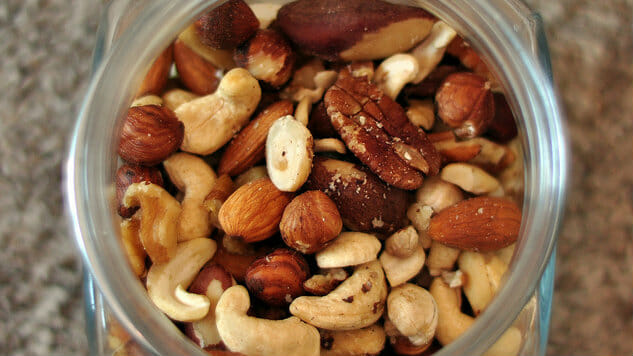 Step aside, peanut butter: you've got some major competition of late.
It's hard not to notice the shift that's taken place on the peanut butter aisle of every grocery store in America over the last few years. First, there started to be more peanut butter varieties as organic and natural options hit the scene. Then, slowly, different types of nut butters started to make their way onto mainstream grocery shelves.
Before long, familiar names like Jif and Skippy were accompanied by brands such as Justin's and MaraNatha. The question was no longer, "Creamy or crunchy?" Instead, consumers have their pick of nut butters – peanut and otherwise – with characteristics like "raw," "powdered" (thanks, PB2) and more.
Similar to the shift from dairy milk to non-dairy options, peanut butter has officially been compromised. For those of us who love variety and are always down for a new food trend, though, this is great news. But in a crowded market, what to try? Here are a few of the most delicious options.
Almond Butter
Barney Smooth Almond Butter
Y'all. This stuff is straight up delicious. There are lots of tasty flavor and texture options (and there's a version free of sugar and salt called Bare Butter), but Barney's original almond butter is tough to beat. It's made with high-quality almonds and the almonds are blanched after roasting (a unique quality in the almond butter world that gives Barney Butter an ultra creamy texture) and all varieties are gluten and peanut free. Plus, it's more nutrient-packed than peanut butter. Enjoy it on, well, just about anything – including a spoon.
Other Great Almond Butter Picks
Justin's Maple Almond Butter
MaraNatha All Natural No Stir Almond Butter
365 Brand Almond Butter (Whole Foods)
Sunflower Seed Butter
Naturally Nutty Cinnamon Vanilla Sunflower Butter
What do you get when you combine sunflower seeds, hemp seeds, and flax seeds? Pure deliciousness, as it turns out. Naturally Nutty is a company that was started by a vegan mom looking for ways to make great-tasting, healthy, organic foods for her kids, and this sunflower seed butter is proof she was able to succeed in that goal. The cinnamon and vanilla add make for a wonderful flavor profile as well. Try this on toast or in oatmeal!
Other Great Sunflower Seed Butter Picks
SunButter Sunflower Butter
Trader Joe's Sunflower Butter
Cashew Butter
Once Again Organic Cashew Butter
Cashew butters are naturally sweet, making them ideal ingredients for desserts, but they're also great for sauces like curries. Once Again Organic Cashew Butter strikes an addictive balance between sweet and nutty, and it's almost totally creamy but still includes a bit of texture from the ground nuts, which I enjoy. This variety isn't as oily as some other cashew (and other nut) butters, which makes it easier to handle when first opening the jar.
Another Great Cashew Butter Pick
Artisana Raw Organic Cashew Butter
Peanut Butter
Trader Joe's Crunchy Salted Peanut Butter with Flax & Chia Seeds
I find that just about anything from Trader Joe's quickly becomes one of my favorite foods, and this peanut butter is no exception. It's definitely a grown-up take on peanut butter – jam packed with chunkiness, and with an interesting texture thanks to the flax and chia seeds – but I adore it. This is hands down the go-to peanut butter at my house, and it makes for an epic PB&J (especially with super hearty, seedy bread).
Other Great Peanut Butter Picks
NuttZo Original Peanut
Peanut Butter & Co. Smooth Operator
Smucker's Natural Creamy Peanut Butter
Pecan Butter
Big Spoon Roasters Peanut Pecan
True, this isn't a pure pecan butter – it incorporates peanuts as well – but it's just too good not to make the cut. Big Spoon Roasters are based in Durham, North Carolina, so it's no wonder they've mastered the recipe for this oh-so Southern nut butter. Big Spoon Roasters Peanut Pecan lives at the delicious intersection of rich, buttery pecan flavor and classic peanut flavor that – with a little sea salt and honey – makes for an irresistible spread.
Another Great Pecan Butter Pick
Artisana Organic Raw Pecan Butter
What are your favorite nut butters? Tweet us your faves at @PasteFood.
Main photo by Adam Wyles and s58y
Anna Keller likes the occasional fancy, over-the-top meal served on a white tablecloth, but will be just a happy with dinner from Taco Bell (she and her husband were there the day they launched their new breakfast menu.) For her, food is about the experience, the story, the tradition, and the community it provides, and it takes a starring role in her blog, where she shares recipe creations and recreations—usually of the baking variety.