An R2-D2 Star Wars Plane Will Fly the Skies Before the Release of The Force Awakens
Geek
Video
Star Wars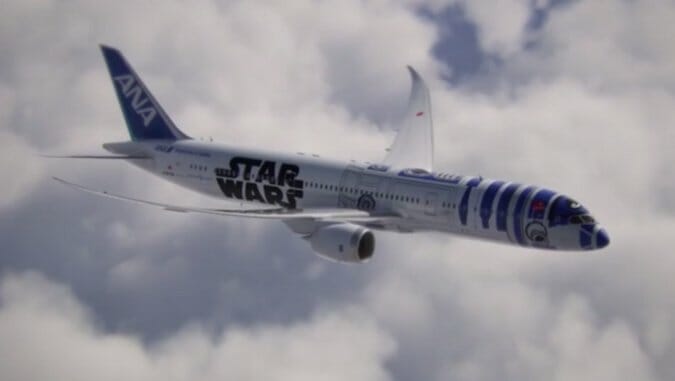 How about this for some news? Before the world premiere of J.J. Abrams' The Force Awakens later this year, Star Wars fans and travelers alike will be able to fly the sky in true fashion with a new R2-D2 jet from All Nippon Airways. The Japanese airline will paint the exterior of their Boeing 787-9 with the classic blue and white design patterned after everyone's favorite droid. Now if only they could work out a way to fly us to a galaxy far, far away. Maybe NASA should be painting rockets the same color?
According to an official press release from ANA, the plane is kind of a big deal. Although not the first time an airline has been used to promote a property, this will be the first Star Wars character to be turned into a sky-flying transportation vehicle. The airline didn't just pick R2-D2 because of his adorability either. According to the airline, the miniature robot "has a reputation for strong, reliable service,— one of the hallmarks of ANA's 5-star quality service." Sorry C-3PO but you do seem to fall apart more often than not.
The plane will be the first in a five-year plan between ANA and Disney, which should see the inclusion of more characters on the side of jet planes. Of course, we're hoping they bring in some Star Wars-themed airline food as well. How does a nice Jawa beer sound?
To get a full look at the design for the R2-D2 flyer, check out the video from All Nippon Airways above.