Fox Moves Release Dates for Freddy Mercury Biopic, X-Men Spinoffs, More
Photo by Nick Delaney/Twentieth Century Fox
Movies
News
20th Century Fox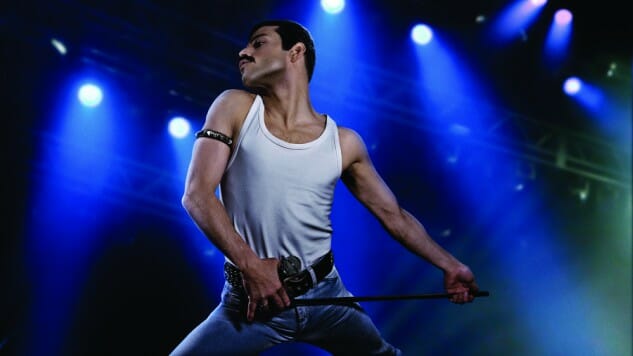 The highly anticipated Freddie Mercury biopic Bohemian Rhapsody, starring Mr. Robot Emmy winner Rami Malek, has a new release date, according to Variety. Fox has moved the release date up from Christmas Day to Nov. 2, 2018 for a perfect awards season launch, meaning next year's Best Actor Oscar race could potentially see Malek as a serious contender.
The news comes after Fox fired Bryan Singer from directing the project after sexual misconduct allegations came up, replacing him with Dexter Fletcher, a director with limited credits. He's mostly known as an actor and can be seen in the forthcoming Margot Robbie thriller Terminal.
Fox's X-Men spinoff titled The New Mutants, starring Anya Taylor-Joy (Thoroughbreds), Maisie Williams (Game of Thrones, Charlie Heaton (Stranger Things) and Alice Braga (The Shack), has been moved back even further to Aug. 2, 2019 from its original Feb. 22, 2019 release. Meanwhile X-Men: Dark Phoenix, which follows the events of last year's X-Men: Apocalypse, was moved from its Nov. 2, 2018 release date to Feb. 14, 2019. Dark Phoenix centers on Jean Grey and the terrifyingly powerful Phoenix force, starring Game of Thrones' Sophie Turner as Jean Grey, along with returning X-Men actors James McAvoy, Michael Fassbender, Jennifer Lawrence, Nicholas Hoult, Tye Sheridan, Alexandra Shipp, Kodi Smit-McPhee and Evan Peters, with Jessica Chastain as the main villain.
Roxanne Dawson's faith-based drama, titled The Impossible (though Deadline refers to the film as Breakthrough), starring Chrissy Metz and her recently announced costar Topher Grace, has been moved to April 12, 2019.
The adaptation of Savages author Don Winslow's The Force with Logan's James Mangold directing was also moved from March 1, 2019 to an unscheduled date. The studio instead has moved forward Ant-Man's writer Joe Cornish's film The Kid Who Would Be King, starring Rebecca Ferguson and Patrick Stuart, to March. 1, 2019 from Feb. 14, taking the aforementioned film's place.