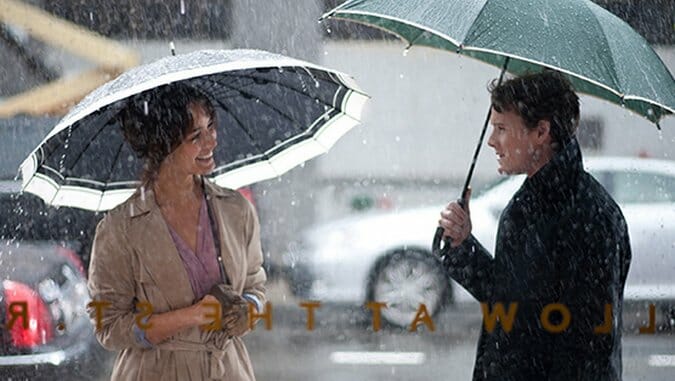 Making a romantic comedy in New York without referencing the works of Woody Allen or Neil Simon is a tall order. For decades, television, movies and music have extolled the Big Apple as a place where dreams come true, as a burg of endless amorous possibility. We're well past the point where stories of young love set in NYC read as cliché, because those stories—from Annie Hall to The Wackness—practically make up an entire genre unto themselves. So perhaps Victor Levin's 5 to 7 can be forgiven for treating the greatest city in the world in the same way so many other films, studio and indie alike, have done (and will continue to do for as long as Gotham remains a Mecca for cinema).
Mercy should only extend so far, because 5 to 7 is too damn winsome for its own good. Worse than that, it's disingenuous. Watching Levin's movie is the equivalent of reading a collection of pre-workshopped, college-level short stories, each scene or bit of dialogue in as desperate need of vision and individual style as the last. Give Levin the benefit of the doubt; maybe his narrative really is rooted in authentic experience and does draw on bits and pieces of real life. But, whether honest or imagined, his narrative never feels anything less than phony. 5 to 7 is low-stakes flirtation that lacks a personal touch.
5 to 7 is about a failed writer, Brian (Anton Yelchin), a 24-year-old denizen of the City who spends his days banging out crummy yarns about baseball and dogs (seriously), and who hangs his burgeoning collection of rejection notices on his wall with misplaced pride. As a character, he's kind of a cipher: We know literally nothing about Brian for most of the movie beyond what we see in his apartment and what he tells us through his arsenal of bland bromides. The guy has an eye-roll inducing quip for every occasion, except when he meets Arielle (Bérénice Marlohe), a beautiful French woman he finds, by chance, smoking outside The St. Regis and with whom he somehow manages to strike up a relationship.
The trick is that Arielle is married to a diplomat, Valery (Lambert Wilson), and that she can only liaise with Brian during the titular two-hour window. (It's a French expression, the particulars of which Arielle explains to the dumbfounded Brian as they first begin their affair.) Therein lies 5 to 7's conflict: Brian falls hopelessly in love with Arielle, but she can't give him the connection that he craves. It's an interesting idea, and in fits and spurts Levin manages to realize its potential with deft breeziness. But even as Arielle coyly turns aside Brian's goofy platitudes with a gentle smile, the film only goes surface deep in exploring what about its leads bring them together, let alone what they see in each other. If Brian is an outline, Arielle is a rough sketch—her most identifiable trait is her Frenchness, exhibited primarily by her cavalier attitude toward marriage (So European!) and by how weird she finds American cultural tics. (We are lame prudes, and we do love to eat popcorn at the movies!)
5 to 7 doesn't have much of a perspective on Brian's predicament. Considering the illicit nature of his and Arielle's fling, the film is surprisingly chaste, too. Yelchin isn't exactly a heartthrob, and he plays Brian with too much "aw-shucks" sincerity, but Marlohe is stunning enough for them both. Their bedroom moments together should crackle, but instead of frisson we get fizzle. They exhibit more chemistry strolling through Central Park than they do lying tangled up in the sheets, which, in all honesty, is probably okay; the issue is that there's really never a moment where we buy into the notion that Brian ever could win her over.
We're told he's a great writer (eventually and unsurprisingly, he taps into his inner scribe and winds up getting published in The New Yorker), and apparently he's magic in the sack, but Levin has a passive approach to telling a story, so the total sum of his narrative efforts here feel like fantasy. It's a forgivable fantasy, sure—everyone has at one point or another likely dreamed of having a whirlwind courtship akin to Brian's and Arielle's. But filtered through 5 to 7's lens, that fantasy is made limp, lifeless and more than a little bit like every other.
Director: Victor Levin
Writer: Victor Levin
Starring: Anton Yelchin, Bérénice Marlohe, Lambert Wilson, Olivia Thirlby, Frank Langella, Glenn Close
Release Date: April 3, 2015
---
Boston-based critic Andy Crump has been writing about film for the web since 2009, and has been scribbling for Paste Magazine since 2013. He also contributes to Screen Rant, Movie Mezzanine, and Badass Digest. You can follow him on Twitter. Currently he has given up on shaving.