A New Featurette for Alien: Covenant Advertises the Return of Michael Fassbender's Android
Image via 20th Century Fox/YouTube
Movies
Video
Alien Covenant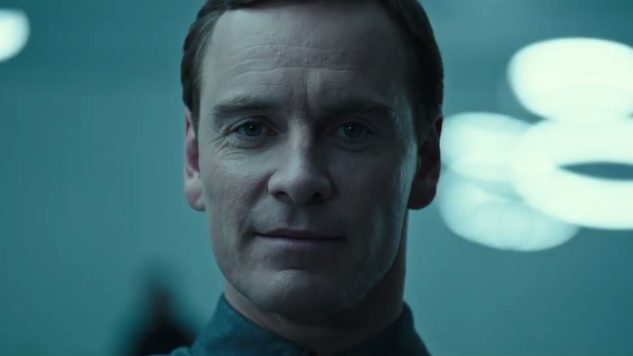 Though Prometheus has continued to remain divisive since its 2012 release, most would probably agree that one of the best parts of the film is Michael Fassbender's android David. Utterly impassive save for a few small slivers of what appears to be emotion, David is the film's most fascinating character, enigmatic yet clearly pursuing ulterior agendas while the human players are preyed upon by extraterrestrial predators. Fassbender's performance dazzles in its subtlety, a counterpoint to the actor's frenzied, Oscar-nominated turn in 12 Years a Slave just a year later. The former should've received a nod, as well.
Among the many promising aspects of Alien: Covenant—whose most recent trailer showed that Ridley Scott will be revisiting the series he founded with xenomorphs and face-huggers galore, to the certain delight of Alien fans worldwide—is the return of Fassbender, who has been renamed Walter (a new android) for the forthcoming film. Capitalizing on the obvious appeal of the character's return, 20th Century Fox has created an extensive marketing ploy around the android in the form of a featurette and a faux website. The featurette plays like one of those car commercials where we see the vehicle being assembled before our eyes, except the product is Walter and the services he offers. As Walter makes the transformation from a high-tech mannequin to Michael Fassbender, courtesy of two eerie attendants in sort-of Kendo uniforms, the EELS Remix of "I Feel You" runs sultrily yet coldly in accompaniment. Here, song and image line up to the tee, both suggesting an eroticism bleached of all heat or humanity.
At the end of the featurette, our attention is directed to the URL "MeetWalter.com," a visit to which reveals a web page dressed in the same chilly, corporate blues and whites that characterized the video. The page is composed almost entirely of a looped video of Walter's bust, and at various spots on the page, there are nodes that, when clicked on, reveal different specs about Walter's androidal capacities.
Using fake commercials and websites to market a film is old hat at this point, but the above two nonetheless feel pitch-perfect, not least because they line up so well with the disposition of the character being advertised. Moreover, there's something fitting about creating a lifestyle ad for a film that follows interplanetary colonists trying to start new families, since it is toward the domestic sphere that such ads are often oriented. But of course, there is dramatic irony in all this apparent innocence as well, since anyone even remotely familiar with the Alien franchise knows that any notion of home or safety is bound to get savagely invaded.
Check out the full featurette above, visit the website here and catch Alien: Covenant when it hits theaters on May 19.