U.S. Movie Theaters Will All Open by Mid-July. Here's How AMC Is Planning to Do It
Photos via Getty Images, Mario Tama
Movies
News
amc theatres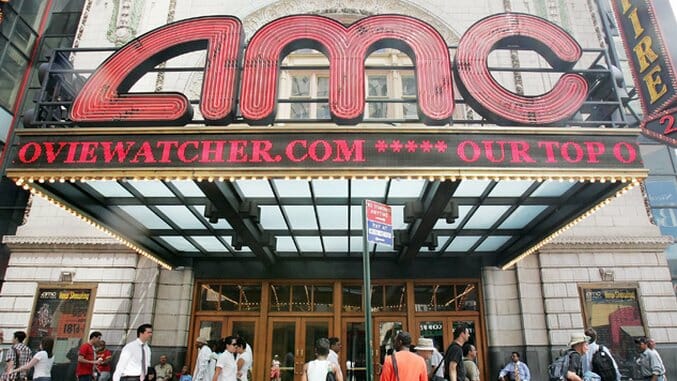 The nation's largest movie theater chain, AMC Theatres, has finally announced a definitive date for when it intends to open the majority of its U.S. theater locations, and that date is July 15. That's a few days after competitors, as #2 and #3 theater chains Regal and Cinemark both intend to have their theaters open by July 10, in time for the release of Russell Crowe thriller Unhinged. It will mark the more or less full reopening of the U.S. movie theater industry as of a few weeks from now, with what will no doubt be quite a bit of apprehension from everyone involved, as the coronavirus pandemic is actually worsening in a handful of U.S. states that saw early "returns to normalcy."
Zeroing in on AMC Theatres, which recently said there was substantial doubt it could avoid bankruptcy if the quarantine continued unabated, we can suss out a variety of details on how the world's largest exhibitor plans to attempt keeping customers safe. Lost in the hubbub: AMC does seem to be sticking with its boycott of films from Universal Pictures so far, angered that the studio wouldn't commit to giving its future films theatrical releases rather than sending them direct-to-video following the streaming success of Trolls World Tour.
Regardless, let's dig into AMC's plans to resume operations as the coronavirus pandemic continues unabated. The chain intends to open 450 of its U.S. theater locations on July 15, in time for major film debuts in the form of Disney's Mulan on July 24 and Christopher Nolan's Tenet on July 31. According to Variety, AMC will be doing the following:
— Seating capacity will be reduced, with blocked-out rows of seats to "decrease congestion." Theaters will be sanitized between screenings, with extra time between screenings to give more attention to detail.
— Hand sanitizer stations will be placed throughout theaters.
— Contact-less and cash-free concession systems are being worked out in many locations.
— Technological features will include "deploying electrostatic sprayers, HEPA vaccums and upgraded MERV-13 ventilation filters, which would eliminate airborned particles."
— Guests will be encouraged to use online ticketing and non-human ticketing kiosks to reduce interactions with theater staff.
— Overall capacity will be increased in waves, with only 30% of theater capacity available initially, which will increase to 40% and 50% on what sounds like a vaguely monthly basis. AMC reportedly wants to reach 50% capacity by Labor Day in September, and full theaters by Thanksgiving.
CEO Adam Aron seems to want credit for not rushing the chain's return to operations, noting that they chose not to open in many states even when it was technically legal to do so.
"We didn't rush to reopen," AMC CEO and president Adam Aron said to Variety. "There were some jurisdictions in some states, such as Georgia and Texas, that allowed people to reopen theaters in mid-May. We opted to remain closed, so we could give the country time to get a better handle on coronavirus. We wanted to use this time to figure out how best to open and how to do so safely."
As of Thursday, however, one notable omission was the fact that AMC (along with Regal and Cinemark) would not require customers to wear mandatory facemasks to help prevent COVID-19 transmission, although employees would be required to wear them. The internet backlash to that decision, which CEO Aron said was the result of not wanting "to be drawn into a political controversy," was immediately intense and justifiable, given that this move would see AMC catering directly to the customers most willing to disregard public safety. Friday afternoon saw the company pull a complete 180, putting out a new statement saying that it now will require customers to wear masks. It should be noted, however, that guests will still be able to remove masks to eat or drink … and it remains to be seen how AMC intends to enforce these mask rules during a film screening. Are ushers really going to be seeking out people in the seats and telling them to put their masks back on?
Regardless, AMC made the following statement on Friday regarding masks:
This announcement [on masks] prompted an intense and immediate outcry from our customers, and it is clear from this response that we did not go far enough on the usage of masks. At AMC Theatres, we think it is absolutely crucial that we listen to our guests. Accordingly, and with the full support of our scientific advisors, we are reversing course and are changing our guest mask policy. As we reopen theaters, we now will require that all AMC guests nationwide wear masks as they enter and enjoy movies at our theaters. The speed with which AMC moved to revise our mask policies is a reflection of our commitment to the safety and health of our guests.
We will constantly monitor the scientific community's latest thinking as to the efficacy of mask usage. We also will be looking at the varying health conditions in specific localities around our theaters all across the country. This will help us to determine what our mask policy will be as we go forward, as well as to make any other needed changes to this policy.
AMC would like to characterize the rapidity of this decision as "a reflection of our commitment to the safety and health of our guests," but it's hard to read it as anything but the panicked reaction of a company that is deeply unprepared for the unique logistical challenge of what is coming as they reopen during a pandemic.
Regardless, when mid-July rolls around, these theaters are all going to open, come hell or high water. How many customers will feel safe attending? Will AMC have any idea how to enforce its mask policy? It will be interesting to see how American theater-goers react to the opportunity to see films on the big screen again, it it means potentially putting themselves at risk.