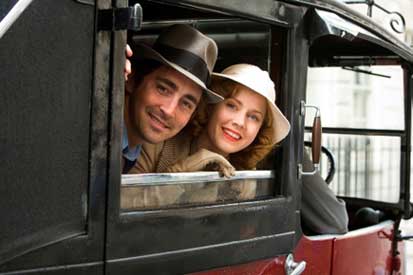 Release Date: March 7
Director: Bharat Nalluri
Writers: David Magee, Simon Beaufoy
Cinematographer: John de Borman
Starring: Frances McDormand, Amy Adams, Christina Cole, Ciarán Hinds
Studio/Run Time: Focus Features, 92 mins.
Frances McDormand gets what she wished for in reassuring drama
A stylized study on the ageless paradox of suddenly finding oneself in fortunate circumstances, Miss Pettigrew Lives For A Day features Frances McDormand as the title character, an out-of-work nanny suddenly thrust into the glamorous existence of Delysia Lafosse (Amy Adams), a blossoming West End actress in 1939 London. Lafosse requires a social secretary to sort out the impending mess of her love life, at least until she can land the lead in a new musical being produced by one of her current paramours. Miss Pettigrew must navigate the nasty waters between the haves and have-nots, who are all rather deceptively mixed together in the upper-crust theater scene. Only two or three twists of McDormand's wizened countenance are required to let us know that all is not as it seems; in the end, the characters' integrity is the only virtue that cuts the smoke of the flash pots.