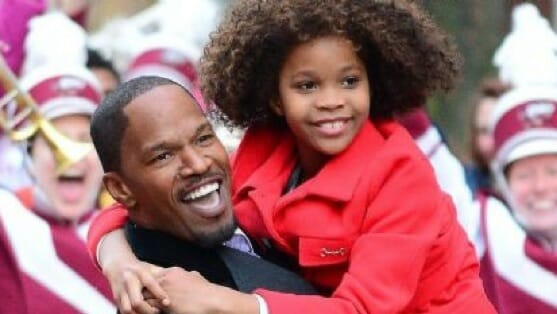 I really wanted to love Annie. For months I've defended the sparkly movie musical remake, vehemently waving my finger as everyone around me seemed to revel in knocking it down. The soundtrack has been on heavy rotation on my Spotify since its release last month, and I didn't loathe the casting choice of Cameron Diaz. I was in the film's corner. I was "ready to smile," since you're never fully dressed without one, apparently. Now that I've seen Annie, I'm here to report that it is … fine.
Totally acceptable. Decent. Director Will Gluck made Easy A, the best teen comedy since Mean Girls, and Annie stars Rose Byrne, whose presence alone is usually enough to elevate a film to a recommendation (she was the best thing about Bridesmaids and Neighbors, two films that are exponentially better than Annie). Two of my favorite people in Hollywood working together on an exciting reimagining of one of my favorite musicals—what could go wrong? Sadly, too much.
The story of a plucky foster kid (Quvenzhané Wallis) who is freed from the clutches of her boozy caretaker, Miss Hannigan (Cameron Diaz), by power hungry cell phone mogul Will Stacks (Jamie Foxx), this new Annie updates the story for 2014, but it's still basically the same rags-to-riches fable we all know. Annie and Stacks teach each other valuable lessons about life, Miss Hannigan is evil until the plot needs her to magically become lovely, and everyone dances away into the sunset.
Annie's biggest problem is its laziness. Musicals with this much energy should have song-and-dance numbers that soar. The numbers in Annie play like Gluck announced to the cast, "Dance around like you're being goofy!" During "I Think I'm Gonna Like It Here," Wallis and poor Rose Byrne (who deserves better) haphazardly dance on a rooftop amid a breathtaking view of New York City. The song is cute, the scene is full of pizazz, and Wallis and Byrne have nothing to do. It's all such a letdown. Another musical interlude, between Foxx and Wallis, is set entirely in a helicopter. Like, nobody's legs ever move—there is no dancing. The only number with any imagination is Diaz's "Little Girls," in which she hallucinates squirrely foster kids in place of furniture in her apartment.
As previously mentioned, Byrne can typically save any movie in which she appears. She comes close in Annie; her Grace is one of the only characters to seem like an actual human being with genuine emotions. Byrne is also really funny; she spends the entirety of the film attempting to convince a doubtful Annie that she has friends, even though she very clearly does not. The rest of the cast seems either embarrassed by what they're doing (Foxx, Wallis) or careening between Razzie-level overacting and actual hilarity (Diaz and Bobby Cannavale, as Stacks' evil political manager). Diaz's performance is especially baffling. She was terrific in 2011's Bad Teacher and shows some of that comedic timing here, but she also consistently turns Miss Hannigan into a caricature. At least she's trying, though. Hannigan has a funny storyline about being this close to stardom as a member of both C+C Music Factory and Hootie and the Blowfish, and Diaz is responsible for a good percentage of the film's laughs. It's a shame that she also spends much of Annie's running time as a villain so over-the-top that it's hard to think of her as anything but a plot device.
Annie isn't a bad movie. But with a cast this talented and source material that could have been progressive, the film squanders so many opportunities. Take the opening scene: a spunky redheaded girl gives a class report that culminates in a tap routine, eliciting groans from her fellow students. Wallis goes next, presenting an interactive report on the New Deal that gets the entire room roaring in applause. Watching this scene, I thought to myself, "This movie knows it has skeptics and doesn't care. I bet the whole thing is going to be this gutsy!" Wrong. Annie ultimately winds up a great big shiny ball of mediocrity that's hiding a good movie somewhere within its depths. The sun will come out tomorrow, and hopefully it will bring a better remake.
Director: Will Gluck
Writers: Will Gluck, Aline Brosh McKenna
Starring: Quvenzhané Wallis, Jamie Foxx, Cameron Diaz, Rose Byrne, Bobby Cannavale, Adewale Akinnuoye-Agbaje, David Zayas, Tracie Thoms
Release Date: Dec. 19, 2014
---
Andy Herren is an adjunct professor and occasional reality show winner. When he's not lying to people on national television, he contributes to Paste. You can follow him on Twitter. Olive Penderghast is his soulmate.