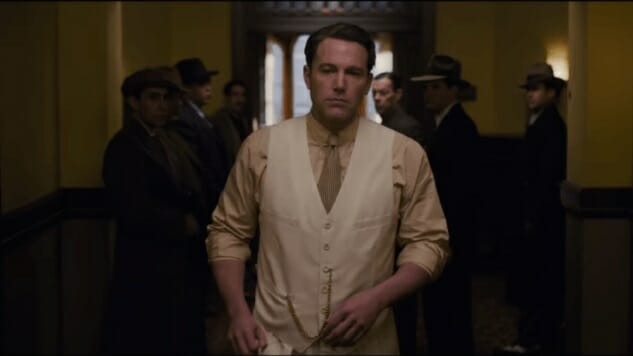 Ben Affleck's hanging up his cape and cowl, at least for now. The new trailer for Live by Night, which Affleck starred in and directed, has him in a different kind of costume. The film is set during the Prohibition Era, and it follows Affleck's Joe Coughlin as he goes from a small-time bootlegger into a notorious gangster.
Based on the Dennis Lehane novel of the same name, Live by Night looks to continue the success of Affleck's recent run of films in which he both directed and starred. The Town and Argo were both critical smashes, with Argo going on to win Best Picture.
Affleck's character also happens to be the son of a Boston police captain. The movie is set in Florida, but it wouldn't be an Affleck project unless it had something to do with Boston. Affleck also adapted the screenplay himself, proving he really is Superman. Somebody might want to let the people at DC know.
Live by Night also stars Zoe Saldana, Chris Messina, Elle Fanning, Sienna Miller, Brendan Gleeson and Chris Cooper. The trailer promises a film filled with mayhem, one which tests the conscience of its central figure. Live by Night hits theaters on Jan. 13, 2017. Until then, you can listen to Affleck's subdued Boston accent above.