The Latest Photos of Rami Malek as Freddy Mercury in Bohemian Rhapsody Are On Point
Photos by Nick Delaney/Twentieth Century Fox, Fox Photos/Hulton Archive/Getty
Movies
News
Bohemian Rhapsody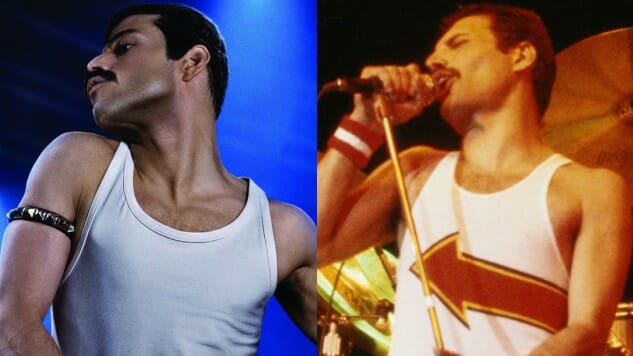 Let's get the 2019 Oscars red carpet ready for Rami Malek, because his turn as Freddy Mercury looks like it could be a slam dunk for the Emmy-winning Mr. Robot star. During CinemaCon this week, Fox showed some footage from Bohemian Rhapsody and according to Variety's buzzmeter, the film debuted some of the best footage of the entire event, with critics saying, "Malek nails Freddy Mercury's dynamism."
The film was recently given a new release date, along with a slew of other Fox 2000 films. Now, Bohemian Rhapsody will arrive in theaters on Nov. 2, rather than on Christmas Day. This solidifies the fact that Fox is planning a massive Oscars campaign for the film.
Fox also released a batch of new images of Malek as Mercury, and we can clearly see that he has indeed nailed the look of the character. We'll have to wait until the first trailer drops to really see if he captures Mercury's essence, but so far, all indications are that he totally does.
The film ran into some trouble late last year when director Bryan Singer was fired from the production. Actor-turned-director Dexter Fletcher replaced Singer soon after, which has caused some concern, what with a new director coming into the production. It hasn't seemed to be a problem so far, though, since the film is already garnering some very positive reactions.
See the latest photos of Malek's Mercury below, and revisit a pair of previous shots here and here.