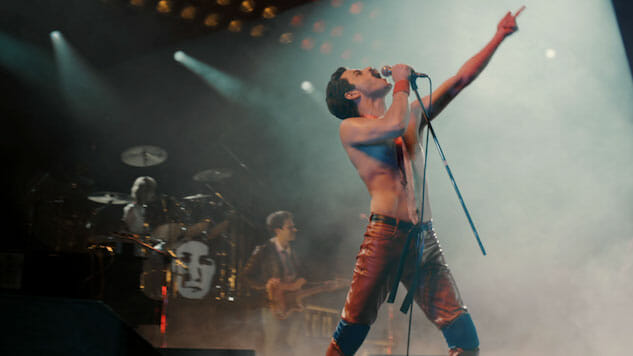 Bohemian Rhapsody, the Queen biopic detailing the life of Freddie Mercury, isn't just a fantasy—it's real life, and it's beginning to take shape with the release of the first teaser trailer for the film, in theaters Nov. 2.
The movie, out via 20th Century Fox and starring Emmy-winning Mr. Robot star Rami Malek as Mercury, was originally slated for a Christmas Day release, but Fox announced in March that it would move up the film's wide release to November, perhaps angling for Oscars attention. Malek's co-star Mike Myers also has an Emmy under his belt, so maybe Rhapsody will help send some Oscars love their way. The film also stars Lucy Boynton, Gwilym Lee, Ben Hardy, Joseph Mazzello, Aiden Gillen and Tom Hollander. Rhapsody is said to follow Mercury and the band from their formation in 1970 to their triumphant performance at Live Aid in 1985, six years before Mercury succumbed to AIDS.
The 90-second teaser appears to cover all that ground, with plenty of vintage rock-band cinema tropes (in the studio, onstage, adored by grabby fans) set to a supercut of the always-recognizable bass line from "Another One Bites the Dust," as well as bits from "We Will Rock You." In the teaser, Malek is a dead ringer for Mercury, donning every glinting jumpsuit, hair metal 'do and distinctly British snarl with the Queen frontman's same characteristically rockstar nature.
Late last year, the film saw a trading of hands in the directing department after 20th Century Fox fired director Bryan Singer from the project due to his spontaneous "unexpected availability," "erratic behavior" and "unprofessionalism." Kick-Ass director Dexter Fletcher took over after Singer was let go in December.
You can watch the full teaser for Bohemian Rhapsody below.