Cameron Diaz Has Retired From Acting, According to Selma Blair
Images via Gabriel Olsen/Getty, Dimitrios Kambouris/Getty
Movies
News
Cameron Diaz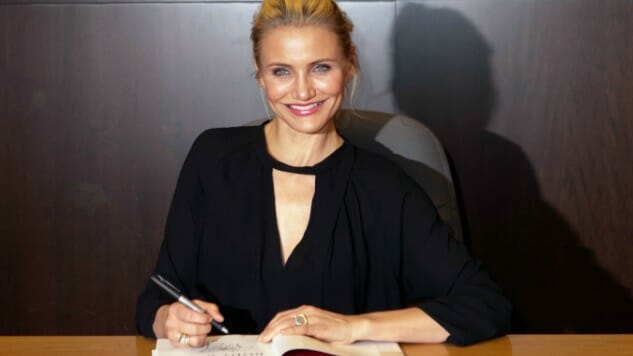 It appears Cameron Diaz has hung up her acting shoes. The multiple Golden Globe-nominated actress reportedly told her close friend, actress Selma Blair, that she is "done" with the industry, per Vanity Fair. Blair said that Diaz told her over lunch while reminiscing about their 2002 comedy The Sweetest Thing: "I had lunch with Cameron the other day. We were reminiscing about the film. I would have liked to do a sequel but Cameron's retired from acting. She's like 'I'm done.'"
Perhaps Diaz is following the example of her good friend Gwyneth Paltrow by steering her career into health and wellness, rather than acting. In 2013, Diaz penned the bestseller The Body Book, which examined scientific recipes and personal tips for achieving happiness from being healthy. She then wrote her follow-up in 2016, titled The Longevity Book: The Science of Aging, the Biology of Strength, and the Privilege of Time.
Blair also shared, "I mean, [Diaz] doesn't need to make any more films. She has a pretty great life." The 45-year-old actress has had a very lengthy and impressive career since making her debut in 1994's The Mask. She received Golden Globe nominations for her performance in There's Something About Mary and received Supporting Actress nominations for her dramatic turns in Vanilla Sky and Gangs of New York, and in the comically bizarre Being John Malkovich. Her last film was the 2014 musical Annie, in which she played a modern version of the grumpy foster mom Miss Hannigan.
An insider cited by The Daily Star who spoke to Blair atVanity Fair's Oscars pre-party in Los Angeles quoted Blair as saying, "I don't know what it would take to bring [Diaz] back. She's happy." Said insider also says, "Cameron is constantly inundated with film scripts trying to tempt her out of retirement but she's just not interested. She's happy, in love and wants to make the most of her freedom and free time." Diaz expressed interest in becoming a mother and spending more time with husband Benji Madden, according to another source. "She would love more than anything to be a mom. At this point they would be very happy with the miracle of one child," they explained.
There has been no official word from Diaz's representatives regarding her retirement.