10 Date Films that Celebrate Chicago Romance
In honor of Southside With You, we list our favorite 10 romantic flicks based in Chicago.
Movies
Lists
Chicago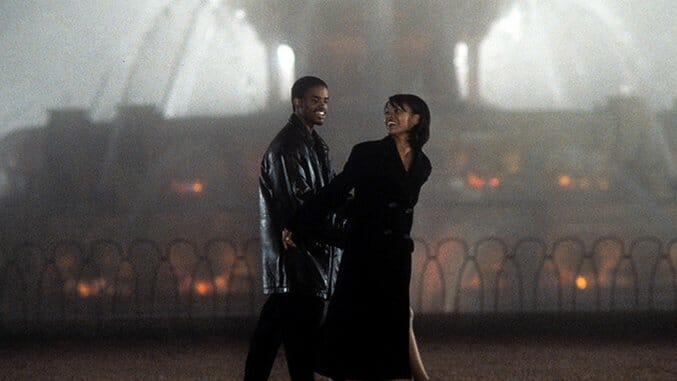 Richard Tanne's recently released romantic indie Southside with You is an unassuming date movie with two larger-than-life characters—Barack and Michelle Obama—at its center. But while the young future president (Parker Sawyers) and First-Lady-to-be (Tika Sumpter) are the film's focus, the city of Chicago insinuates itself as a third main character—of sorts: Like Vienna in Before Sunrise, Chicago's highlights act as the perfect backdrop to the beginning of a great romance.
Southside with You's obvious affection for the city behind Barack and Michelle's meet-cute got me thinking about other Chicago-based date movies—which got me thinking about how few there really are. Cinematic Chicago is that of John Hughes comedies or grittier fare like The Fugitive and The Untouchables, but when given the chance, the Windy City can provide just as lovely a backdrop as any typical American metropolis. With its picturesque Lake Michigan views, famous sports stadiums, cozy bars and snow-caked El platforms, a Chicago setting can lend even a mediocre date movie something authentic—where Old Style, Italian beef and Jim Belushi can even be (somehow) romantic.
What follows is my list of the "best" (most Chicago) date movies—either romantic movies or movies perfect for dates—set and filmed primarily in The City of Big Shoulders:
---
10. About Last Night…
Director: Edward Zwick
Year: 1986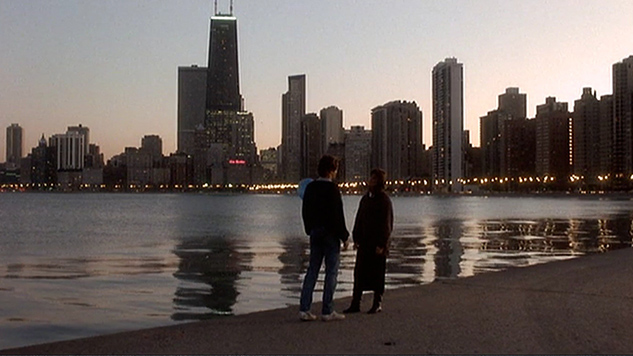 About Last Night… was adapted from David Mamet's 1973 play Sexual Perversity in Chicago, and while it maintains the same characters, setting and general focus on the complications that arise from casual sex, Zwick's moving of Mamet's story from the midst of the sexual revolution to the mid-'80s height of yuppie-dom causes a few of its messages to get mangled. What results is a somewhat problematic rom-com, disavowed by Mamet but embraced by audiences, that celebrates photographic Chicago romance and big hair and pretty people.
Rob Lowe and Demi Moore (in matching makeup) play Dan and Deborah, the twenty-something couple at the film's core who fall in lust and fight for no reason and listen to terrible yacht rock through foam-covered headphones. Meanwhile, ignore the casual misogyny mostly perpetuated by Dan's odious best friend, played by the aforementioned Jim Belushi. The film has a field day with its Chicago setting, with magic hour softball games in Grant Park, a Cubs game viewed from a rooftop, lunch outside Kelly's Pub as the El rattles by, and the whole range of seasons and holidays, allowing for blizzards and torrential rains—all the dramatic Chicago weather to match our leads' tumultuous relationship.
---
9. I Want Someone to Eat Cheese With
Director: Jeff Garlin
Year: 2006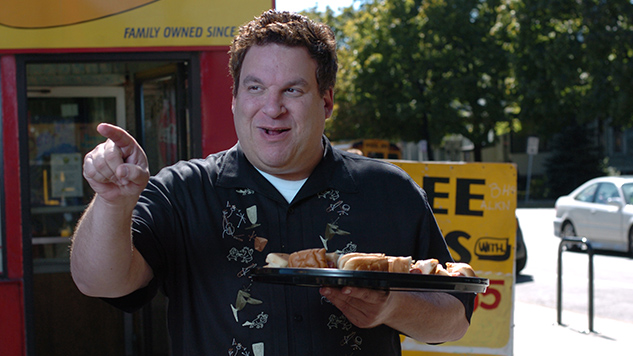 I Want Someone to Eat Cheese With is a low-key, not-quite-romantic comedy about James (Curb Your Enthusiasm's Jeff Garlin), an overweight, struggling actor who lives with his mother and is searching for something more: that great movie role, that loving girlfriend, that diet that lasts. James is a moderately successful performer with Second City, which Garlin features heavily not only in the film's plot but in the resumes of its cast, as one familiar alum after another crops up in minor roles (Dan Castellaneta, Amy Sedaris, Richard Kind and a million more). Freshly dumped by his girlfriend and agent and stuck in a binge eating cycle, James meets Beth (Sarah Silverman), a quirky ice cream shopgirl who is definitely too good to be true, but who pushes him toward some much-needed realizations.
The appeal of I Want Someone to Eat Cheese With lies in its rambling, Slacker-esque, quality. James spends much of the movie in the streets of Chicago: eating junk food on top of his car near Wrigley Field, strolling through Roscoe Village with his best friend (David Pasquesi), handing out hot dogs at Budaki's Drive In, or chatting with Beth in Millennium Park. The City—it becomes obvious—is James's great love, the one that will ultimately motivate him to lower his expectations and seek contentment where he is. As his agent explains pointedly in an early scene: "This is Chicago, my friend—it's not New York, it's not L.A. You can't afford to be picky."
---
8. Return to Me
Director: Bonnie Hunt
Year: 2000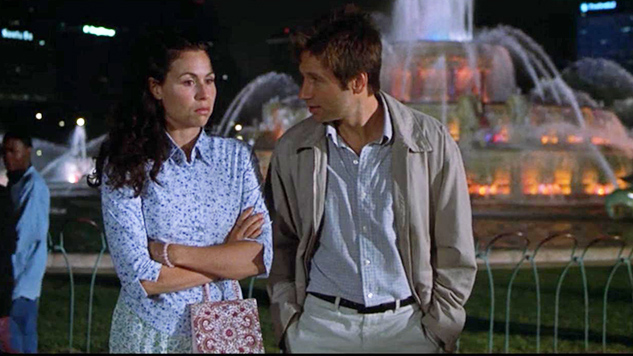 Directed by Chicago-based actress Bonnie Hunt, Return to Me is a quaint romantic comedy modeled on the classics of the studio system era. While it features down-to-earth central performances (David Duchovny, acting like Fox Mulder that one time him and Scully pretended to be yuppies, and the underrated Minnie Driver), this is not so much a realistic romance as a modern-day fairy tale, filmed in an equally rose-tinted version of Chicago, all leafy springtime trees, bike rides and sun-dappled gardens. Each of its main characters has undergone a traumatic live event: Grace (Driver) is an artist recovering from a heart transplant, and Bob (Duchovny), an architect, lost his wife in a car accident. Though somewhat formulaic, the film has an easy charm, with Hunt and Sir James Belushi as Grace's comic-relief friends. After a slow courtship that tiptoes around the obvious, it's Hunt who finally puts the film's far-fetched premise into words: "Grace has Bob's dead wife's heart!" On their way to this revelation, the characters pass through some iconic Chicago locations, including Lincoln Park Zoo, the historic Twin Acres Restaurant (portraying Grace's family's restaurant), the now-closed Marigold Bowl, Buckingham Fountain and a Wacker Drive rooftop (one of Bob-the-architect's buildings), where the couple overlook a breathtaking skyline.
---
7. Stranger Than Fiction
Director: Marc Forster
Year: 2006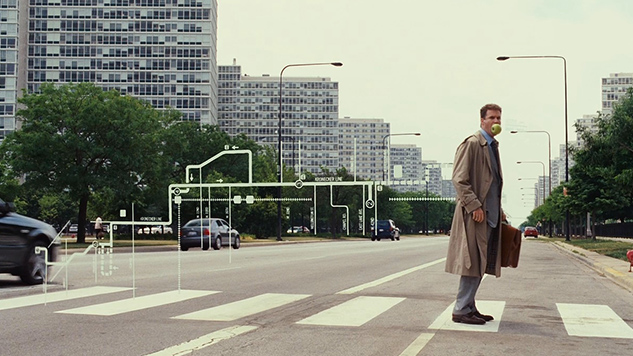 Stranger Than Fiction tells the story of Harold (Will Ferrell in his first dramatic starring role), an IRS agent who lives a solitary, unhappy life, until one day he begins hearing a disturbing voice in his head—that of Emma Thompson, who incessantly narrates his thoughts and actions, including what she calls his "imminent death." For help, he turns to a literature professor (Dustin Hoffman), and the film takes off, Groundhog Day-style, on Harold's last-minute journey of self-discovery: he learns the guitar, realizes he dislikes his job and falls in love with a feisty baker named Ana (Maggie Gyllenhaal) who he meets on an audit.
While it lacks the striking scenery of some of the films on this list, Stranger Than Fiction uses its Chicago landscape as a metaphor for Harold's life. For roughly the first half of the film it is cold, gray and often raining; Harold rides the CTA bus to work in a high-rise, and then home again to his bland apartment. But as he opens up, the city becomes brighter and less claustrophobic—from the spring-green trees of the UIC campus to Ana's homey café (played by La Catedral Café & Restaurant on S. Christiana). Though romance is one of its central threads, Stranger than Fiction's true focus is love of life—a love that comes from understanding one's place in a universe that can often feel lonely and isolating.
---
6. My Best Friend's Wedding
Director: P.J. Hogan
Year: 1997
Ah, My Best Friend's Wedding, the kind of infuriating, terrible, obnoxious romantic comedy you've secretly seen 20 times. I've found that once you accept the notion that Julia Roberts' character, Jules, is pure evil and that Dermot Mulroney's Michael, inexplicable object of affection, has all the personality of a piece of carboard, the more you can revel in the film's delirious cattiness, all set big budget-style before a backdrop of Chicago's most recognizable spots. There's the White Sox game scene (and ensuing Jules-Kimmy bathroom brawl), the wedding rehearsal at Fourth Presbyterian Church on the Magnificent Mile, the declaration of love in Union Station's Grand Hall and the Lake Michigan boat tour (the site where Jules and Michael engage in that ultimate rom-com cliché: dancing when there is no music playing). Due to its slightly sour tone, My Best Friend's Wedding isn't quite the When Harry Met Sally of Chicago. But its golden-hued backdrops and furiously paced farce are dazzling enough to bring even the haters back for repeat viewings.
---
5. Only the Lonely
Director: Chris Columbus
Year: 1991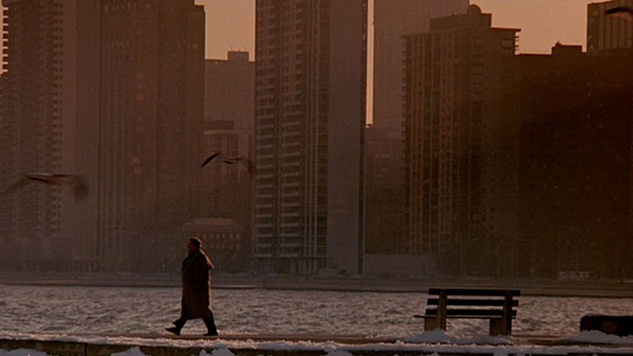 Only the Lonely, an underrated romantic dramedy, gives the consistently amazing John Candy one of his career's meatiest roles as Danny, a Chicago cop who's always done the right thing for his family (and his oafish best friend, played by unknown newcomer Jim Belushi), even caring for his elderly Irish mother, Rose (Maureen O'Hara), an abrasive, controlling bigot. When Danny falls in love with Theresa (Ally Sheedy), a shy mortuary cosmetologist, he has to choose between living his own life and pleasing his mother.
The film depicts Chicago as a friendly small town, the sort of place where people greet each other on the street and gossip at the corner bar, where Danny's connections as a cop get him all kinds of perks, like a romantic picnic with Theresa at the old Comiskey Park ("They're gonna tear the whole place down," he laments). Only the Lonely exploits those greatest of rom-com seasons—autumn and winter—with a nighttime stroll past Lake Michigan, a carriage ride through downtown, cozy evenings in O'Neil's Tavern and many shots of Rose's gorgeous Victorian home (on Roscoe Street in Lakeview). Once you get past the harridan-mother trope, Only the Lonely is a subtly charming film with nuanced performances, a love letter to Chicago, right down to the can of Old Style in Candy's hand.
---
4. Drinking Buddies
Director: Joe Swanberg
Year: 2013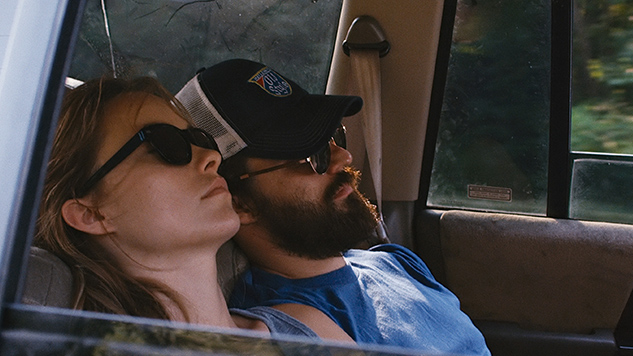 Director Joe Swanberg's most compelling film to date, Drinking Buddies dwells in the murky ethics of modern relationships, waters that get even murkier when you're a drinker. Luke (Jake Johnson) is the kind of casual asshole-disguised-as-good guy who has a smart and beautiful long-term girlfriend, Jill (Anna Kendrick), but spends his days relentlessly flirting with his coworker Kate (Olivia Wilde), whose one-of-the-boys attitude belies deep insecurities. Luke and Kate both work at Chicago's Revolution Brewing, and the film takes care to accurately represent the life of a brewery and its employees, many pushing into their 30s but still spending late, boozy summer nights shooting pool at the Empty Bottle and getting a little too close with their coworkers. After an uncomfortable couples' trip to a Lake Michigan cabin, Kate and Luke toe the line between friendship and romance while Jill suffers guilt over her own transgression. In standard Joe Swanberg fashion, Drinking Buddies uses subtle gestures—a lingering glance here, an offhand comment there—to highlight the deep differences in the ways these characters view themselves and their relationships with one another. It's a small film, but one that effortlessly and accurately captures a familiar emotional predicament, as well as an ultra-specific "scene"—Chicago craft brewing—at an ultra-specific time.
---
3. While You Were Sleeping
Director: Jon Turteltaub
Year: 1995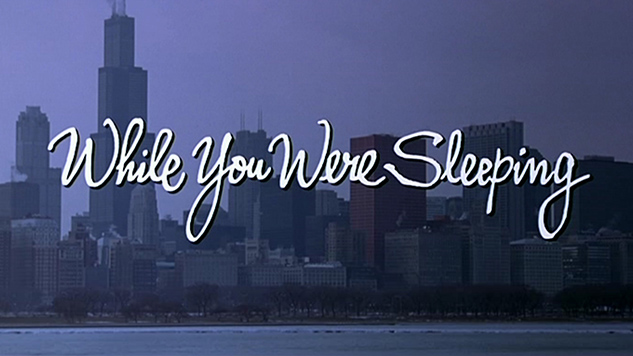 While You Were Sleeping, a throwback romantic comedy in the screwball mode, is impossible not to like, a standout of the genre that holds up more than 20 years after its release. More kind-hearted than My Best Friend's Wedding and more grounded than Return to Me, the film turns a daffy plot into something touching and compulsively watchable. Much of the film's appeal can be attributed to Sandra Bullock's performance as Lucy, a lonely CTA employee who moved to Chicago with her ailing father, put her future on hold and never returned to it once he passed (that character description alone is enough to set this film apart from so many "high-powered lawyer" romantic comedies).
Lucy takes tokens from and pines for well-dressed lawyer Peter Callaghan (Peter Gallagher) before, long story short, he ends up in a coma. His family (comprised of a number of delightful character actors) assumes she's his fiancé, "adopting" her as one of theirs, but of course she falls in love with Peter's furniture-building, salt-of-the-earth brother Jack (Bill Pullman). Aside from its focus on the El and life as a CTA employee ("I sit in a booth like a veal," Lucy snaps), the film showcases the frigid-yet-twinkly reality of Chicago at Christmas, from Lucy hauling a tree up to her apartment in Logan Square, to exploring Peter's swanky pad on Lake Shore Drive, to taking a freezing walk with Jack past the Chicago River.
While You Were Sleeping deserves props too for exploiting the slapstick possibilities of Chicago cold: One of the film's pivotal romantic scenes involves a lengthy struggle between Lucy, Jack and an unholy sheet of black ice.
---
2. High Fidelity
Director: Stephen Frears
Year: 2000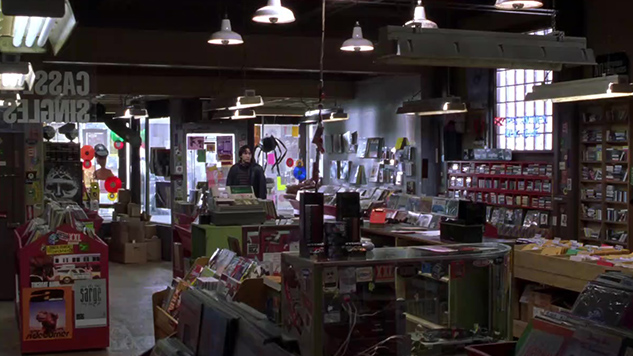 When adapting Nick Hornby's 1995 novel for the screen, John Cusack and D.V. DeVincentis decided to transpose the book's London setting for their home city of Chicago. At first, fans of the book may have been miffed by this Americanization of the story (I know I was), but Chicago—a city with a great music scene, an abundance of record stores, complaint-worthy weather and its fair share of aging hipsters—turned out to be a perfect fit for this story of obsessive record collector Rob (Cusack), reeling from a breakup and dwelling on his past lost loves, trying to find out where he went wrong. Rob owns Championship Vinyl, a record store on the gloomy edge of Wicker Park, and he and his socially awkward employees (Jack Black and Todd Louiso, both perfectly cast) frequent Chicago venues Lounge Ax (now closed), the Double Door and the Green Mill (the oft-cited birthplace of Slam Poetry, in a scene featuring Chicago musician Liam Hayes). Viewers can catch dozens of on-screen Chicago music references, from the records, stickers and posters in the shop, to the t-shirts the characters wear. Overall, High Fidelity keeps Chicago claustrophobic, huddled in the shop, the apartment, the El and the clubs where Rob lives his life, and it's an appropriate backdrop for this pitch-perfect study of male neuroses.
---
1. Love Jones
Director: Theodore Witcher
Year: 1997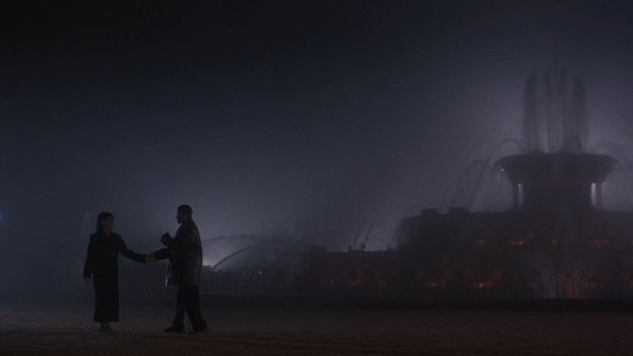 Love Jones feels just as refreshing now as it did in 1997: it's a romantic drama filled with realistic relationships and conversations, focused on a group of black writers, artists and intellectuals. Nina (Nia Long), a photographer just out of a long relationship, meets Darius (Larenz Tate), a writer and spoken-word artist (oh hey, the '90s) who meets her at a show and pursues her, carefully but quite ardently, until they fall into on-again, off-again love. Aside from the naturalistic performances (from the two leads as well as their easygoing group of friends, including Isaiah Washington and Lisa Nicole Carson), the greatest delight of Love Jones is the way its soundtrack (which seamlessly blends Charlie Parker with Lauryn Hill with Coltrane with Maxwell) syncs with its Chicago scenery for a kind of hipper Woody Allen feel. The film opens on Chicago through Nina-the-photographer's eyes, from black-and-white shots of the El and the skyline to close-ups of the faces of the city's black community. While Love Jones features Chicago movie staples like Buckingham Fountain and Union Station, it comes alive in its specifics—such as Nina and Darius's meeting at the jazz/spoken word club Sanctuary (not real, but it feels it), and then their subsequent "first date": Chicago-style stepping at the Blackstone Hotel. Carefully rendered, the City of Love Jones is truly multi-dimensional.