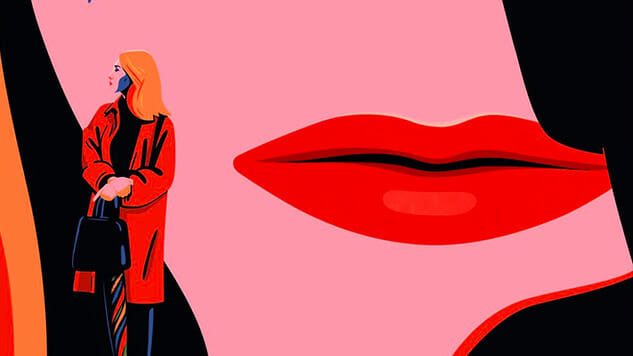 Each month, Paste brings you a look at the best new selections from the Criterion Collection. Much beloved by casual fans and cinephiles alike, Criterion has for over three decades presented special editions of important classic and contemporary films. You can explore the complete collection here.
In the meantime, because chances are you may be looking for something to give the discerning (raises pinkie) cinephile this month, find all of our Criterion picks here, check out some of our top titles this first month of 2020, and, hey, maybe sign up for Criterion's Criterion Channel to stream many of the titles we talk about here (we'll provide a link if that's the case).
---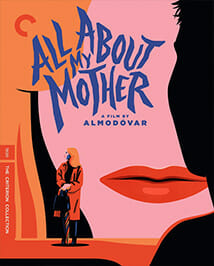 All About My Mother
Year: 1999
Director: Pedro Almodóvar
Mothers, daughters, facades, identity and splashy color palettes have, since the start of his career, comprised the most important tools in Pedro Almodóvar's belt. Even today, the man can't help centering his stories on relationships between women: Pain and Glory, his latest opus, or 2016's Julieta, likewise masterful and equally as overlooked. Twenty-one years after the release of All About My Mother, and 20 years following the movie's Oscar victory, All About My Mother still stands as the distillation of Almodóvar's pursuits as an artist into one of the most enduring productions of his career. If nothing else, it's one of the most nakedly emotional. All About My Mother is a collision of moms—moms who are and moms who are to be, as well as women who wish to be mothers. Motherhood, as an identity, an occupation, an ideal, is argued as non-monolithic: Being a mom has so much to do with action and spirit that defining "motherhood" on reproductive terms misses the point. If the ending dedication doesn't make it plain as day, All About My Mother is Almodóvar's tribute to mothers everywhere; he has reaffirmed that dedication repeatedly through his subsequent films, but no matter how many times he does, all roads lead back to 1999. —Andy Crump
---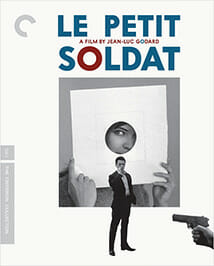 Le petite soldat
Year: 1963
Director: Jean-Luc Godard
As much a culmination of all the textbook traits of the French New Wave, contradicting popular film at the time, as it is a contradiction of the anti-political ethos of the group, Le petite soldat stands alone, a contrarian contradicting contrarians, stubbornly resistant for the sake of stubbornly resisting, a thing of alienating intimacy—as are most Godard movies—and small, delightful pleasures. Amidst the wandering tale of Bruno, a photojournalist (Michel Subor) drawn very reluctantly into the Algerian War, a conflict for which he holds little loyalty or concern, Godard depicts the modernity of spycraft, which seems to fit his worldview like a glove: One must care and appear not to care, though it's much easier to genuinely not care at all. Bruno falls for Russian student Veronica (Anna Karina in her first collaboration with Godard), the director and Raoul Coutard's camera absolutely leering at her, her allure transforming the war-torn reality around them. It can be perplexing, how Godard seems to want to capture such tragedies of war (torture, especially) with a neorealistic lens, but then can't help but resort to magical realism—in sound, in editing, in voice over and violence—in thrall to Karina and Bruno's indifferent attitude towards war. But therein waits Godard's ethos; Le petite soldat's style consumes its substance, and like any good Godard movie, farts out something that smells, extremely, of revelation. —Dom Sinacola
---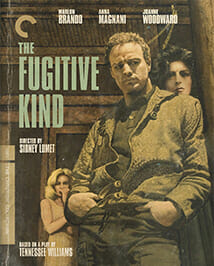 The Fugitive Kind
Year: 1964
Director: Sidney Lumet
Is there a more fitting screen actor to embody Tenessee Williams' tortured, aimless alpha males than Marlon Brando? Exuding the smoldering intensity and rugged beauty of Williams' men, he can also communicate searing inner pain with the quickest of glances. The Fugitive Kind, co-adapted by Williams from his play Orpheus Descending, centers on a cadre of lost souls futilely yearning for a better life while trapped in an oppressive town in the deep South. Brando's Valentine, nicknamed "Snakeskin" because of his affinity for his snakeskin jacket, is one of those restless and troubled souls with whom the system has no idea what to do. Though he's trying to lay low, to stay out of trouble, Snakeskin shows up in town, his presence the tragically perfect match to set alight this powder keg of suppressed desires.
Snakeskin finds employment at the local five-and-dime, operated by a solemn Italian immigrant known as Lady Torrence (Anna Magnani). Suffocated by her judgmental environment and her ill, abusive husband (Victor Jory), Lady is desperate for any outside contact that makes her feel alive, and Snakeskin certainly fits the bill. Of course an affair develops between the two, yet Williams and director Sidney Lumet steer as far away from melodramatic escapism as possible, opting instead for a harsh character study. Are they genuinely in love, or embracing a toxic, co-dependent relationship simply because they're the only ones who remotely understand each other's pain? Lumet, who directed many play-to-film adaptations during his 50-year career, had a knack for capturing the intimacy of a stage production. In The Fugitive Kind, he begins many scenes with a wide shot, emulating the audience's point-of-view, but as the drama intensifies, he slowly pushes into the actors' faces until he reaches extreme close-up. We're trapped together.
Criterion's HD digital restoration retains the film's stark black-and-white palette, while reproducing some natural-looking grain to give the Blu-ray experience some old Hollywood authenticity. The extras, ranging from a candid interview with Lumet and a documentary about Williams' Hollywood experiences, are all excellent, but the real gift is an hour-long live TV broadcast of Williams' three one-act plays, also directed by Lumet. —Oktay Ege Kozak / Watch (with extras) on the Criterion Channel
---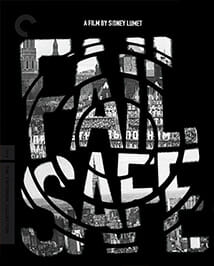 Fail Safe
Year: 1960
Director: Sidney Lumet
Led by cinema's preeminent Noble Man, Henry Fonda—quiet but commanded by a unique sense of moral justice—as a U.S. President able to follow through on the unimaginable, Sidney Lumet's eighth feature is just as inexorable as his first. Like 12 Angry Men, Fail Safe largely happens in sweaty, confined spaces, cinematographer Gerald Hirschfeld, working for the first time with Lumet, sticking to the dripping faces of men confronted with increasingly shitty circumstances. Like 12 Angry Men, too, Fail Safe siphons so much tension from the fact that the consequences of these men's decisions lie far outside the sweaty and confined spaces they inhabit: Their war-torn terrain is moral, and only a few are capable of traversing it with their dignity intact. When a routine military operation involving the United States' nuclear arsenal, aimed at its Soviet enemies, goes poorly, a steaming pile of human and mechanical failure accidentally pushes the world into oblivion, millions of lives held hostage. Buoyed by Larry Hagman as an interpreter struggling to not lose it and Walter Matthau as a brittle academic, Fonda bristles interminably, carrying the rest of the cast through a nightmare scenario that seems unlikely today, if only because our current world leaders would come up with something so much crueler. —Dom Sinacola