The Criterion Collection Unveils 1000th Entry, Godzilla: The Showa-Era Films, 1954—1975
Image courtesy of The Criterion Collection
Movies
News
godzilla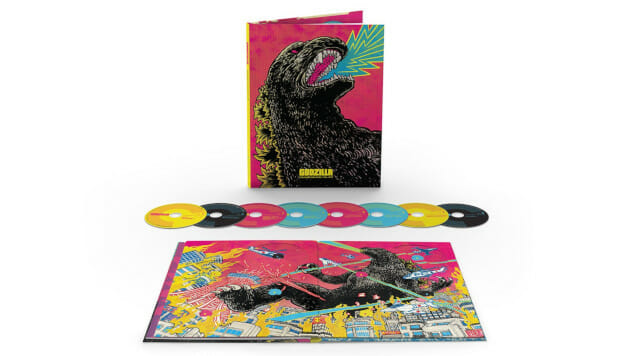 For the past couple of months, a simple question has plagued cinephiles across the globe: What will the 1,000th entry in the Criterion Collection be? What film could possibly live up to the monolithic number? Could anything match that scale?
Godzilla can. On Thursday afternoon, the Criterion Collection announced that spine #1000 belongs to a massive, beautiful box set of the 15 Showa-era Godzilla films. All 15 films—including the likes of Gojira, King Kong vs. Godzilla, Mothra vs. Godzilla and Destroy All Monsters—are visual effects marvels and essential pieces of cinematic history.
Like the films themselves, the collection is an absolute stunner, complete with vibrant artwork for each of the films from artists like Arthur Adams, Katsuya Terada, Takashi Okazaki and many more. That art will also be featured in the hardcover book that comes with the set, which also includes an essay from film historian Steve Ryfle and notes on the film from Ed Godziszewski. On the discs, you'll find interviews with several of the film's directors, archival footage and audio commentaries.
Here's a full list of the box set's features:
– High-definition digital transfers of all fifteen Godzilla films made between 1954 and 1975, released together for the first time, with uncompressed monaural soundtracks
– High-definition digital transfer of Godzilla, King of the Monsters (1956), the U.S.-release version of Godzilla
– Japanese-release version of King Kong vs. Godzilla from 1962
– Audio commentaries from 2011 on Godzilla and Godzilla, King of the Monsters featuring film historian David Kalat
– International English-language dub tracks for Invasion of Astro-Monster, Son of Godzilla, Destroy All Monsters, Godzilla vs. Megalon, Godzilla vs. Mechagodzilla, and Terror of Mechagodzilla
– Directors Guild of Japan interview with director Ishiro Honda, conducted by director Yoshimitsu Banno in 1990
– Programs detailing the creation of Godzilla's special effects and unused effects sequences from Toho releases including Destroy All Monsters
– New interview with filmmaker Alex Cox about his admiration for the Showa-era Godzilla films
– New and archival interviews with cast and crew members, including actors Bin Furuya, Tsugutoshi Komada, Haruo Nakajima, and Akira Takarada; composer Akira Ifukube; and effects technicians Yoshio Irie and Eizo Kaimai
– Interview with critic Tadao Sato from 2011
– Illustrated audio essay from 2011 about the real-life tragedy that inspired Godzilla
– New English subtitle translations
– Trailers
– PLUS: A lavishly illustrated deluxe hardcover book featuring an essay by cinema historian Steve Ryfle, notes on the films by cinema historian Ed Godziszewski, and new illustrations by Arthur Adams, Sophie Campbell, Becky Cloonan, Jorge Coelho, Geof Darrow, Simon Gane, Robert Goodin, Benjamin Marra, Monarobot, Takashi Okazaki, Angela Rizza, Yuko Shimizu, Bill Sienkiewicz, Katsuya Terada, Ronald Wimberly, and Chris Wisnia
Godzilla: The Showa-Era Films, 1954—1975 will set you back $224.95, but it's currently on sale for about 20% off. It'll be available on Oct. 29, and you can preorder it here. In the meantime, you can see where all 15 of the collected films land on our definitive ranking of the franchise here. Check out a brief trailer for the collection below.