DiCaprio Offered Role of Vladimir Lenin in Russian Biopic
Forget the Oscar, Give Leo a Nobel Peace Prize
Images via Getty Images, Sovfoto
Movies
News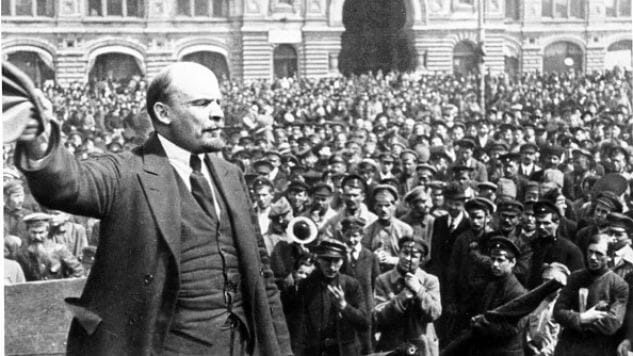 Leonardo DiCaprio's several Oscar snubs have become the butt of a long-standing joke. And although many predict that he'll finally take home the little gold statue for his role in The Revenant at the 88th Academy Awards ceremony next month, the academy may decide to pull a Mean Girls and "none for Gretchen Wieners" the actor once again. But even though the two and a half hour grunting session that was his nominated performance may go unappreciated by the academy, our Eastern frenemies in Russia liked what they saw.
A St. Petersburg based studio Lenfilm has offered Leo the role of young Vladimir Lenin in an upcoming biopic based on the socialist revolutionary's life. The offer wasn't quite unsolicited, as DiCaprio gave an interview where he expressed interest in portraying Lenin, Rasputin or Russian President Vladimir Putin—three people who have almost nothing in common save for the fact that they are or were Russian men.
Lenfilm is the most prominent and oldest film studio in Russia, dating back to 1914 when a local military committee in St. Petersburg created Russian cinema. It comes as little surprise that the studio took the actor's comment seriously, because the Oscar nominee would make a fairly convincing Lenin, as he even slightly resembles the bolshevik leader. If Leo does decide to take the studio up on its offer, we may finally be able to leave our underground nuclear bunkers to call an official detente.
According to Leo, we'll all be underwater in a few hundred years, but at least he's making international relations less hostile for the short time humankind has left.