Denis Villeneuve's Dune Locks Down Full Cast, Begins Filming
Hans Zimmer will handle the much-anticipated adaptation's score
Photos by Rich Fury/Getty, Pascal Le Segretain/Getty, Frazer Harrison/Getty
Movies
News
Dune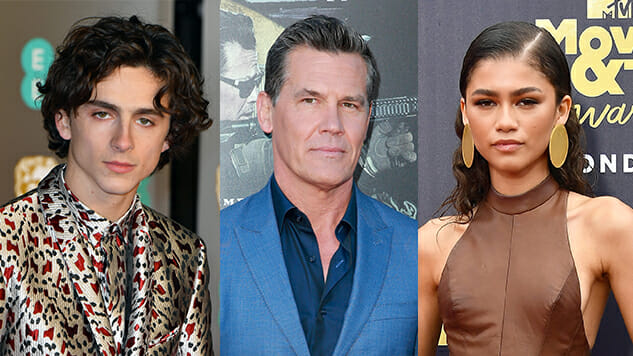 Denis Villeneuve has officially set a cast to match the sheer magnitude of a new Dune adaptation, along with confirmation that the film's production is officially underway, Warner Bros. and Legendary announced Monday.
Timothée Chalamet's portrayal of Paul Atreides will be accompanied by Rebecca Ferguson, Oscar Isaac, Josh Brolin, Stellan Skarsgård, Dave Bautista, Zendaya, David Dastmalchian, Stephen Henderson, Charlotte Rampling, Jason Momoa, Javier Bardem and Chang Chen.
It's also been revealed that the epic will be scored by Oscar winner Hans Zimmer.
The adaptation will be directed and co-written by Villeneuve, and is envisioned as a two-part film by the filmmaker.
Dune will be released Nov. 20, 2020. Find the film's official synopsis below and our primer on everything we know about the latest adaptation of Frank Herbert's novel here.
A mythic and emotionally charged hero's journey, Dune tells the story of Paul Atreides, a brilliant and gifted young man born into a great destiny beyond his understanding, who must travel to the most dangerous planet in the universe to ensure the future of his family and his people. As malevolent forces explode into conflict over the planet's exclusive supply of the most precious resource in existence—a commodity capable of unlocking humanity's greatest potential—only those who can conquer their fear will survive.