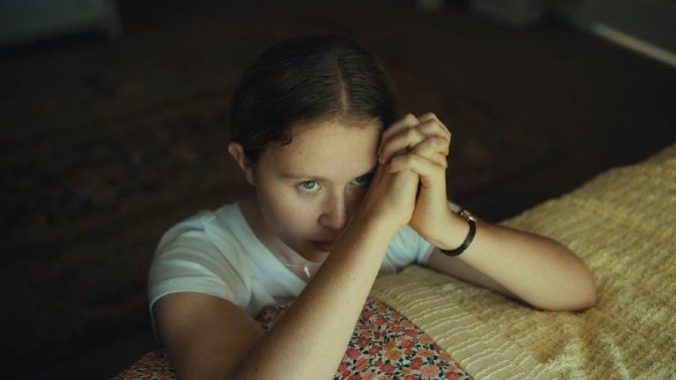 Films about fundamentalist Christian sects who raise their girls under the strict tenets of chastity and control are nothing new. But what differentiates the best of them is how they introduce secular audiences to these insular cultures, and then reveal how the power structures keep these ecosystems self-sustaining. What distinguishes The Starling Girl within this particular genre is writer/director Laurel Parmet's casting of Eliza Scanlen to embody this familiar coming-of-age story through the eyes of Jem Starling. Together, they craft an intimate character study of one devout girl's discontent with what's expected of her, which in turn ignites her eventual disillusionment with the fundamentalist ideology that has defined her entire world view. Scanlen's searing performance elevates The Starling Girl from just being a familiar story into something far more interesting and compelling.
Opening with Jem's fervent prayers to God, spoken directly to camera, the 17-year-old becomes our conduit into a contemporary Kentucky religious community that adheres to strict fundamentalist tenets of patriarchal rule and servitude from its women. Its young women are groomed to exude innocence and purity. The oldest daughter of Paul (Jimmi Simpson) and Heidi Starling (Wrenn Schmidt), Jem is seemingly the model example of the community's expectations. Parmet's camera captures the community through Jem's childlike gaze, full of dappled light and bucolic peacefulness as she contentedly weaves her bike through the rural landscape.
But that perspective slightly shifts as Jem's streak of defiance bursts forth in tiny acts of rebellion when provoked by those around her. Her ever-present smile turns down slightly as she seeks her doting father's interference when her mother suggests that she accept the courting advances of the Pastor's dullard son, Ben (Austin Abrams). Or, instead of just demurely accepting the dissolution of her beloved church dance class when their chaperone bows out, she immediately begins the machinations of getting leadership placed into her hands. There's a simmering fire inside Jem that she's clearly trying to temper.
But the return of youth pastor and recent missionary Owen (Lewis Pullman) knocks that all to hell. Everything about him calls Jem like a siren. He's handsome, smokes cigarettes, isn't slavish to traditional dogma and most importantly, takes an interest in her. He piques Jem's imagination with his tales of the world and encourages her love of dance. Owen is the accelerant to Jem's burgeoning dissent and sexual awakening, and their chemistry is about as subtle as a lightning strike from God. However, Parmet is extremely measured in allowing Jem to subtly shift towards the lure of disobedience in organic ways that naturally prod her further away from her hardline mother and the leaders of the church. 
Jem's also helped along by her father, who was a musician with addiction issues before he met Heidi and became born again. He's buried his destructive secular life for years. But it seems to be burbling back out of him, instigated by the news of a bandmate's death—and watching his daughter be coerced to abide by the demands of their patriarchal community. Simpson portrays the cracks within the man beautifully, clearly wanting to do right by Jem while being acutely aware of how little his religion has fixed his broken soul. And so he rebels too, sharing with Jem his hidden iPod filled with his band's old music and getting drunk in the shadows to self medicate. 
Jem processes by following her impulses with abandon. Her moral retaining walls burst as she enters into a consensual affair with Owen, and pushes her creative expression by choreographing a Labor Day dance that doesn't conform to approved chaste movements that only honor God. Scanlen does a masterful job portraying Jem's journey from obedient daughter to rebellious individual. Of course, everything comes crashing in on Jem. But Parmet doesn't let the drama of those circumstances overwhelm the subtlety of us witnessing Jem's reaction to them. The last act excels in giving Jem space to process and make decisions about her life that don't devolve into the religious histrionic or cliche. Instead, The Starling Girl truly soars as Jem embraces a series of choices that lead her to genuine moments of discovery about herself, her parents and Owen—ones momentous in their smallness. There are no easy answers for Jem in the end. And Parmet hasn't revolutionized the genre in telling this particular Christian "conscious uncoupling" story. But she and Scanlen have done the Lord's work in making Jem's journey from caged bird to self-actualized young woman a quietly powerful one.
Director: Laurel Parmet
Writer: Laurel Parmet
Starring: Eliza Scanlen, Lewis Pullman, Jimmi Simpson 
Release Date: May 12, 2023
---
Tara Bennett is a Los Angeles-based writer covering film, television and pop culture for publications such as SFX Magazine, Total Film, SYFY Wire and more. She's also written books on Sons of Anarchy, Outlander, Fringe, The Story of Marvel Studios and The Art of Avatar: The Way of Water. You can follow her on Twitter @TaraDBennett or Instagram @TaraDBen