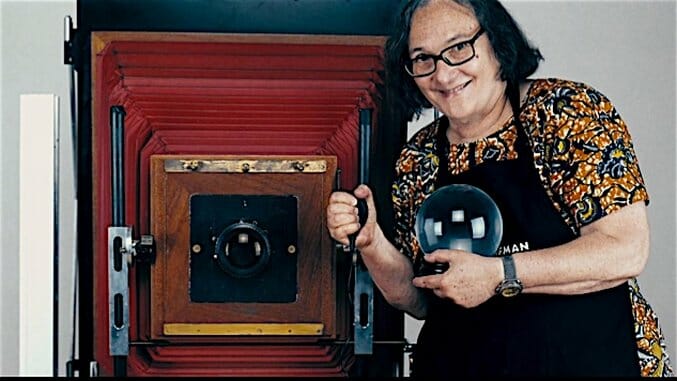 Over twenty-five years ago, Errol Morris met Elsa Dorfman after Errol's wife Julie took their son Hamilton to get his portrait taken. Morris and Dorfman can't remember exactly how old he was, but they think he was around four.
"That portrait of Hamilton hung in their house forever, and they just took it down." Elsa says laughing. "You know why? I took a picture of their dog, and they liked it better. Does Hamilton know that?"
"Yes," Errol nods, smiling. "He knows."
Thus began a friendship between Morris and his wife and Elsa and her husband, Harvey, a criminal attorney, who all live near each other in Cambridge, Mass. Over the years, Dorfman has taken somewhere in the neighborhood of 30-40 portraits of Morris and his family, including his parents and the aforementioned bulldog, Ivan. In The B-Side: Elsa Dorfman's Portrait Photography, Morris decides to return the favor. His newest documentary comes as a love letter to Dorfman, the 80-year-old large format portrait photographer, as she looks back on the fruits of her 30-year career.
Morris says he had been considering making a film about Dorfman for a long time, partially to "preserve a record of Elsa herself," and partially to document the process and work of an artist he deeply admires as she edges toward retirement. The two say the filming of The B-Side happened with surprising ease.
"The immediate occasion [to start filming] was my knowledge that they were having these huge Polaroids moved out of Elsa's house. And I thought how often does something like that happen?"
"Never!" Dorfman says. "Because there were very few of those kinds of pictures ever made." The pictures were 40×80 Polaroid portraits Elsa took of her son and Harvey that had been in the stairway since they moved into their house.
"Never is not so often." Morris adds. "So, I thought, I should record this."
"I believe it was five days total. We got a small crew together, we started editing immediately, and it became clear—there's something here." They filmed in Elsa's studio where she shoots her clients, and the garage where she keeps her archives in flat files. "Each day we shot more material we added it to the material we already had. It happened almost by magic."
"It was very magical." Dorfman agrees.
Asked what it was like to have a film made about her photography and life, Dorfman says it was like psychoanalysis.
"You know obviously everybody has a filter they're not aware of, but I had to decide I was going to be as honest as I was able to be." She says. "Every night I went to bed and woke up at 3 AM thinking of that movie and what had to be in it. Things that I hadn't looked at in 20 years!"
Indeed, a general sweep of Dorfman's adult life is featured in the film, and what eventually brought her to the camera. She didn't take a picture until she was 28 years old, when she was given a Hasselblad during a brief stint as a school teacher. Something she considers very lucky. Many of her first portraits were of great poets and thinkers, the likes of Audre Lorde, James Tate, and Borges, who all hung out where she hung out, at Grolier Poetry Book Shop in Cambridge. Another of her longtime subjects and lifetime friends was the poet Allen Ginsberg.
"Everything is chance," Dorfman says. "I hate to say it."
But it was when she gained access to the 20×24 Polaroid camera at Boston Museum of Fine Arts that she really found her medium. Eventually she got hold of a 20×24 camera for herself (she owns one of seven or eight in the world) and got a studio she still works in, just down the street from her house.
"People often get them as gifts," Dorfman says of the portraits. Coming alone, in groups, with family or pets, the clients pose before a large white backdrop. Dorfman takes two shots. One of which the clients choose to take with, and one they leave behind. These leftovers she often finds more interesting than the chosen one, blinks and all. It's these she refers to as the B-Sides.
"My job has always been to make people happy." Dorfman says of her work. "I don't like taking pictures of depressed people like a lot of photographers do. I really work hard to get them out of that mood and into a better place before I take the picture."
"My work is about affection." Dorfman says in the film. "…it's very family-oriented."
Morris considers Dorfman's photographs as a platform for an unusual kind of collaboration between subject and artist, something he recognizes in his own work as well.
"When I made Gates of Heaven, I wondered whether it was even a film. There was a certain kind of simplicity to it." Morris says. "The camera is really not moving much at all. There are a couple of pans in the entire movie. People are presenting themselves. Now I might have contrived where and how I shot them, but basically there's an element of self presentation."
"And I like to think—self serving of me to say this—that enormous complexity emerges out of this despite the simplicity of the approach. I always saw Elsa as involved in a similar kind of enterprise."
Morris describes Dorfman's work as the perfect mix of Renaissance painter and dime store photographer, and the simple repeated concept of her portraiture does bring to mind a Sears shot. But there is a definite X factor in her photos. Dorman consistently illuminates the exceptional humanness of her subjects, that which makes a person at once totally regular and remarkable to behold.
"I hate to use the word, but there's an element of the quotidian in what Elsa does," Morris says. "Yet there is also something quite magical about it. Maybe the fact that I can't quite explain it is what art is all about, something that you can't quite identify."
They both agree that her portraits being Polaroids are a defining element of what her work means (and it's worth mentioning that the nearly dead medium has much to do with her retirement). It also adds for a unique ritual in the taking of the photos.
"You go into an elevator, you enter into the basement, but it doesn't look like a basement, it looks like another floor in a building without windows." Morris says. "Elsa has pictures on the walls—I don't know how many, over a hundred—before you even enter the inner sanctum of where the camera is kept."
"All those pictures wrapping around me, it gives the clients a sort of security. 'Well if they can do it, and they have that awkward son…'" Elsa laughs. "People learn from other people's pictures."
"You're excited. You're anticipating having your photo taken by Madam Dorfman," Morris adds, "and there's this hopefulness. How will we do? Will Elsa do right by me? You can't really adequately prepare yourself. Then she takes it, for whatever reason, and there is this moment of anticipation. You're standing around, you watch Elsa take the picture out of the camera. This doesn't happen in traditional photography."
"It kind of reminds me of delivering a baby." Elsa remarks."When I was pregnant, there was a way of delivering a baby vertically out of the mother. The Finnish way or something. Whenever I do it, I think of that."
"You're delivering a baby!" Morris says. "There you go!"
Dorfman admits there were some emotionally challenging moments in The B-Side filming, too. Particularly looking back on more personal photos of people she's lost.
"Another thing that came out in the movie, that wasn't planned—it is a movie about loss. So many of my friends, so many people have died by the time you're 80. I do not like that. My parents. Allen."
It's those moments that are some of Morris's favorite in the film, as it's clear Dorfman's deep value for intimacy and connection in her personal life are inextricable with her artistry. They are likely the characteristics that bring forth such palpable life in her subjects.
"Another thing I learned from Elsa—even though pictures freeze time, they are about time. There's a preservation of the past, but also this feeling of loss whenever you look at a photograph. We're always aware of the passage of time."
Dorfman has never been much interested in the "art world," but by the end of the film it seems indisputable; she is a prolific, unusual, deeply gifted photographer who has yet to get her critical due. A fact that has caused no evident dampening of her blithe spirit, and has made no negative impact on a consistent outpouring of work. While her photos are about documenting life, they are also about enjoying it as it happens. A much younger Elsa reminds viewers of as much in the film.
"The now," she says, her voice tinny with the age of a recording. "is racing beyond you." And while the now can never truly be captured, Elsa Dorfman comes as close as possible.
---
Annakeara Stinson is a writer who lives in Brooklyn. You can follow her on Twitter.