Four of 2020's Most Anticipated Movies Are Directed by Women
Photo by Marcos Tarini, courtesy of Warner Bros. Pictures
Movies
News
Fandango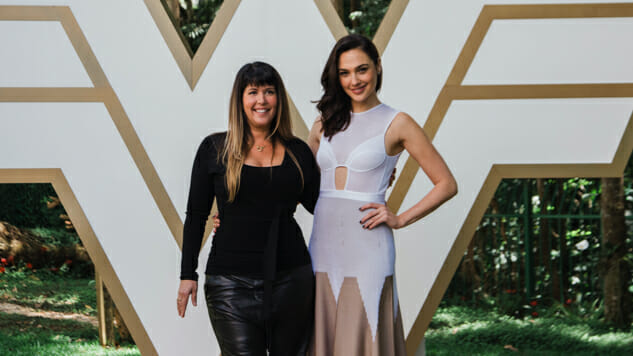 Though the critical disappointment in Star Wars: The Rise of Skywalker is a sour note on which to end 2019's long string of blockbusters, filmgoers are already looking ahead to 2020, and according to a new survey conducted by Fandango, there's reason to be pleased about who's behind the camera (if not what's in front of it) in the coming year's most anticipated films.
The top four films on Fandango's list are Patty Jenkins' Wonder Woman 1984 (June 5, 2020), Cate Shortland's Black Widow (May 1, 2020), Chloe Zhao's The Eternals (Nov. 6, 2020) and Niki Caro's Mulan (March 27, 2020), making this the first of Fandango's Most Anticipated Movies Surveys on which the top four films are all directed by women.
Cary Joji Fukunaga's No Time to Die (April 10, 2020), John Krasinski's A Quiet Place Part II (March 20, 2020), Cathy Yan's Birds of Prey (Feb. 7, 2020), Jon M. Chu's In the Heights (June 26, 2020), Pete Docter and Kemp Powers' Soul (June 19, 2020), and Justin Lin's Fast & Furious 9 (May 22, 2020) round out the top 10, meaning five of these films are helmed by Asian-American directors. The survey, it's worth noting, asked "more than 2,000 millennial film fans" (emphasis ours) what they were most excited to see in 2020, which may well help to explain the preference for films directed by women and people of color, as opposed to, say, whatever Clint Eastwood decides to crap out next year.
Nevertheless, it's nice to see a spate of inclusive blockbusters generating this degree of excitement among filmgoers, though the ubiquity of superhero movies, franchise films and Disney properties (or some combination of those characteristics) among the titles on on Fandango's list is its own kind of dispiriting. If the homogeneity of the stories being told on the big screen is to persist in 2020, at least the perspectives being brought to those stories are slowly but surely becoming more diverse.
Find the full results of Fandango's survey below.
Most Anticipated Movie:
"Wonder Woman 1984" (directed by Patty Jenkins; release date: June 5)
"Black Widow" (Cate Shortland, May 1)
Marvel's "Eternals" (Chloe Zhao, Nov. 6)
"Mulan" (Niki Caro, March 27)
"No Time to Die" (Cary Joji Fukunaga, April 10)
"A Quiet Place Part II" (John Krasinski, March 20)
"Birds of Prey" (Cathy Yan, Feb. 7)
"In the Heights" (Jon M. Chu, June 26)
Pixar's "Soul" (Pete Docter, Kemp Powers, June 19)
"Fast & Furious 9" (Justin Lin, May 22)
Most Anticipated Actress:
Gal Gadot ("Wonder Woman 1984")
Scarlett Johansson ("Black Widow")
Emily Blunt ("A Quiet Place Part II," "Jungle Cruise")
Margot Robbie ("Birds of Prey")
Zendaya ("Dune")
Most Anticipated Actor:
Chris Pine ("Wonder Woman 1984")
Paul Rudd ("Ghostbusters: Afterlife")
Ryan Reynolds ("Free Guy")
Daniel Craig ("No Time to Die")
Robert Downey Jr. ("Dolittle")
Most Anticipated Villain:
Kristen Wiig as Cheetah ("Wonder Woman 1984")
Rami Malek as Safin ("No Time to Die")
Ewan McGregor as Black Mask ("Birds of Prey")
Jim Carrey as Dr. Ivo Robotnik ("Sonic the Hedgehog")
Charlize Theron as Cipher ("Fast & Furious 9")
Most Anticipated Family Film:
"Mulan"
Pixar's "Soul"
"Sonic the Hedgehog"
"Dolittle"
"Jungle Cruise"
Most Anticipated Horror Film:
"A Quiet Place Part II"
"Halloween Kills"
"The Invisible Man"
"The Conjuring: The Devil Made Me Do It"
"The Grudge"
Most Anticipated Live-Action Comedy:
"Ghostbusters: Afterlife"
"Bill & Ted Face the Music"
"Bad Boys For Life"
"Legally Blonde 3"
"The Lovebirds"