Military Service Members Can See First Man for Free Tonight
Image via Universal Pictures
Movies
News
First Man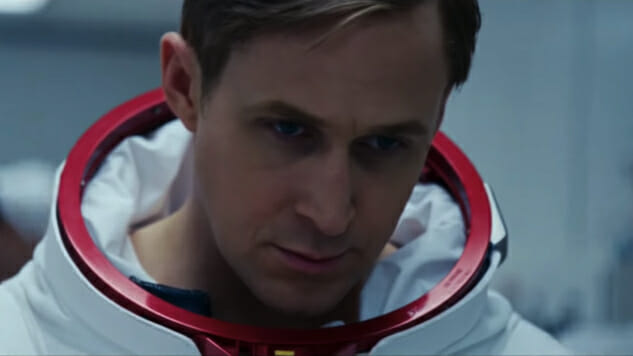 Damien Chazelle's much-anticipated La La Land follow-up, space-exploration drama First Man, lifts off tomorrow, Friday, Oct. 12, but Universal Pictures and Regal are teaming up to offer 14,000 military service members a chance to see the film early, and at no cost.
Tonight, Thursday, Oct. 11, at 7 p.m. local time, up to 25 veterans and active-duty military members can claim a free ticket to see First Man at their local Regal theater. Said free tickets are available on a first-come, first-served basis, and will be available for pick-up at the box office (not online) once your participating theater opens. You'll need to present a valid, government-issued VA or military ID to get yours, of course, with a limit of one free ticket per ID.
First Man stars Ryan Gosling as Apollo 11 mission commander Neil Armstrong, who, in addition to being a naval veteran himself, was the first man to set foot on the surface of the moon.
"During his career as a Naval aviator, our dad flew 78 combat missions in the Korean War," said Neil's sons Mark and Rick Armstrong in a statement. "The friendships he forged during those critical years remained deeply important to him all of his days. Freedom—much like landing on the moon—is an achievement that is hard fought and hard won, and it cannot be accomplished without the sacrifice of our men and women in uniform and their loved ones. We'd like to join Universal and Regal in thanking all our current and past veterans, as well as their families, for their brave service to this great nation."
"As an Air Force veteran, I am proud to see this historical achievement from other veterans and NASA featured on the big screen," said Regal CMO Ken Thewes. "These military heroes are an incredible example of the courage and determination that allowed us to reach new heights in space exploration. As a tribute to the courageous men and women in the armed forces, we are honored to offer complimentary tickets for active-duty military and veterans to be the first to see First Man at any participating Regal theaters."
"Neil Armstrong represents the best and bravest of humanity, and this film from director Damien Chazelle is stunning," adds Universal's Jim Orr. "Early audiences have championed this new masterpiece, and we're grateful that our partners at Regal have opened their doors to active-duty and retired service members with free tickets. We know these heroes will enjoy First Man, and we're thrilled they'll be among the first to experience it."
It's a classy and fitting move to accompany a film that weighs personal sacrifice against the courageous pursuit of a greater good. There's much more than that going on in the Chazelle-helmed, Josh Singer-scripted film, though, which also reckons with the sobering notion that someday, we'll have no choice but to leave our Earth behind.
Find a participating theater near you here and read Paste's review of First Man right here. You can watch the film's latest trailer below.