Vera Farmiga Cast as Millie Bobby Brown's Mom in Godzilla: King of the Monsters
Photos by Jerod Harris/Getty, Tommaso Boddi/Getty
Movies
News
godzilla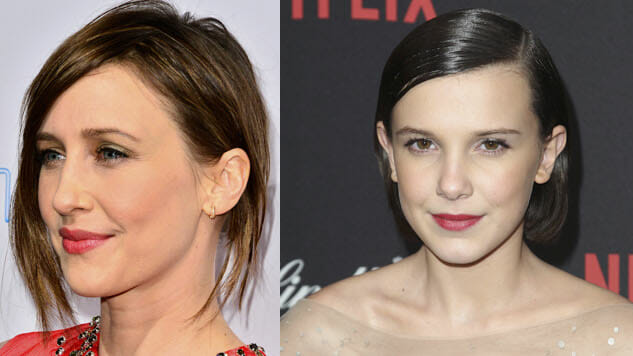 Vera Farmiga (The Conjuring, Bates Motel) will star in Godzilla: King of the Monsters as the mom of Millie Bobby Brown (Stranger Things). "Everybody's Dad" Kyle Chandler will act alongside Farmiga as, you guessed it, Brown's dad. The perfect American Family® is complete.
Godzilla: King of Monsters is the Michael Dougherty-directed sequel to Gareth Edwards' 2014 Godzilla reboot starring Bryan Cranston, Elizabeth Olsen, Aaron Taylor-Johnson and Ken Watanabe. Per Variety, Watanabe will likely be the only original cast member to return in the sequel. Little is known so far about the plot, but we do have a premiere date: March 22, 2019. If that seems like a long way away, consider that the monster mash-up Godzilla vs. Kong is set to be released a year after that, in 2020. Luckily for fans, Kong: Skull Island is set to be released next week on March 10. All movies are set to be developed by Legendary and distributed by Warner Bros. Considering they've already got the next three years mapped out, the Kong/Godzilla American movies are shaping up to be quite the franchise.
You can check out the final trailer for Kong: Skull Island here and a clip from the film that references its shared cinematic universe here. Again, Godzilla: King of the Monsters is due out March 22, 2019.