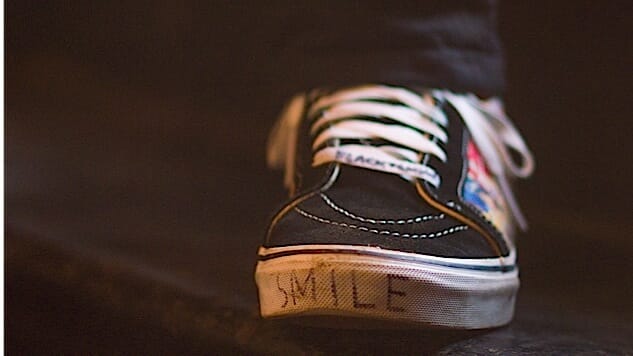 It's day four of Sundance. I've had five hours of sleep a night and been running on turkey jerky and 7-Eleven coffee—so basically, it's pure, Park City bliss. I wander into the Canon party on Main Street—killing time since I missed a screening of Joshy—where I run into a good pal who, like many of the folks around, is a filmmaker. The dude is charming and hilarious—traits he manages to incorporate into his films. He also recently concluded a very successful Kickstarter for a feature film, which, though I'm always happy to see him, makes running into him now even more timely, as I am all of 48 hours into my own Kickstarter campaign.
He asks about my night. We toast—me with vodka Diet Coke (don't laugh), him some pineapple-splash-of-alcohol-it's-only-4pm drink. Then, after a bit, I pass him a "I launched my Kickstarter!" sticker, expecting some well-wishing. Instead, he looks at the sticker, takes a sip of his drink, and says simply, "Oh fuck. Good luck."
Well, damn. That's not exactly what I was expecting.
"What's that supposed to mean?" I ask. He smiles, but with the energy of a frown. "Just get ready," he replies. "It's a full-time job."
'I have a full time job,' I think, as I gulp down the rest of my free beverage. Fuck indeed.
The exchange is enough to make me ask myself for like the twentieth time: What have I gotten myself into? The "what" may be a tough question, but the "why" is not. Like most people trying to produce something out there these days—not just filmmakers but creatives in general—you need money to make it. After spending almost a year getting my short film, Interior Teresa, off the ground, I realized I needed $10,000. I wanted to do it right, and since I'm not rich—no one in the Alloway lineage invested in Tesla or Apple—that pretty much meant I would need to ask other people for money.
This Diary is for anyone else who wants to embark on the same journey yet doesn't quite get how it works. (That's me on both counts.) Or for anyone who just likes to witness the highs and lows experienced by someone else as she strives to make a dream come true.
---
Meredith Alloway is a contributor to Paste Magazine, Nylon, Complex, Collider and Press Play on Indiewire. Interior Teresa is her first big film venture. She is currently in the last stretch of raising money through Kickstarter and will be shooting the film at the end of February in NYC. Follow her on Twitter.