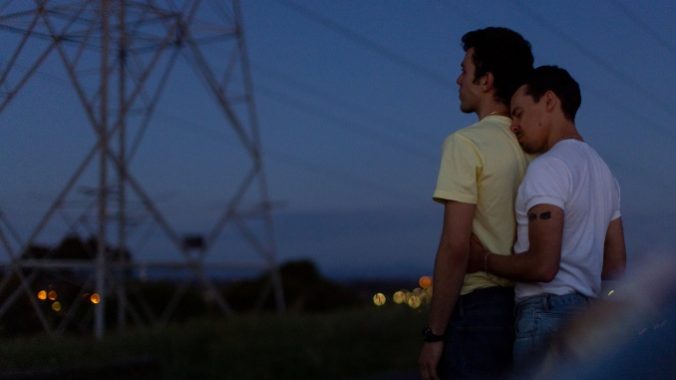 Melancholy memories of old flames—and the palpable romantic intrigue they first conjured—are thrusted to sensually cinematic heights in Of an Age, the sophomore feature from Macedonian-Australian filmmaker Goran Stolevski. A somewhat unexpectedly tender and sensual follow-up to his folk horror debut You Won't Be Alone, this film further expands on themes of coerced assimilation, adolescent growing pains and the act of constantly presenting different faces to the world. Of course, the queer experience is in itself a state of ceaseless shape-shifting until one lands in the right skin—a near-impossible task for a teenage boy in '90s Melbourne, Australia who lives with homophobic members of his extended Serbian immigrant family.
The year is 1999, and 17-year-old competitive ballroom dancer Kol (Elias Anton) rises early to prepare for the long-awaited finals tournament later that afternoon. Hopes for a relatively stress-free morning are unceremoniously dashed when he receives a frantic call from his best friend and dance partner Ebony (Hattie Hook), who blacked out after a rough night of partying and has no idea which beach she's woken up stranded on. Frantically consulting a map while trying to sort out a game plan, the two eventually decide to enlist Ebony's older brother Adam (Thom Green) for clandestine aid without alerting their mother. He picks Kol up in his appropriately boxy sedan, and after getting to know each other on their drive, they eventually find a damp, sandy Ebony sitting in a far-flung phone booth. Kol has virtually no hope of making it back in time for his dance competition, but he has appeared to acquire a much more handsome consolation prize.
The film is suffused with the kind of nostalgic attitude that has a tendency to skew toward cringe-worthy sentimentality, yet here allows for the relationship between Kol and Adam to feel all the more realistic and rooted in the director's lived experience. Young love is nothing if not mawkish and awkward; presenting this truth is appropriate even if it produces momentary discomfort. In fact, sitting through these amateurish flirtations only causes one to blush and briefly reminisce about our own embarrassing statements and gestures of youthful romance. Whether or not the people who we shared these encounters with are themselves worthy of fond remembrances, the process of growing into a sensual being and the source of someone else's lust holds great personal significance. As we stray from this period of instability as adults—becoming confident in ourselves and the romantic relationships we foster—there is often less impetus to revisit these pivotal recollections.
Crucially, however, Of an Age does not endorse donning rose-colored glasses when mentally conjuring these past experiences. The film's last act occurs in 2010, over a decade after Kol and Adam share a riveting 24 hours together that neither have ever forgotten. Both men now live abroad—Kol an academic based in the U.K., Adam a non-profit employee working in Latin America—and run into each other at their hometown airport. They catch up while riding the shuttle bus into town, the shared knowledge of their previous carnal interaction rippling just beneath the façade of polite conversation. It turns out that they're both back home for Ebony's wedding. Though Kol and Ebony haven't been close for years at this point, it's resoundingly clear why he accepted the impromptu invite. Yet while the former lovers yearn to pick up where they left off 11 years ago, the unyielding march of time has not been so benevolent. They can no longer say they are searching for the euphoria of self-exploration or sexual discovery. Alas, they've grown up.
Comparisons to Call Me By Your Name are only natural—in terms of the age gap between the lead characters, idyllic summertime backdrop and period setting—but Of an Age exudes an air of authenticity that Luca Guadagnino's film fails to capture. The emotional peaks and plateaus are less extreme, tethering the film to a genuine sense of self-consciousness that Kol can't ever quite shake. What the two films undeniably share in common is a portrayal of gay desire and sex that rebuffs the purity culture that has weaseled its way into current film discourse. Yes, it is important not to outright condone or glorify sexual predation as individuals. But stripping a filmmaker of the right to tell their own story—particularly if they themselves are the so-called "exploited" party—only prevents frank discussions of shared queer experiences in favor of bland, morally smug didacticism.
While the film's ending feels a bit abrupt and cheesy, Of an Age boasts phenomenal performances and a salient (if somber) central truth. It's never wise to anticipate a life-altering revelation from haphazard homecomings, particularly when you've been yearning for a connection that was fleeting from the offset. In the end, however, reason seldom prevails over romantics. Even after witnessing this cinematic exercise in maintaining hindsight, I'd wager that no viewer will successfully eliminate their own tendencies to ruminate on the infinite possibilities of past passions.
Director: Goran Stolevski
Writer: Goran Stolevski
Stars: Elias Anton, Thom Green, Hattie Hook
Release Date: February 17, 2023 (Focus Features)
---
Natalia Keogan is Filmmaker Magazine's web editor, and regularly contributes freelance film reviews here at Paste. Her writing has also appeared in Blood Knife Magazine, SlashFilm and Daily Grindhouse, among others. She lives in Queens with her large orange cat. Find her on Twitter @nataliakeogan