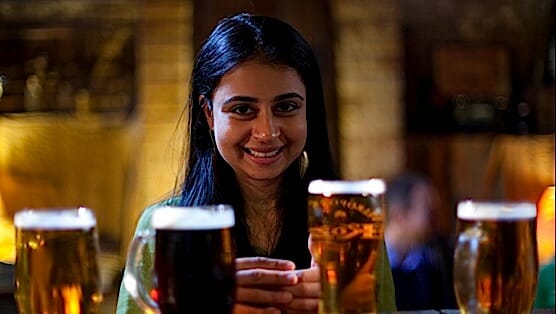 Hank and Asha, winner of the 2013 Slamdance Film Festival Audience Award, is a romance for the millennial set. Just as letters served their purpose in Ernst Lubitsch's The Shop Around the Corner or AOL in You've Got Mail, the mode of communication is integral to the film: The titular characters only correspond through video messages.
While there's no case of mistaken identity or intention in Hank and Asha, it explores the age-old question of finding human connections—only this time in an overly plugged-in world. The film struggles at times with its video plot device (making it feel longer than its 73 minutes), but the captivating leads help buoy the familiar storyline.
Asha (Mahira Kakkar), a film student from India studying in Prague for a year, sees a documentary at a film festival. She sends the filmmaker a video message asking him a few questions about the film. New York-based director Hank (Andrew Pastides) sends her a response, through he's a little uncomfortable in front of the camera (and even has trouble adjusting his camera at first, a humorous touch).
Hank asks if she'd just like to video chat (which was our question as well), but she sends him scenes filmed around the city of Prague, saying those moments would be lost in a video chat. Hank doesn't push it further, and so the audience is asked to take a leap of faith (and possibly chalk it up to the time difference between the two). Through a series of video messages—in which they're never onscreen together—the characters develop a friendship, which progresses into a more nebulous territory.
With a loose framework for a script written by the husband and wife team of James E. Duff, the film's director, and Julia Morrison, editor, Hank and Asha has a documentary feel to it. Kakkar and Pastides, who are both theater actors trained in improvisation as well as aspiring filmmakers, were relied upon to collaborate on the dialogue (or in this case, monologues) and even hold the camera for certain shots.
Kakkar's Asha is a wide-eyed, innocent in a new city who's trying to figure out her place in the world and within a traditional Indian family. Pastides is charming as another New York transplant who struggles to make his films and ends meet by working as a production assistant on a reality TV show. Both actors bring awkward and comic touches to their respective screens, hallmarks of any burgeoning relationship.
Small, sweet moments peppered throughout the film are a little reminiscent of Spike Jonze's Her. Hank takes the camera out to a nice dinner, pretending Asha's on the other side of the table. The confused waitress humors him by handing him two menus and wine glasses. He even asks for Asha's permission to taste her chicken. (He's ordered two entrees as well.) Likewise, Asha takes Hank's proxy on a picnic and out on a wild night of dancing.
Adding to the intimacy of these "video love letters" from their respective cities are shaky hand-held camera techniques. Those shots, combined with the use of seemingly arbitrary camera placement in other scenes, make the plot a little more plausible.
In the film's big, sweeping romantic gesture, Hank sends Asha a ticket to Paris for a weekend after mentioning that she's always wanted to go. She's touched but taken by surprise—their relationship has only spanned a few weeks. After going back and forth via video about meeting in real life, both reveal obligations to their families that complicate matters. There's a sense of disconnection, even in an overly connected world, that looms over the characters.
That Hank and Asha are alone in their cities and attempt to connect with someone, anyone—is a situation that spans time and time zones. Understanding the human heart is never easy, even with all the communications tools at hand. Though the film's leads are engaging and appealing, the contrived plot device of communicating solely through video becomes tiresome after the novelty wears away.
Christine N. Ziemba is a Los Angeles-based pop culture writer and regular contributor to Paste. You can follow her on Twitter.
Director: James E. Duff
Writer: James E. Duff, Julia Morrison
Starring: Mahira Kakkar, Andrew Pastides
Release Date: Apr. 11, 2014 (New York); Apr. 18, 2014 (Los Angeles)