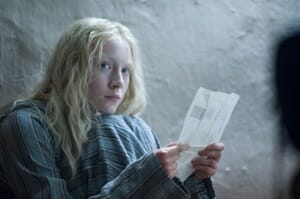 Director: Joe Wright
Writers: Seth Lochhead, David Farr
Cinematographer: Alwin H. Kuchler
Stars: Saoirse Ronan, Eric Bana, Cate Blanchett
Studio/Running Time: Focus Features, 111 min.
Although the storyline may be a somewhat familiar retread, Hanna manages to bring some fun and heart in this likable, action-driven film from director Joe Wright (Atonement, Pride & Prejudice).
The lead character, 16-year-old Hanna (Saoirse Ronan), shares traits with several action-movie heroines, particularly Leeloo of the Fifth Element. Both are on important missions they were raised to perform. Both are trained to kill when necessary. And, whereas Leeloo was from outer space, Hanna might as well been after being raised by her "missing", ex-CIA father deep in the Finland woods with no contact to civilization. But that situation drastically changes when Hanna is captured and attempts to assassinate the woman who killed her mother, an action that leads to her discovery of the modern world as she journeys to Berlin to meet her father (Eric Bana).
With her wide-eyed innocence continuously being replaced by a steely and deadly determination, Ronan surprisingly navigates the mood swings with the ease of an older, more experienced actress—like, say, Cate Blanchett who is at her diabolical best as intelligence agent Marissa, Hanna's intended target. She'll stop at nothing to kill both Hanna and her father. Tom Hollander steals quite a few scenes as Marissa's crazed minion.
Hanna's chance meeting with the talkative Sophie (Jessica Barden) and her nomadic hippie family turns into a charming episode of discovery for Hanna as she negotiates her dangerous trek to Germany. Like Leeloo she's disturbed by the (always) violent images coming from a TV. And even her first, close experience with a boy turns violent. But the relationship between Sophie and Hanna turns into beautifully touching friendship.
A Chemical Brothers soundtrack greatly adds to the martial arts moments, and the gentler flower power songs meld well with Hanna's European adventure.
The ending unfortunately gets bogged down with the inevitable, climactic battle between Marissa and Hanna, although there was most definitely room for a more imaginative conclusion. As a whole, however, Hanna kicks proverbial butt.