The BBC Announces "Definitive" Harvey Weinstein Downfall Documentary
Weinstein will tell the story of "Weinstein's career, fall from grace and Hollywood's culture of abuse"
Photos by Bryan Bedder/Getty, Drew Angerer/Getty
Movies
News
Harvey Weinstein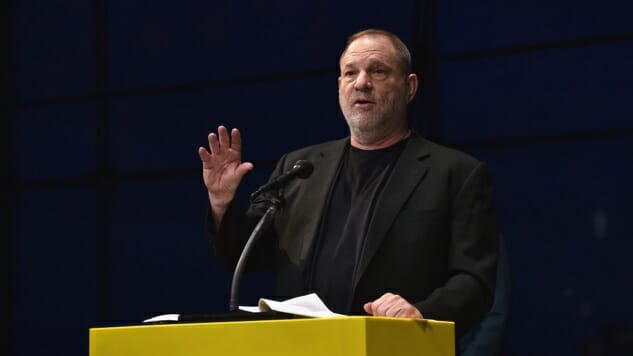 In lieu of more attention towards Harvey Weinstein himself, the BBC aims to take a closer look at a phenomenon, enlisting Lightbox to produce and Ursula MacFarlane to direct a documentary on a monster's rise and fall, and the deeper echoes from a culture of abuse. According to THR, the film will feature interviews with "the many actresses who have been brave enough to tell their stories" of harassment and assault, as well as "producers, directors, actors, agents, lawyers, journalists and others." It will also take a look at the roots of power imbalances in the entertainment industry, beginning with "the studio system in the 1930s."
Weinstein (the working title) will be 90 minutes long and air on BBC Two sometime in 2018.
Lightbox creators Simon and Jonathan Chinn (Man on Wire, Searching for Sugar Man) bring both industry knowledge and a few Oscars to the table. "As a little bit of an [industry] insider, I was fascinated with the story as it unfolded and not a little shocked," Simon Chinn told Variety. "As much as people knew a lot about Harvey and his reputation, there was plenty that we didn't know."
Chinn also noted that the documentary will "retell the Weinstein story in light of recent revelations and in the context of the wider culture in Hollywood," telling Variety:
As the story evolved, we started to think about the industry as a whole and the culture and complicity of the industry, and the question of how Harvey got away with that level of alleged behavior and … whether we are looking at a real watershed moment.
Tom McDonald, BBC executive, told THR that the documentary "promises to be the definitive take on the Weinstein scandal," which is a tall order considering that several active police investigations against The Weinstein Company co-founder are currently ongoing.