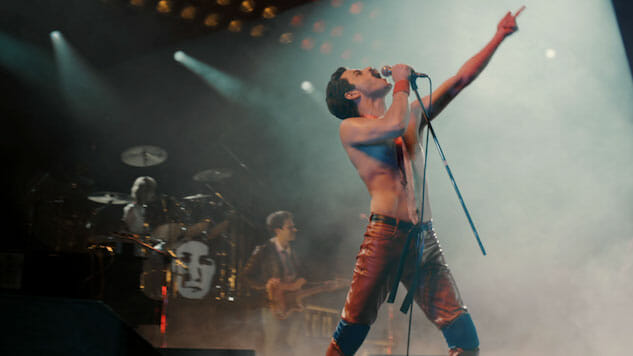 Last month marked HBO's triumphant attempt at rising from the ashes of the Game of Thrones finale to debut the critically acclaimed Chernobyl, and yes, it worked. That dazzling debut is proving a tough act to follow, though, as HBO's July programming slate for HBO Now clearly shows. Let's get into it.
At the behest of the hoards of classic rock stans on Twitter, as well as those willing to add some context to the horrendously edited scene that went viral during Oscar season, Bohemian Rhapsody will arrive on July 6. HBO will also be rolling out other shiny new films from 2018, including the Oscar-nominated and Ryan Gosling-laden First Man (July 20), acclaimed Anya Taylor-Joy-led thriller Thoroughbreds (July 5) and Steve McQueen's stellar heist flick Widows (July 27). For those of you looking to get 'roided-up on some patriotic cinema, The Manchurian Candidate, The A-Team and, of course, Sgt. Stubby: An American Hero are set to arrive just in time for the 4th of July. Some good ol' action flicks are being added to HBO's library as well, including Jennifer Garner's Elektra misfire, Rush Hour 2 and 2017 hot mess Justice League. And there's also a first look for Fast & Furious Presents: Hobbs and Shaw, for those of you who are still turning out to pay money for installments in the Fast & Furious franchise. (No judgment! … Okay, some judgment!)
As for TV originals, HBO might be too overindulgent in the true-crime department. Two-thirds of their original programming block this month is true-crime content, so you can expect three new two-part investigative documentaries to end up in your docket: I Love You, Now Die, Behind Closed Doors and Who Killed Garrett Phillips? Beloved Sarah Jessica Parker dramedy Divorce also returns for its third season this month, arriving alongside the premiere of HBO Europe and TNT Serie's six-part German cyber-drama Hackerville, and a social media thriller titled Share. And though it's been one hell of a ride, it's time to say goodbye to Big Little Lies, as the female-led juggernaut rounds out its second season (cue Vitamin C's "Graduation") on July 21. Also leaving the network for the time being are Sesame Street (which is rounding out its 49th season—yeah), Fred Armisen's Los Espookys and British miniseries Years and Years.
Make sure to show departing titles some love before they're removed from HBO's library. Some notable departures this month include the Leo-led stunner The Beach, Wes Anderson's Isle of Dogs, Zack Snyder's Dawn of the Dead and one of our favorite relics from the early 2000s, Freaky Friday.
Take a peek at HBO's full slate of arrivals and departures for next month below.
Theatrical Premieres:
Victor Crowley, 2017 (7/1)
American Nightmares, 2018 (7/1)
Thoroughbreds, 2017 (7/5)
Bohemian Rhapsody, 2018 (7/6)
Fantastic Beasts: The Crimes of Grindelwald, 2018 (7/13)
First Man, 2018 (7/20)
Red Sparrow, 2018 (7/23)
Widows, 2018 (7/27)
Original Programming:
Hackerville (7/1)
I Love You, Now Die, Part 1 (7/9)
I Love You, Now Die, Part 2 (7/10)
From the Earth to the Moon (7/15)
Behind Closed Doors, Part 1 (7/16)
Behind Closed Doors, Part 2 (7/17)
Who Killed Garrett Phillips?, Part 1 (7/23)
Who Killed Garrett Phillips?, Part 2 (7/24)
HBO First Look: Fast & Furious Presents: Hobbs and Shaw (7/26)
Share (7/27)
Unmasking Jihadi John: Anatomy of a Terrorist (7/31)
Series Premieres:
Divorce, Season 3 Premiere (7/1)
Series Finales:
Sesame Street, Season 49 Finale (7/13)
Los Espookys, Season 1 Finale (7/19)
Big Little Lies, Season 2 Finale (7/21)
Years and Years, Miniseries Finale (7/29)
El Jardin de Bronce, Season 2 Finale (7/29)
Estrenos:
El Astronauta (AKA The Astronaut), 2018 (7/1)
My Name Is Maria De Jesus, 2017 (7/1)
Yo Soy Taino (AKA I Am Taino), 2019 (7/1)
Lino, una aventura de siete vidas, 2017 (7/5)
A Boy Called Sailboat, 2018 (7/12)
Miriam Miente (AKA Miriam Lies), 2018 (7/19)
Natacha, 2017 (7/26)
Starting July 1:
The A-Team (Extended Version)
A Nightmare on Elm Street, 2010
An Ideal Husband, 1999
By the Sea, 2015
Cyrus, 2010
Dead Man on Campus, 1998
Doppelganger, 1993
Elektra (Director's Cut), 2005
The Hoax, 2006
I, Robot, 2004
Justice League, 2017
Keeping Up with the Steins, 2006
Little Fockers, 2010
The Manchurian Candidate, 1962
Me, Myself & Irene, 2000
The Mother, 2003
Mr. Right, 2005
MXP: Most Xtreme Primate, 2004
Notting Hill, 1999
The Ring Two (Extended Version), 2005
Rush Hour 2, 2001
Sgt. Stubby: An American Hero, 2018
Term Life, 2016
Wall Street: Money Never Sleeps, 2010
Wallace & Gromit: The Curse of the Were-Rabbit, 2005
When We Were Kings, 1996
Without a Paddle, 2004
Ending July 31:
The American President, 1995
The Beach, 2000
Blockers, 2018
Collateral, 2004
The Count of Monte Cristo, 2002
Crimes and Misdemeanors, 1989
Dangerous Minds, 1995
Dawn of the Dead, 2004
Freaky Friday, 2003
Ideal Home, 2018
In the Name of the Father, 1993
In the Valley of Elah, 2007
Isle of Dogs, 2018
Life of the Party, 2018
Love Potion No. 9, 1992
Never Been Kissed, 1999
The Outsiders, 1983
The Prince & Me, 2004
Ready Player One, 2018
Reign of Fire, 2002
Secret Window, 2004
Spies Like Us, 1985
Striptease (Unrated Version), 1996
Traffik, 2018
Valentine's Day, 2010
You Got Served, 2004