Nick Offerman Is the Most Adorable Indie Dad in this Hearts Beat Loud Music Video
Images via Milan Records USA/YouTube
Movies
News
Hearts Beat Loud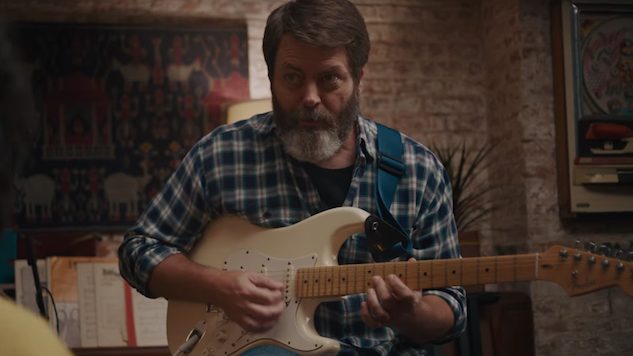 Nick Offerman makes records now. Just kidding (we wish), but his character in Hearts Beat Loud, a new indie film out this summer, sure does.
In the film, Offerman plays Frank, the elder half of a close father-daughter duo who owns a record store in Red Hook, Brooklyn. His daughter, Sam, is college-bound and preparing herself for the throes of pre-med academia. In a final push for shared household bonding, the two record a song together and Frank, unbeknownst to Sam, uploads it to Spotify. Once there, in a very timely anecdote for today's music culture, it quickly finds its way onto one of Spotify's editorial playlists, becoming an instant hit.
Now, there's a sweet music video to go along with the song, which shares the movie's title, and you can watch it below. "Hearts Beat Loud" can be heard on the movie's soundtrack, too, which also features "Your Best American Girl" by Mitski.
In the video, we see Offerman in the role of the goofy, music-loving father. He plays guitar and drums on the song, in a small way fulfilling his lost dream of making rock music.
"Hearts Beat Loud," the song from the movie, is very much the kind of relaxed guitar ditty that would find itself on Spotify's "Best New Indie" playlist. In turn, Hearts Beat Loud, the movie, is like 2013's Begin Again in that it's a kind-of-loveable indie music film that examines a series of entangled relationships.
Watch the video for "Hearts Beat Loud" below, and read the Paste review of the movie right here.