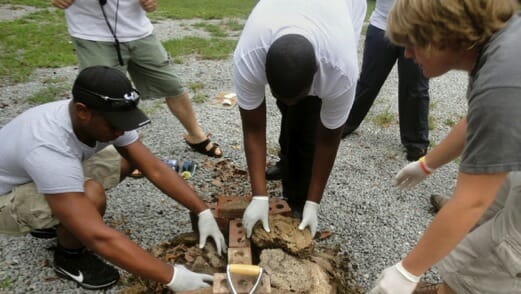 A polished, if not exactly thorough, portrait of one North Carolina school administrator's attempt to modernize shop class—and perhaps the entire education system—If You Build It plops two liberal (read: progressive) elite (read: educated) design activists in Bertie County, the poorest in the state. There, designer Emily Pilloton and architect Matthew Miller—partners at work and at home—set up Studio H (for "humanity," "habitats," "health" and "happiness") to teach a class of 10 juniors to "Design. Build. Transform." (They're big on taglines.) Over the course of the year, their students learn to dream up, develop and construct a backyard game, chicken coops and ultimately a structure that benefits their entire community.
Emily and Matt's quest is noble and not without obstacles along the way, including the forced resignation of their biggest champion. Giving up their salaries, they're allowed to continue their program as long as it's funded by grants and thus doesn't cost the district a cent. (C'mon, did they really think they could command $40,000 each their first year of teaching? The going rate for first-year Ph.D.-educated teachers during that time frame in North Carolina was 10 percent less than that.)
Unfortunately, while director Patrick Creadon (Worldplay, I.O.U.S.A.) studiously refers to these roadblocks, he doesn't investigate them, failing to interview any school board members who are giving the do-gooders so much trouble. Nor does he offer a sense of the response to these liberal elite activists descending on the poor, rural community; how the off-site class fits in with the rest of the educational ecosystem in Bertie; or, aside from one student's upstart farming business, what their pupils' home lives are like. Other issues raised but not explored include Emily's difficulties fitting in, given she's a) a woman, b) half Asian and c) from California; the strain the project puts on her and Matt's personal relationship; and how, exactly, they live for two years without any money coming in.
That one comes away with so many questions, though, speaks to the film's inspirational quality. Emily and Matt's vision is certainly exciting, and significant screen time is spent exploring their work philosophy—a blueprint that could apply to any creative endeavor. And the power of what they achieve is palpable in the students' reactions to seeing their whimsical ideas realized full-scale. What they design and build is both beautiful and useful—and gorgeously captured by D.P. George Desort, as well.
"If you build it, he will come," goes the rest of the oft-quoted line from Field of Dreams, and Studio H's short time in Bertie is portrayed as a success. But there's a suggestion of failure, too, as the initiative has since relocated to, tellingly, Berkeley, Calif. The question remains, will the seeds Emily and Matt planted in North Carolina flourish without their care and supervision, or will they wither and die?
Director: Patrick Creadon
Starring: Matthew Miller, Emily Pilloton
Release date: Jan. 10, 2014