Avengers: Infinity War Topped Justice League's Global Box Office Take in Just 6 Days
Images via Marvel Studios, Warner Bros.
Movies
News
Infinity War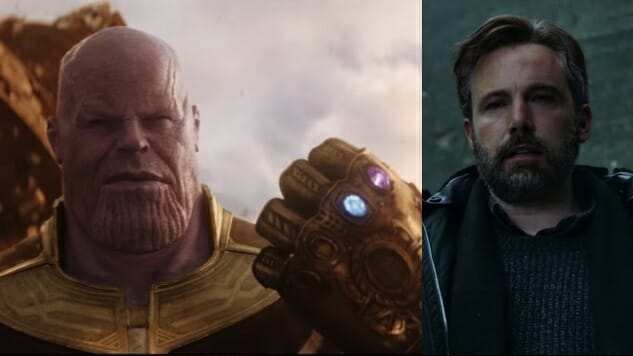 Most folks expected Avengers: Infinity War to leave a smoldering crater where the box office used to be, and it did: The massive Marvel Cinematic Universe centerpiece had the biggest opening weekend in history, demolishing just about every record it could have. That's not all it demolished: Infinity War also laid waste to Warner Bros.' DC team-up Justice League, topping that big-budget disappointment's global gross in just six days, per TheWrap.
Avengers: Infinity War had grossed $725 million around the globe as of Tuesday, after being released in 21 markets a week ago today. That amount, accumulated with staggering speed, handily tops the $657.9 million mark reached by Justice League, which, according to Box Office Mojo, was in theaters for some 17 weeks, as opposed to, say, less than one. Also according to Box Office Mojo, Infinity War currently stands at $784.9 million worldwide, a number that's sure to continue to balloon in the coming days. Don't be surprised when Infinity War breaks the record for the fastest film to make more than $1 billion worldwide, currently held by Star Wars: The Force Awakens, which accrued that amount in only 12 days.
It's not just Justice League that Infinity War has left in the dust, either. The third Avengers film (or fourth, if you side with those folks who argue that Captain America: Civil War should count) has also already surpassed the global grosses of at least nine other MCU films, including Guardians of the Galaxy's $773 million, Captain America: The Winter Soldier's $714 million, Doctor Strange's $678 million and Ant-Man's $519 million. It still has a ways to go to top Black Panther, though, which has grossed $1.33 billion worldwide since its February release.
Infinity War opens in Russia tomorrow, Thursday, May 3, and in China next Friday, May 11, so you can bet each and every one of your Infinity Stones that its gaudy numbers are only going to get gaudier as the month of May rolls on.
Read our spoiler-free review of Infinity War right here and see a trailer for the film below.