The Original Iron Man Suit, Valued at More Than $300,000, Has Apparently Been Stolen
Movies
News
Iron Man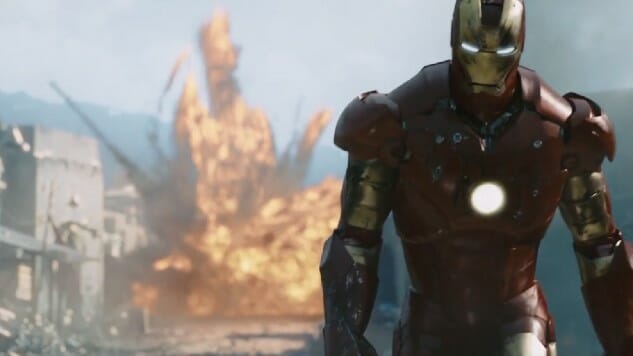 There are certain pieces of movie memorabilia that surely any lover of popular cinema would cherish having in their home. The Ruby Slippers from The Wizard of Oz. A full-scale xenomorph costume from the original Alien. James Bond's Walther PPK. You know, that sort of thing.
Add one to that list that you might be able to pick up on the black market sometime soon: The original, iconic suit of red and gold power armor built by Tony Stark in 2008's Iron Man. According to Los Angeles Police and local news reporters, the suit from Marvel Studios first Iron Man film has gone missing, is presumed stolen, and carries a valuation of $320,000 or more.
The story appears to have been broken by CBS2 News Anchor Pat Harvey, who tweeted some hot #BreakingNews, complete with what looks like a cell phone video of the original film, for whatever reason.
CBS2-#BreakingNews This original #Ironman costume has been stolen. Sources say it's worth $300k. @CrystalCruzCBS with the story #onlyon2@11@CBSLA@KCBSKCALDesk@1GarthKemppic.twitter.com/eJimw2El2C

— Pat Harvey (@Patharveynews) May 9, 2018
According to CBS followup, the costume went missing from a Pacoima, LA warehouse/props storage facility. The owners of the facility aren't even sure when the theft happened, but it may have been some time ago. The latest that anyone can seem to remember seeing the costume was in February, meaning that for all we know this thing has already been shipped around the globe and sold to some shadowy private collector by now. As we type these words, the original Iron Man costume could be posed with a roll of toilet paper on his hand in the bathroom of some vacation home of Vladimir Putin.
It's hard to imagine a single costume that is more integral to the history of the Marvel Cinematic Universe. This is the suit that Tony Stark (Robert Downey Jr.) is wearing during his first big combat scene in Iron Man, as seen in the photo at the top of this page. It's also the film that launched the MCU into the globe-conquering shared universe that it became, largely on the strength of its effects and Downey's instantly iconic characterization of Tony Stark. It's safe to say that even with the price tag of $320,000 being bandied about, this suit is more or less priceless from the standpoint of cinematic history, especially as the MCU continues to expand with massive payoffs like The Avengers: Infinity War.
Will the suit ever be recovered? Why was something so valuable sitting in an easily looted warehouse to begin with? Why did no one potentially notice it was missing for several months? There are a whole lot of questions here that need answers.
Here's hoping that we'll have some of those answers by the time we get another Avengers follow-up, which might also serve as Robert Downey Jr.'s farewell as Iron Man.
One can only assume that Michael Keaton is probably wanted for questioning right about now.