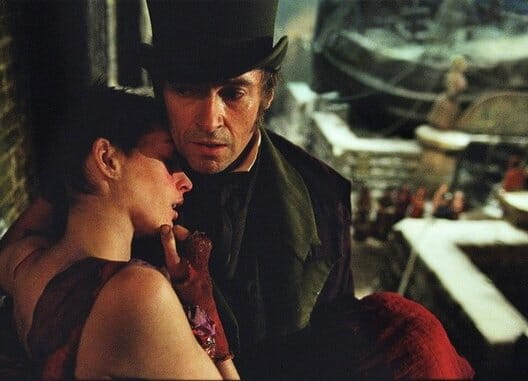 The first thing you notice is the breathing. Jean Valjean is standing atop a hill in the French mountains, contemplating his future after 19 years of prison, and you can hear the weariness in his singing, the gasps between words. Director Tom Hooper quickly makes clear that his film adaptation of the hit stage musical Les Misérables will not be a collection of technically perfect, glossy renditions of its songs. The film features excellent singing, for the most part, but it also emphasizes fragility in a work that's largely defined by its grandiosity.
As many are aware (perhaps painfully so, depending how often their multiplex played the pre-movie featurette), Hooper insisted on recording the vocal performances live during filming. He tossed out the usual—and logistically much more practical—method: Record the actors in the studio, then film them lip-syncing months later. It would be easy to dismiss the move as a gimmick—plenty of great musicals have been made with the standard technique—but the difference is noticeable. In addition to freeing the actors to indulge in spontaneity, the techniques connects the songs to their settings. The performers are coping with the physical demands of location work, not standing still in a vocal booth.
The process would be a microphone man's nightmare, yet the sound is pristine. Every warble, cry and mumble comes through with extreme clarity. It's a reminder that grittiness comes out in details, not through substandard quality.
Where other recent musical adaptations like Rent and Phantom of the Opera went for a slick aesthetic, Hooper wants to create an intense, visceral experience. He isn't out to remove the sweeping emotion—Les Misérables would likely deflate without it. But he is looking for opportunities to get down and dirty. (We don't merely get the sewers of Paris, we get an underground fecal river.) Not everything he tries works, but he achieves an intimate connection with his characters. His camera gets right in the actors' faces and holds shots for long stretches.
The play and its music have always been about milking as much emotion as possible from the audience. It distills the themes of Victor Hugo's 19th Century French novel into sweeping orchestration and belting voices. Characters despair at their degrading lives, find religion and redemption, and pine over various forms of love. A non-musical film could never get away with abruptly introducing a love triangle of non-established characters, then having all three of them whine about their feelings for 20 minutes. But the music opens the audience to an emotional assault.
It makes sense that Hooper focuses on the one thing that can convey these intense emotions as swiftly as music: the human face. In the film's standout moment, Anne Hathaway beautifully captures the essence of despair in a long, shaky take of "I Dreamed a Dream." Hathaway intensely feels the music. Her character, Fantine, has been stripped of all dignity in her efforts to earn money to care for her daughter. Hathaway sings the song not just with desperation, but with anger and heartbreak. It's great singing and great acting. Perhaps the film's biggest disadvantage is that nothing in the remaining two hours can quite top it.
Hugh Jackman stars as Jean Valjean, who breaks parole after being released from years of hard labor in prison. Russel Crowe plays Javert, the soldier who continually pursues him in the name of strict adherence to the Law. The two lead actors face the most difficult challenges, musically.
Jackman encounters some passages that don't suit his voice. (Other songs, like "Bring Him Home," suit it perfectly.) But he's well aware of his limitations and how to work around them. Most importantly, he understands the emotions behind the music and is able to create a full character from it.
Crowe is the only cast member who can't quite rise to the demands of the music. Much of the time, he is able to get by on his acting, and his quieter reading of some of the material makes for an interesting portrayal of the usually thunderous Javert. Crowe even pulls off a strong emotional payoff in Javert's final scene. But in the moments that demand a big, musical-theater voice, his sounds brittle and out of place, a foreign noise in an otherwise blended ensemble.
There are many standouts among the supporting cast. Samantha Barks, Amanda Seyfried and Eddie Redmayne are all excellent as the young, idealist love-trianglers whose lives change dramatically in the 1832 June uprising in Paris. Sacha Baron Cohen and Helena Bonham Carter provide spry comic relief as a couple of corrupt inn owners. Colm Wilkinson, who originated the role of Jean Valjean in London and on Broadway, has a nice cameo as the forgiving and generous priest who gives Valjean the chance to start a new life.
Hooper's directorial choices contribute to the quality of many of the performances, but not all his moves work. The film is loaded with Dutch angles and other distortions to remind us that we're definitely watching a film, not a play. Sometimes the motivation behind the visual choice is obvious—when vicious women harass, gossip and moralize at Fantine, they become grotesquely distorted as they encroach upon the wide-angle lens. Other times, the compositions clash with the tone of the music and seem to have been made in a misguided effort to keep things interesting. Also, Hooper isn't as at home shooting the large crowd scenes as he is shooting one character's face. The funeral that sparks the Paris uprising is particularly clumsy.
Ultimately, however, the honest, heartfelt performances overcome the flaws. Les Misérables is not a film that will win over nonbelievers, but it's an earnest and ambitious effort to film a work that has become a huge part of many fans' lives. That it does so while bringing a newfound human connection to the songs is an achievement worth singing about.
Director: Tom Hooper
Writers: William Nicholson (screenplay, based on the musical by Claude-Michel Schönberg & Alain Boublil); Herbert Kretzmer (English lyrics); James Fenton (additional English text); Victor Hugo (novel)
Starring: Hugh Jackman, Russell Crowe, Anne Hathaway, Amanda Seyfried, Sacha Baron Cohen, Helena Bonham Carter, Eddie Redmayne, Aaron Tveit, Samantha Barks, Daniel Huttlestone
Release Date: Dec. 25, 2012