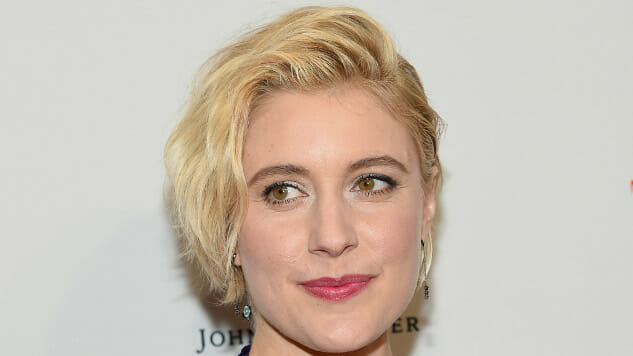 "Everything We Know about … " is Paste's series of deep dives into the forthcoming projects we're most excited about. Explore them all here.
Anticipation is high for Greta Gerwig's adaptation of the classic Louisa May Alcott novel Little Women, the follow-up to her beloved directorial debut Lady Bird. Here's everything we know so far about Gerwig's Little Women adaptation, coming next year.
Plot
Gerwig's forthcoming Little Women marks the eighth adaptation of Alcott's novel for the screen, but it seems that her take on the source material will foreground some of the same themes we saw her explore in Lady Bird.
Producer Robin Swicord, who also wrote the 1994 film version, says Gerwig's screenplay focuses more on the March sisters' young adult lives, and especially the period after Meg, Jo and Amy leave the family home, per The Los Angeles Times.
"It's really taking a look at what it is for a young woman to enter the adult world," Swicord also said, adding that the screenplay jumps back and forth in time between the March sisters' childhood and young adult lives, and focuses more on themes than narrative.
Cast and Characters
Gerwig has filled out an all-star ensemble for her Little Women adaptation, although we don't yet know exactly which roles each cast member is playing.
Saoirse Ronan, Florence Pugh, Eliza Scanlen and Emma Watson, replacing the originally announced Emma Stone, are all set to play the March sisters, but fans are still speculating as to their specific roles.
An on-set video from the Little Women set earlier this month showing Watson in frumpy period clothing led The Cut to speculate that she is playing eldest sister Meg:
Meanwhile, the casting of Ronan's Lady Bird co-star Timothée Chalamet, presumably as love interest Laurie, suggested that Ronan would play Jo, with Pugh as Amy and Scanlen as Beth.
That speculation was backed up by recent on-set photos that appear to show Ronan in costume as Jo, with co-star Louis Garrel playing Jo's husband, Friedrich Bhaer.
Ronan's once-and-future co-star Chalamet shared a sweet behind-the-scenes photo on Instagram showing his reunion with Ronan and Gerwig during rehearsals for the film, taken a few weeks prior to his post.
While it was presumed when she joined the cast in June that Meryl Streep would play family matriarch Marmee March, Little Women producer Swicord has since confirmed that Streep will play Josephine March, the March sisters' aunt. Word now has it that Streep's future Big Little Lies costar, Oscar nominee Laura Dern, is set to play matriarch Marmee.
Also featured in unknown roles are Bob Odenkirk, Grantchester star James Norton and Oscar winner Chris Cooper.
Behind the Scenes
Gerwig is set to write and direct Little Women, having joined the project in 2016 when she was brought in to rewrite an original script by Sarah Polley, while she was still writing and directing Lady Bird. Following Lady Bird's success, though, Sony Pictures reportedly ratcheted up pre-production on Little Women in order to court Gerwig for her next directing gig.
Amy Pascal, Denise Di Novi and Swicord are producing Little Women for Sony Pictures, with Andrea Giannetti overseeing the project for Sony's Columbia Pictures label.
Casting notices reveal that Little Women is shooting in the Boston, Mass., area from October through December, with a release date from Sony Pictures tentatively set for Dec. 25, 2019.
The Latest
On Oct. 26, residents of Harvard, Mass. (no relation to the university) first spotted crews filming in the small central Massachusetts town, as reported on MassLive.com. One resident also said Laura Dern was having dinner the other night in nearby Concord, Mass., where the original novel is set.
Crews set up a makeshift village in the center of town, transforming the Harvard General Store into the Concord General Store, which matches the setting of the original, with plans to return to the town on Nov. 2 and 5.
Local fans also posted on Instagram about spotting the shoot.
On Oct. 31, one fan appears to have caught Streep, in costume playing Aunt March, as she was filming that day.
MERYL STREEP IS NEAR ME #littlewomenpic.twitter.com/BrL4OLn04z

— Savannah Marie (@savannahstro) October 31, 2018
Film crews arrived to shoot a scene at Harvard University's Arnold Arboretum that day, as was posted on the school's Instagram the following day. Writer-director Greta Gerwig was on hand for the scene, along with stars Streep, Timothée Chalamet and Florence Pugh.
On Nov. 1, The Harvard Gazette also published a piece about the shoot with William Friedman, the director of the Arnold Arboretum. Little Women is the first movie to be filmed at the arboretum, which was established in 1872, according to the Gazette. Columbia film crews were there to film the scene "Paris Carriage Ride," and transformed the Boston-area garden into a 19th-century European park.
Filming returned to Harvard, Mass., on Nov. 5, and came with the first set photo of the four March sisters together, as published in Vanity Fair. Emma Watson, Eliza Scanlen, Saoirse Ronan and Pugh appear in costume as the four March sisters, braving the snow that producers had set up.
See Saoirse Ronan, Emma Watson, Florence Pugh, and Eliza Scanlen in character on the set of Little Women https://t.co/LMTELa90fQ

— VANITY FAIR (@VanityFair) November 7, 2018
On Thursday, Dec. 13, Emma Watson shared the first official cast photo from the film, as reposted on a newly created Little Women Instagram account.
The new photo features writer-director Gerwig and confirms the casting on several key roles in the film: Meg (Watson), Jo (Saoirse Ronan), Amy (Florence Pugh) and Beth (Eliza Scanlen) are the four March sisters, joined by Theodore "Laurie" Laurence (Timothée Chalamet), Jo's love interest and Amy's eventual husband.