The United States of Film: Louisiana
15 films that bridge the bayous to Bourbon Street
Movies
Lists
Louisiana
There's the South, and then there's Louisiana. Many would argue the state is its own country, if not universe, especially when you approach the New Orleans city limits. Marked by an exceptional cultural gumbo of French, Spanish, Native American and African populations—not to mention strong Italian, German, Irish and Vietnamese communities, and dialects including Cajun, Creole and Yat—the state's renown as a melting pot only begins with its sometimes balmy, sometimes blistering subtropical conditions. In Louisiana, where counties are referred to as parishes and to go shopping is "to make groceries," everything's just a bit different. No more apparent is that than in the Big Easy, a destination known as much for being a port city as a party city. But there's much more to the state than the Mardi Gras mecca of New Orleans, as witnessed in the best onscreen representations of one of the most richly storied and influential parts of the U.S.
Many Louisiana-set films trade on the slow-drawl, slower-smarts stereotypes of the Deep South (The Waterboy, ahem, Fletch Lives). Others take a cue from the area's humid, corrupt and tawdry charms (No Mercy, Wild at Heart, Heaven's Prisoners and its sequel, In the Electric Mist) or street-smart M.O. (Hard Times, The Cincinnati Kid). The melodramas (Passion Fish, Hush Hush Sweet Charlotte, Lady from Louisiana) are as plentiful as the magnolias (Steel Magnolias, of course). So, too, for a state where headlines precede it, are the movies centering around prison and poverty: The Green Mile, Dead Man Walking and Monster's Ball, among them. And then there's the scandalous politics: Consider the original All The King's Men, inspired by the life of controversial Louisiana governor and state senator Huey P. Long, and Blaze, the Paul Newman-starring fictionalization of Huey's brother, Louisiana's 45th governor, Earl Long, also the uncle of U.S. Senator Russell Long.
Also omitted here are Spike Lee's outstanding post-Katrina documentaries for HBO, When the Levees Broke and If God is Willing and da Creek Don't Rise, and, believe it or not, a pair of Jean-Claude Van Damme vehicles (Universal Soldier, Hard Target). Still, from campy thrillers (Hatchet, The Alligator People, Cat People, Candyman, Swamp Thing) to buddy movies (Delta Heat) to exploitation fare of varying degree (Live and Let Die, Pretty Baby, Drum), certain common threads emerge: a deeply atmospheric sense of climate—physical, psychological, moral, oft times supernatural; communities where everybody knows everybody else's business; lusty appetites for… everything; and, of course, accents of dubious authenticity.
Read on for 15 quintessential Louisiana films, where even though it's not always possible to "laissez les bons temps rouler," these times, after all is said and done, couldn't be set anywhere else. As they say in dem parts, yeah you right.
---
15. Little Chenier
Year: 2006
Director: Bethany Ashton
Billed "A Cajun Story" (right down to its sometimes subtitled dialogue), this barely post-Katrina-made film is as noteworthy for its production as for its hyperlocal narrative. Just three weeks after the hurricane devastated the Louisiana coastline and inland areas, another name storm, then Category 3-strength Rita, hit the city of Lake Charles and other parishes involved in the film shoot, which had just wrapped. The area was completely destroyed, what left writer-director Bethany Ashton's film as a monument of sorts to the region and its way of life.
The plot itself casts Jonathon Schaech (That Thing You Do) as Beauxregard Dupuis, a bait fisherman who lives in the titular swamp country on a houseboat alongside his mentally-disabled younger brother. Beaux pines for his ex, who's now married to the unscrupulous town sheriff, who in turn has it out for the siblings. Cue the soapy deceptions, and the Of Mice and Men clichés. The expected notwithstanding, Louisiana native Ashton has an affecting way with the rote daily business of the bayou and a Southern Gothic approach that works more often than not.
---
14. The Skeleton Key
Year: 2005
Director: Iain Softley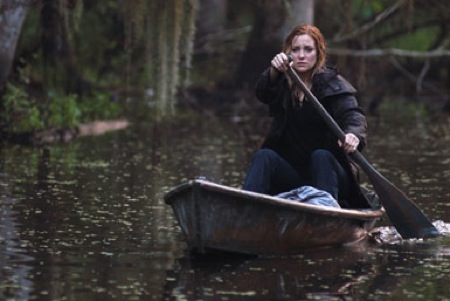 A fine cast elevates B-movie hokum in this effective thriller. Kate Hudson stars as New Jersey-to-New Orleans transplant Caroline, a hospice nurse who signs on at a coastal plantation manor. Though initially skeptical of all this local talk of superstitions, she grows to believe—the operative word here—her new patient, stroke victim Benjamin Devereaux (John Hurt), is in danger from the century-old spirits of two former servants. As Hudson's character learns more about the house's matriarch, Violet (Gena Rowlands), and the practice of Hoodoo folk magic still in play throughout the haunted mansion, the movie conjures up creaky scares and guilty pleasures, alongside a NOLA-centric soundtrack (Rebirth Brass Band, The Dixie Cups). Here the south is drenched, quite literally, in spooky meteorological clichés: lots of foreboding thunder and rain, wind-rattled doors and windows. Filmed at the historic Felicity Plantation on the Mississippi River—also a location for 12 Years a Slave—The Skeleton Key is an old-fashioned ghost story that makes the most of its antebellum backdrop, and Louisiana's rep as a hotbed for the paranormal.
---
13. The Man in the Moon
Year: 1991
Director: Robert Mulligan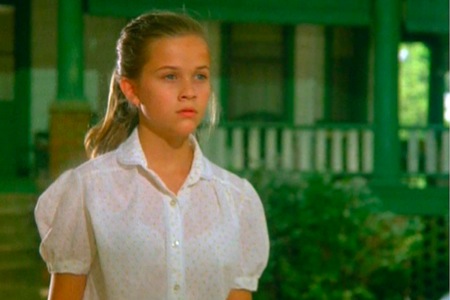 Shot in Natchitoches, the same town south of Shreveport as Steel Magnolias a couple years earlier, this languorous coming-of-age drama features the debut screen performance of Reese Witherspoon. The New Orleans native shows presence beyond her years as Dani Trant, a 14-year-old tomboy who whiles away summer days on the family farm in Elvis-crazed 1957. She idolizes her beautiful older sis, Maureen, with whom she is close, disobeys her overprotective but loving parents (Sam Waterston and Tess Harper), and steals away for dips in the neighbor's pond. But the arrival of handsome Court, the 17-year-old son of the widow next door, complicates things. Director Robert Mulligan's last film—his career included an adaptation of another Southern tale, To Kill a Mockingbird—unfolds like an afternoon breeze, reveling in the textures of the season, and the rural South: screen porches and front swings, swimmin' holes and fishin' trips, crickets and songbirds, thunderstorms and first kisses that jolt like lightning. The Man in the Moon is an organic, unforced portrait of adolescence, as vivid as Dani's daydreams.
12. Louisiana Story
Year: 1948
Director: Robert J. Flaherty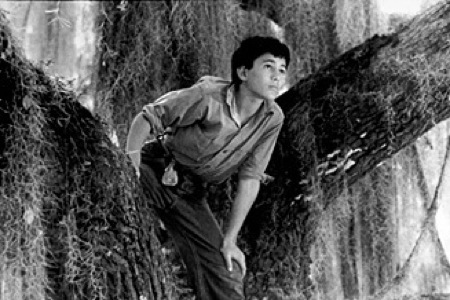 This naive piece of propaganda, which the Library of Congress in 1994 tapped for preservation in the U.S. National Film Registry, was often mistakenly referred to as a documentary. But the last feature by writer-director Robert J. Flaherty—he of the likewise fictionalized tale of man vs. nature, Nanook of the North—was funded by the Standard Oil Company and has the onscreen spin to prove it. Produced on location in the marshlands with a local cast of amateurs, the film follows the simple life of a Cajun boy (played by Joseph Boudreaux) and his pet raccoon. Drama arrives when oil men seek to drill on his family's property—that, and the appearance of a giant alligator (really). It's as quaintly idyllic as it sounds, and the petrol people, despite a rig incident gone awry, come off as upstanding folk whose concern for the environment is matched by their desire to help the community. So yeah, totally believable. Issues of plausibility aside, Flaherty's direction is characteristically lyrical, as is Virgil Thomson's score; based on field tapes of indigenous Acadian musicians, it won a Pulitzer. A visually poetic document of another time, and a prophetic glimpse of man-made disasters to come, this Story reflects reality more than you'd think.
---
11. The Curious Case of Benjamin Button
Year: 2008
Director: David Fincher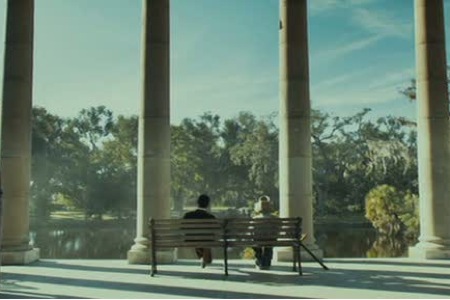 Though far from David Fincher's best work, his typically painstaking attention to detail and shrewd decision to transplant the original F. Scott Fitzgerald short story from Baltimore to New Orleans nab this film—the second shot in the Crescent City after Hurricane Katrina (after the 2006 Denzel Washington vehicle Déjà Vu)—a spot on the list. Fincher was motivated to move the production thanks to Louisiana's generous tax incentives for filmmakers—the state isn't called "Hollywood South" for just its versatile locations. But by setting Brad Pitt's aging-in-reverse timeline from November 1918 through the sirens blaring of the storm's August 2005 landfall, he and screenwriter Eric Roth (in full Forrest Gump mode again) mine a fantastical metaphor of a city that's as old as it is ageless. "The circumstances of my birth were… unusual," Pitt's Benjamin Button begins—the same fate could be said of New Orleans, and everything of both since. (Pitt has become something of an ambassador for the still-recovering town through his philanthropic foundation's efforts to help rebuild the Lower Ninth Ward.) The sprawling odyssey—Pitt called it a "love letter"—elegizes a city then barely three years removed from near destruction, its often sepia-cast vignettes showcasing the Garden District, Mid-City, the French Quarter and beyond.
---
10. Eve's Bayou
Year: 1997
Director: Kasi Lemmons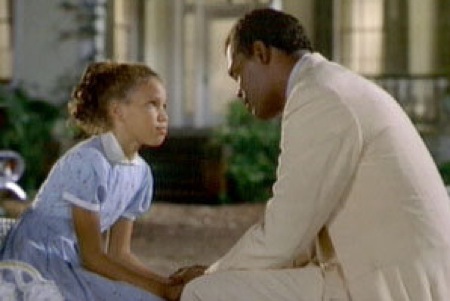 In an audacious feature debut, writer-director Kasi Lemmons (who also acted in Silence of the Lambs and NOLA-set Hard Target) delivers this under-seen gem of mood and genre that hinges on the reality of memory. The classic Southern Gothic concerns an affluent African-American family in a bayou enclave, named for a Creole slave woman, circa 1960. It's summertime (natch). Samuel L. Jackson leads a terrific ensemble; the cast includes Lynn Whitfield, Debbi Morgan, Diahann Carroll, Vondie Curtis-Hall, and even saxophonist and Breaux Bridge, La. native Branford Marsalis. Jackson is a successful doctor whose bed-hopping comes to the unwitting attention of his middle child, 10-year-old Eve (young master of the side-eye Jurnee Smollett), and sets off a crisis in the process. The names ring true of the region: Batiste, Delacroix, Mereaux. So too does the atmosphere, with its hexes and voodoo, above-ground tombs, and Spanish moss that hangs in the trees as thick as the secrets below. New Orleans-born composer Terence Blanchard contributes a nuanced score that complements Lemmons' deft way with the comic and the macabre. Filmed largely just across Lake Pontchartrain in Covington, Eve's Bayou subverts racial, regional and class stereotypes in matter-of-fact fashion, turning the evils of the plantation house of yore on their head.
---
9. The Big Easy
Year: 1986
Director: Jim McBride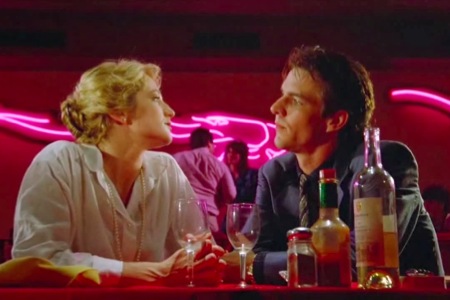 Originally to be set in Chicago, this tongue-in-cheek crime drama transfers easily and convincingly to New Orleans. Dennis Quaid does Dennis Quaid as a cocksure N.O.P.D. lieutenant who romances the new district attorney (Ellen Barkin), despite mounting evidence of his unlawful behavior, police department payoffs and mob violence. The Big Easy may be a mystery, but it's hardly a serious affair, which is why it gets away with so much. The characters are saucy—sample line: "If I can't have you, can I have my gator?"—and as shady as the city's labyrinthine courtyards and alleyways. Directed by Jim McBride and costarring Ned Beatty (check that crawdad "burl" attire), R&B great Solomon Burke and longtime Big Easy resident John Goodman, this flavorful noir gains cred for the appearance of local institutions including music venue Tipitina's and French Quarter restaurant Antoine's, plus soundtrack appearances by zydeco band BeauSoleil, legendary bluesman Professor Longhair and Aaron Neville. Funkier still, the judge in Quaid's character's case is played by Jim Garrison, the real-life lawyer and judge who, as New Orleans' one-time district attorney, brought charges in the JFK assassination—you may recall Kevin Costner played Garrison in another film set in town. As one Big Easy resident deadpans, "New Orleans is a marvelous environment for coincidence."
---
8. King Creole
Year: 1958
Director: Michael Curtiz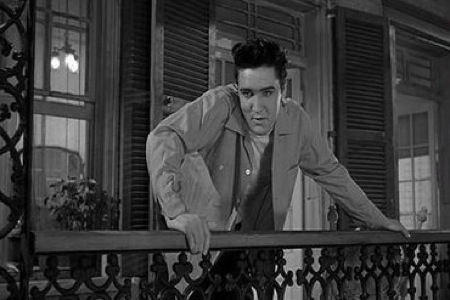 There's no leaving what is arguably Elvis Presley's finest dramatic performance (and reportedly his personal favorite) off the list, even if much of the movie was recorded on a Hollywood soundstage. The first moments of the Michael Curtiz film, shot on a French Quarter balcony that remains a tourist attraction to this day, are nothing short of iconic, The King crooning that ode to the Louisiana seafood industry, "Crawfish." Costarring Walter Matthau and Carolyn Jones (The Addams Family), King Creole casts Presley as a high school dropout-turned-singer in a Bourbon Street club who gets mixed up with local delinquents and pretty girls. "I'm not a hoodlum, but I am a hustler; I had to be for a very simple reason," Presley's character, Danny Fisher, explains early on. With a soundtrack infused with Dixieland and trad jazz, it's an indisputable entry in the Louisiana movie canon—and one that almost didn't happen: Not only was King Creole initially set to star James Dean as a boxer in New York, Presley, once recast in the Crescent City upon Dean's death, had to request a 60-day extension from the Army draft board to make the picture.
---
7. Interview with the Vampire: The Vampire Chronicles
Year: 1994
Director: Neil Jordan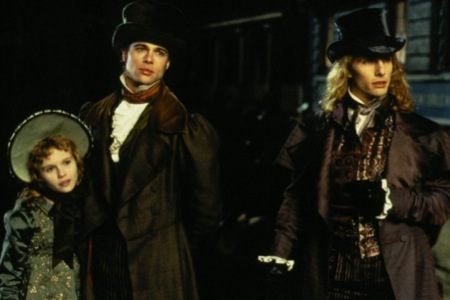 Anne Rice's 1976 gothic novel about bloodsuckers in Spanish Louisiana got the epic big-screen treatment almost two decades after its debut, and 200 years after its narrator Louis' induction into the immortal realm. New Orleans—home to many "cities of the dead" or above-ground cemeteries, due in part to the plagues that ravaged late 18th century slums—is also the perfect setting for a grief-stricken, navel-gazing young plantation owner like Louis (played by Brad Pitt) to lose himself. Preening and stalking his way through the streets, Louis' maker and lead vamp Lestat (Tom Cruise) embodies the almost otherworldly decadence and European sophistication of the city (the character still enjoys a zealous local fan club that hosts an annual ball). Director Neil Jordan, working with cinematographer Phillipe Rousselot and production designer Dante Ferretti, captures the nocturnal reality in hedonistic hues and the light of lanterns strewn throughout the French Quarter. From boudoirs to saloons to the banks of the Mississippi, it's a universe that, as noted before, stands frozen in time. New Orleans is often described as the city that will never tell you "no"—that seductive and more-than-a-little-sad truism has, um, real teeth in the undead souls of Interview.
6. Down by Law
Year: 1986
Director: Jim Jarmusch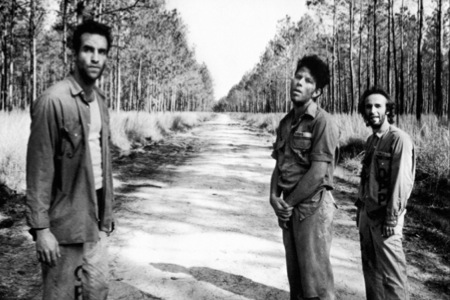 It sounds like a joke: A DJ, a pimp and a tourist walk out of a prison. (Then again, that scenario's just another morning in NOLA.) Of course, the jailbreak in Jim Jarmusch's indie classic isn't quite that simple, even if there's little more to the plot. Rocker/actor Tom Waits plays the disc jockey, fellow musician and Jarmusch collaborator John Lurie is the hustler, and motormouth Italian Roberto Benigni is the foreigner. The trio—each member falsely imprisoned—make a reluctant, often farcical team as they escape and later retreat into the wetlands surrounding New Orleans. But like any Jarmusch film, Down By Law is less about story and more about atmosphere. Thanks to tremendous performances and Robby Müller's camerawork, the film has that in spades—all the better to showcase the character of the region itself. Müller's magnificently long, strolling shots feel no less colorful in crisp black and white; a leisurely intro pans past mausoleums and swamp shacks, shotgun houses and Victorian balconies before Waits and co. inhabit the space with casual nods to local radio station WWOZ, bluesman Earl King and soul queen Irma Thomas. Outside parish limits, their bayou adventures pulse with the sounds of wildlife and stark backwater imagery. Jarmusch's oddball comic noir echoes the state of misfits in which it's set.
---
5. Southern Comfort
Year: 1981
Director: Walter Hill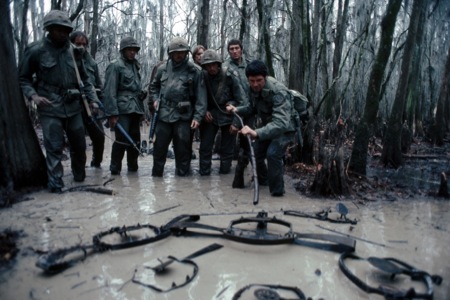 An underrated entry in action veteran Walter Hill's (The Warriors, The Driver, 48 Hrs.) filmography, this Deliverance meets Apocalypse Now survival thriller posits a National Guard unit on a weekend training exercise in the swamp that runs afoul of French-speaking locals. The entitled servicemen "borrow," bully and taunt, and surprise, they lose whatever upper hand they thought they had—especially without the aid of live ammo. Once again, Louisiana's evocative locales are the stuff of not-so-subtle allegory, this time around of the U.S.'s involvement in Vietnam (the film is set in the early '70s, though Hill, whose prior Louisiana credits included the New Orleans-set Hard Times, shrugged off the metaphor). But look past the symbolism—and the stock bros and rednecks on both sides of the conflict—and you'll notice stunning location work and cinematography that captures the beauty, mystery and, yes, terror of the bayou. Hill takes us deep into its murky waters, completely disorienting the troops (Powers Boothe, Keith Carradine and Fred Ward) and viewers alike from the outset. Ry Cooder's twangy slide guitar-driven score and arrangements of traditional Cajun Indian music keep the suspense at a slow but ominous burn. Were it not for the grisly violence—and that ending—Southern Comfort is almost a tourism postcard. Almost. (Joel Schumacher's 2000 film Tigerland mines similar terrain.)
---
4. Angel Heart
Year: 1987
Director: Alan Parker
Voodoo again plays a prominent role in this Alan Parker film, part noir, part hard-boiled detective mystery, part horror movie. As gumshoe Harry Angel in 1950s Harlem, Mickey Rourke is at his best, hired by a devilish-looking man (Robert DeNiro) to track down a big band singer, only to be lured into the occult subcultures of Louisiana. As Angel's investigation takes him south from New York City to the New Orleans neighborhood of Algiers—interestingly, a move suggested to Parker by the story's author, novelist William Hjortsberg—the color-drained, highly stylized production reflects his descent into hell. Parker wrings the humidity and torrid filth from each frame, from the streetcars, second-line parades and clubs of Uptown and Carrollton to the rural plantations of Thibodaux. You can practically smell the pervasive overripeness and touch Angel's sweat-crinkled suits. The feverish mood boils to the surface, giving up bodies and body parts of assorted creatures. Lisa Bonet (The Cosby Show), as chicken-loving priestess Epiphany Proudfoot (yup), exudes a delta sensuality that got her in trouble with her then-TV dad, and the film with the ratings board, which required trims of her and Rourke's blood-bathed sex scene. Headlines aside, Angel Heart is a wanton spectacle whose extremes suit the region.
---
3. 12 Years a Slave
Year: 2013
Director: Steve McQueen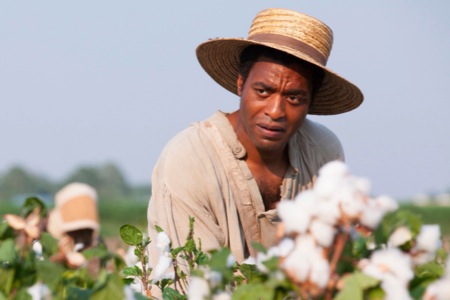 Brad Pitt makes his third appearance on the list—it's no wonder "Brad Pitt for Mayor" t-shirts populate the streets of New Orleans—here as producer and actor (albeit, in a small but pivotal role). But this is Solomon Northrup's (true) story. Chiwetel Ejiofor is quietly galvanizing as Northrup, a free black man in Upstate New York circa 1841 who is drugged, kidnapped and sold into slavery. The next dozen years may as well be a million in English filmmaker Steve McQueen's controlled, unflinching production, as Northrup adapts to survive from plantation to plantation, master to master. McQueen and cinematographer Sean Bobbitt employ a fluid, formal aesthetic that contrasts the hypocrisy of Northrup's owners, such seething inhumanity cloaked beneath their genteel, Bible-quoting propriety. It sickens on a visceral level. Lingering on the daily routines of slave life in the Deep South, 12 Years spares no sight. The film immerses viewers so thoroughly in the ugliness of history that the plain grace of its environs—as when Lupita N'yongo's Patsey crafts corn-husk dolls in the cotton fields—is almost lost. A wide shot of moss canopies and children playing, scored by singing birds and chirping crickets, would be bucolic were it not for the man slowly being lynched from one of its giant oak trees. Shot on several properties throughout Louisiana near the real Northrup's enslavement, 12 Years is a reminder of unchecked depravity whose vestiges resonate in more ways than one.
---
2. Beasts of the Southern Wild
Year: 2012
Director: Benh Zeitlin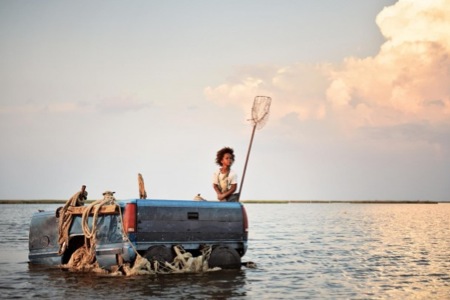 Fantasy meets reality in this apocalyptic coming-of-age fable whose art-imitating-life—or is that vice versa?—production put it in immediate contact with the BP Deepwater Horizon; the oil rig exploded the first day of filming just offshore of New Orleans, in Terrebonne Parish. Newcomer Quvenzhané Wallis—one of many cast members culled from bayou country—is extraordinary as 6-year-old Hushpuppy, a force of nature in the fictional, self-sustained fishing isle of "The Bathtub," so named because of its below sea-level, levee-created geography. Her hard-drinking father Wink's health is in rapid decline as a hurricane nears the community—along with prehistoric creatures newly unfrozen from Arctic waters. As Hushpuppy and her dad (played by fellow non-actor Dwight Henry, who like Wallis would later appear in 12 Years a Slave) face peril both internal and external, Beasts becomes surreal post-Katrina folklore, and unforgettably gorgeous lore at that. Director Benh Zeitlin, who co-wrote the screenplay with playwright Lucy Alibar, offers a mythic observation on climate change and the disappearing coastal wetlands, a fast eroding natural barrier against storm surges that, along with levees in various states of disrepair and outright neglect, pose an ongoing threat to the state. But it's hardly sociopolitical soap-boxing. Told through Hushpuppy's POV of fright and awe, the film is a powerful testament to the abiding resilience of the region and its residents—joyous to live, defiant to return, proud to remain, home.
---
1. A Streetcar Named Desire
Year: 1951
Director: Elia Kazan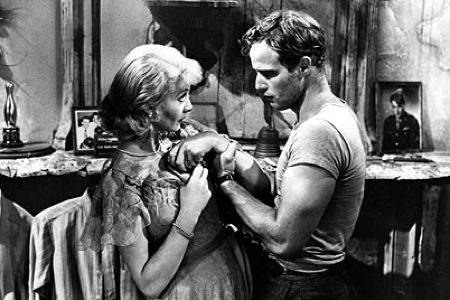 As if there were any doubt, let's look, for starters, to the perennial "Stella!" and "Stanley!" shouting contest in New Orleans' Jackson Square, part of the annual Tennessee Williams Festival. Elia Kazan's masterful screen adaptation of the 1947 Pulitzer Prize-winning classic nails the essence of the singular charisma of the Crescent City, and Louisiana at large—aggressively raw, effortlessly refined, old-world and urgent, exotic and altogether American. Despite how, like King Creole, the film was largely shot on a Hollywood soundstage, Streetcar is so intrinsically tied to its milieu that its veracity has made it an enduring cultural landmark. Amid the Southern Gothic drama of delusional aging belle Blanche DuBois (Vivien Leigh), her burly lout of a brother-in-law (Marlon Brando), and put-upon sister Stella (Kim Hunter), the French Quarter throbs with Williams' censors-baiting prose and Alex North's steamy jazz score. Even the opening line namechecks several NOLA landmarks: "They told me to take a streetcar named Desire, and then transfer to one called Cemeteries and ride six blocks and get off at Elysian Fields." Adapted for the screen by Williams himself, Streetcar was tamed considerably by the uptight folk behind the Hays Code, yet its primal heat is not sacrificed. The characters exist in a sultry summer haze of fan-cast shadows and ramshackle surroundings, stripped down to their base passions (and, frequently, various undergarments). The cumulative effect is as Method as leading man Brando himself, intense and spellbinding. "I don't want realism, I want magic," Blanche says late in the film. Streetcar, like its setting, is both.
---
Amanda Schurr is Assistant Movies Editor at Paste and a Pac NW-based culture writer. You can follow her on Twitter.