Chadwick Boseman Fights Injustice in the First Trailer for Thurgood Marshall Biopic Marshall
Images via Open Road Films
Movies
Video
Marshall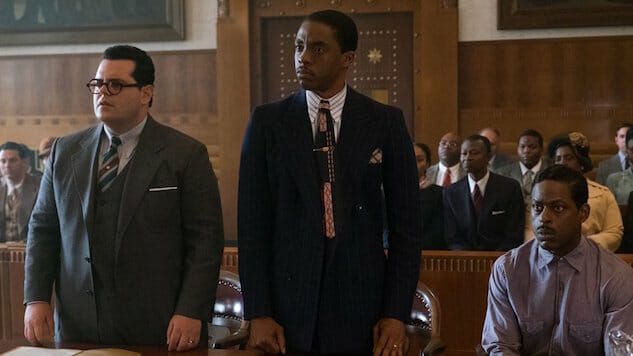 Chadwick Boseman plays a different type of hero in the first trailer for forthcoming courtroom thriller Marshall.
The Black Panther star plays Thurgood Marshall, the lawyer who was responsible for winning the case that desegregated schools and went on to become first African-American Supreme Court Justice. The film follows Marshall earlier in his career as an attorney for the NAACP.
The trailer for the biopic shows a gritty young Marshall facing the challenges of a biased justice system in a case of a black chauffeur accused by his white employer of sexual assault and attempted murder.
Boseman is no stranger to biopics, previously portraying Jackie Robinson in 42 and James Brown in Get on Up.
Marshall is directed by Reginald Hudlin and produced by Open Road Films. Boseman stars alongside Sterling K. Brown, Josh Gad, Kate Hudson, Dan Stevens, James Cromwell and Jussie Smollet.
Marshall hits theaters Oct. 13. Watch the trailer above.