Peter Dinklage in Talks to Join the MCU for Avengers: Infinity War
Photo by Alberto E. Rodriguez/Getty
Movies
News
Marvel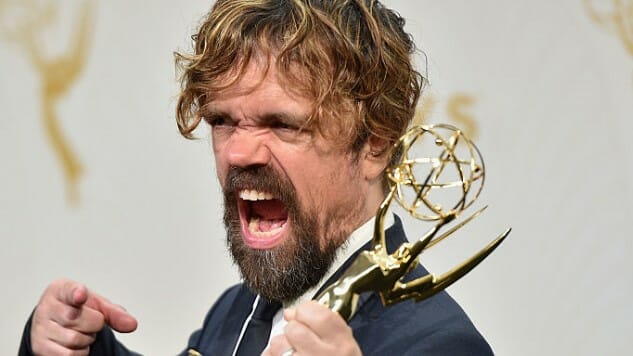 It seems that Peter Dinklage is making the jump from Fox to the Marvel Cinematic Universe, as evidenced by the fact he's in early talks to join Avengers: Infinity War, as well as its untitled sequel, in a key role, as first reported by Variety. Dinklage previously played Bolivar Trask, the one instrumental in making the sentinels a problem for the X-Men in Days of Future Past. And while Fox still holds the rights to X-Men, Dinklage will not be crossing his streams much here.
Joe and Anthony Russo will be helming the next grand foray into the world of the Avengers, which is said to be as much of a spectacle as one might hope. It's a little foreboding as to what it might mean, but pretty exciting stuff. Anthony told EW in August:
I can't get into too much detail about who we're introducing, but these two movies are intended to be the culmination of everything that has happened in the [MCU] since the very first Iron Man movie. In being a culmination, these movies are in some ways going to be an end to certain things, and in some ways, they're going to be the beginning of certain things.
Infinity War is also being talked about as one of the biggest films in the MCU, toting nearly 70 Marvel characters, including Brie Larson as Captain Marvel and the Guardians of the Galaxy. What that could possibly mean is unfathomable, but we're pretty excited for it.
Avengers: Infinity War is slated for release on May 4, 2018.