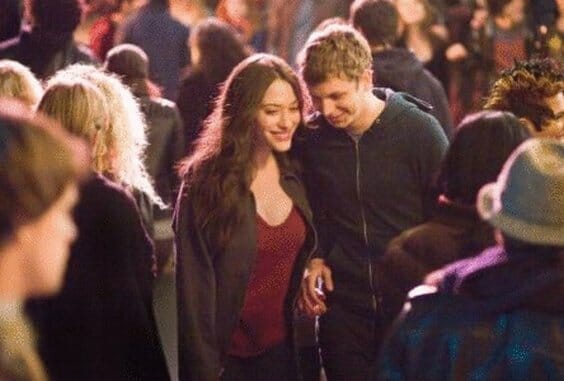 Release Date: Oct. 3
Director: Peter Sollett
Writers: Lorene Scafaria
Cinematographer: Tom Richmond
Starring: Michael Cera, Kat Dennings, Aaron Yoo, Rafi Gavron, Ari Graynor, Alexis Dziena
Studio/Run Time: Columbia Pictures, 90 mins.

Nick and Norah's Infinite Playlist,from director Peter Sollett (Raising Victor Vargas), plays the indie-music angle—especially a search for the nebulous, undergroundperformance—like the dilemma of youth itself.
The film follows its title characters through a New York all-nighter in search of that mythic concert. It's an adult representation of the precocious Manhattanite's teenage experience, which the movie tries to reconcile by forcing its audience into embarrassing moments. After all, what feels more adolescent than repeated humiliation? The more successful of these tap into the awkwardness we've seen in every Michael Cera role, but many of the situations the film creates feel forced and irrelevant.
One of the more painful goings-on involves a friend of Norah's (Ari Graynor) fishing her chewing gum out of a vomit-filled toilet in a train station. Memorable? Yes, but when the landmark scene of an artsy teen romance invokes the viewer's gag reflex, something is out of balance.
But if Nick and Norah can be hard to watch, the Candyland portrayal of the New York cityscape reassures the audience. As the characters stumble from one club to another, the every-colored neon lights present the city as it must be from the perspective of invincible youth.
And it's that sparkle that brightens the film as New York itself becomes our only real guide through the lethargic narrative midsection. When the young love finally does come to fruition, the characters feel the same about the experience as the audience does: It's been very strange—at turns comic, boring and nerve-wracking—but at least it was a half-good adventure.