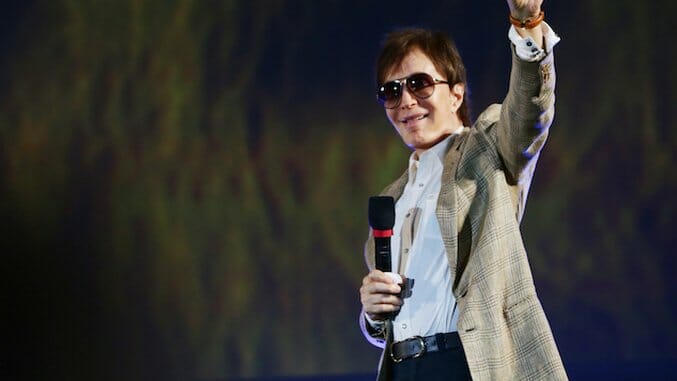 Director and screenwriter Michael Cimino died Saturday at the age of 77. His career was controversial, to say the least, and has become a cautionary tale for how not to conduct yourself in the wild and weird world of Hollywood studio moviemaking. In 1978, Cimino's second feature, the Vietnam War drama The Deer Hunter, won five Academy Awards (including Best Picture and Best Director honors) and solidified him among the major American filmmakers then working in the industry. But by the time his third movie, the grim epic Western Heaven's Gate, was released in 1980, the bottom had dropped out. Grossly over budget, the movie was vilified by critics upon its opening night screening and the studio, United Artists, circled its wagons and yanked it from release after a dismal one-week run. A year later Heaven's Gate got another chance to connect with an audience, though its hefty 219-minute running time was chopped to 149 minutes, in hopes of making it more palatable for a general audience. Audiences stayed away regardless of the re-edit.
Heaven's Gate brought down a major studio, halted Cimino's career, and effectively ended the decade-long New Hollywood era of director-controlled projects, an artistic high point for American cinema. In the disaster's wake, the major film studios reasserted their weight and reined in their filmmakers like the employees they always were. Cimino wasn't the only filmmaker who had been horribly over-the-top with his budgets and ambition—it could have easily been Francis Ford Coppola with Apocalypse Now, a movie that had been in the same dire straits production-wise—but he was the one to get caught, and given a thorough public shaming for his excess, hubris and stubbornness.
Cimino began his career as a screenwriter in 1972, co-writing Silent Running, a science fiction movie starring Bruce Dern and directed by special-effects wizard Douglas Trumbull. The following year Cimino and John Milius co-scripted the Dirty Harry sequel Magnum Force. Clint Eastwood was so impressed with Cimino's talent that he hired Cimino to make his directorial debut with the buddy crime movie Thunderbolt and Lightfoot, starring Jeff Bridges opposite Eastwood. It's a solid, modest picture and features gorgeous widescreen cinematography of the Montana countryside. But it was Cimino's next picture that changed his career forever and announced the arrival of a serious artistic presence.
Before the release of The Deer Hunter in late 1978 (and Hal Ashby's Coming Home earlier in the year), filmmakers and the major Hollywood studios had stayed away from dealing with the Vietnam War on screen in any substantial way. Certainly not head on. That all changed with Cimino's complex, emotionally draining three-hour epic, starring an exceptional ensemble cast—Robert De Niro, Christopher Walken (who won an Oscar for his performance), John Savage, John Cazale and Meryl Streep. Harrowing, brutal, graphically violent and visually stunning, The Deer Hunter is a total immersive experience and not an easy one to shake off after viewing. It demands emotional investment from its audience. It demands commitment.
The movie was highly divisive upon its original release. Some critics accused Cimino of racism over the depiction of North Vietnamese soldiers as sadistic, almost-inhuman brutes in scenes when De Niro's, Walken's and Savage's characters are held prisoner in a cramped, rat-infested hut on the banks of a river, where they're forced to play Russian roulette for the amusement of their captors. The grueling sequence is still unparalleled for its kinetic ferocity. The use of Russian roulette in the movie was also criticized by some critics and many veterans for being ahistorical. Regardless of the controversy, The Deer Hunter stands as one of the best American movies of the 1970s—a contrast of cinematic riches in which the subtle and melodramatic intermingle, character-driven nuance nestles alongside mythic narrative tropes, and unbearable pain and majestic beauty find union. It's a masterpiece that resonates almost 40 years later.
With Heaven's Gate, Cimino tried to top himself with an even more ambitious production, one designed to not only depict life in the West of the 1890s like no other picture before it, but also examine America's class and power structures like no studio movie had ever dared. But to reimagine the Old West with the proper verisimilitude, Cimino needed lots of money. And United Artists obliged. Heaven's Gate ran into numerous problems—cost overruns, production delays, reshoots and much more. Steven Bach, a UA executive, wrote about the whole sad affair in his 1999 book, Final Cut.
Heaven's Gate is at once foolhardy, audacious, visually ravishing and hauntingly poetic. It's still one of the greatest Westerns ever made, though not the masterpiece Cimino intended. Unlike The Deer Hunter, in which he was able to mix the character-driven storylines seamlessly with the larger narrative, the emotional core here is overshadowed by the director's political and historical concerns. In the decades after its failed release, and for years vilified by American critics (many European ones always championed it), Heaven's Gate has slowly garnered a favorable reexamination by critics and filmgoers. In 2012, it was finally restored to its full ragged glory under the supervision of Cimino, and released on Blu-ray and DVD by the Criterion Collection.
In the years following Heaven's Gate's initial box office and critical pummeling, the director's career basically flatlined, although he did try to put together numerous projects—The Fountainhead, Footloose, The Pope of Greenwich Village, among others. Of the movies he was able to direct, his most notable post-Heaven's Gate feature is the gritty, hyper-violent 1985 crime movie Year of the Dragon, scripted by Oliver Stone and starring Mickey Rourke as a tough New York City cop (and Vietnam vet) out to shut down the Chinese drug gangs by any means necessary. As with The Deer Hunter, Cimino was criticized by many in the press for its racism and xenophobia. The movie has plenty of problems, and the lead performance by model Ariane Koizumi is atrocious, but it's also an exciting, stylish and fascinating two-fisted affair. Cimino also directed the mafia drama The Sicilian, based on the novel by Mario Puzo, Desperate Hours (a remake of the 1955 Humphrey Bogart crime movie), and The Sunchaser, starring Woody Harrelson.
Cimino's legacy is one of paradoxes, much like his two finest movies. On a visual level (Cimino studied painting at Yale), The Deer Hunter and Heaven's Gate reveal much of their depth and power through their cinematography (both created by Vilmos Zsigmond) and the layers of meaning that emanate through images, composition and symmetry. He was our American David Lean and Luchino Visconti. But also like those two titans of extravagant filmmaking, Cimino craved the intimate, the naturalistic, the hum of calm at the base of the greater drama. There was a real curiosity about everyday people, the ones on the margins of history and the movies—blue collar steel workers in The Deer Hunter and European immigrants roughing it in the West in Heaven's Gate. Unlike his New Hollywood contemporaries such as Steven Spielberg and George Lucas, Cimino gravitated to something more complex than reconstituting Saturday matinee serial fare for a jaded, burned-out post-Vietnam audience. He was grappling with American history and how it informed the national experience of the moment. That he accomplished it and yet failed was another remarkable feat in a career of them.
---
Derek Hill is the author of
Charlie Kaufman and Hollywood's Merry Band of Pranksters, Fabulists and Dreamers
. He contributed to the books
Directory of World Cinema: Japan
and
Directory of World Cinema: American Independent
,
The Philosophy of Charlie Kaufman
, and to a number of print and online publications, including Video Watchdog, Images and Little White Lies. He lives in Eugene, Ore.