New Missing Link Trailer Brims with Sea Monsters, Sasquatch and … Susan?
Image via Annapurna/YouTube
Movies
News
Missing Link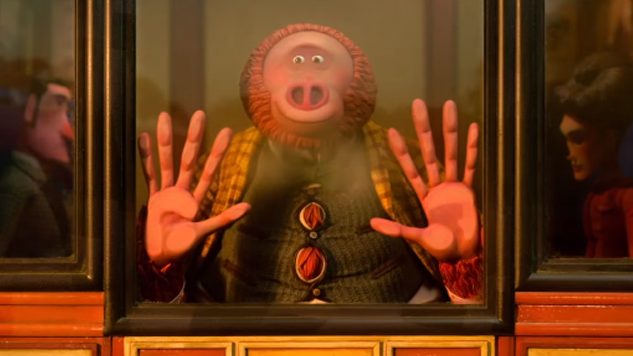 Oregon-based stop-motion animation studio Laika has crafted its own cozy corner of animated family movies over the last decade. While the studio currently only boasts four feature films, from Coraline to Kubo and the Two Strings, its projects have, for the most part, enjoyed critical acclaim and box-office success.
Now, Laika is adding a fifth movie to its roster: Missing Link, an adventure following the hirsute hero Mr. Link (known the world over as Bigfoot, Yeti, Sasquatch, etc.) as he seeks out his long-lost relations in Shangri-La. Mr. Link (Zach Galifianakis) leaves his lonely life in the Pacific Northwest, enlisting the help of explorer Sir Lionel Frost (Hugh Jackman) and adventurer Adelina Fortnight (Zoe Saldana) as he embarks on his quest.
The trailer, backed by Paul Simon's "Me and Julio Down by the Schoolyard," proves as charming as you'd expect. Mr. Link is an Amelia Bedelia-esque character, taking everything quite literally with benign naïveté. The textured beauty of stop-motion adds a new dimension of wonder to the film's vast landscapes, from the snow-capped mountains to the overgrown forests.
Missing Link is written and directed by Chris Butler, who's already proven his worth as the writer for Kubo and the Two Strings and writer/director for ParaNorman, both Laika features. There's a whole host of talent in the rest of the voice cast, composed of Timothy Olyphant (Santa Clarita Diet), Little Britain's David Walliams, Dame Emma Thompson (The Children Act), Matt Lucas (Little Britain, also the strange roommate in Bridesmaids), Ching Valdes-Aran (Across the Universe), Stephen Fry (who recently lent his voice to the Danger Mouse reboot) and Amrita Acharia (Game of Thrones).
Missing Link hits the big screen on April 12. Watch the latest trailer below and revisit the first one here.