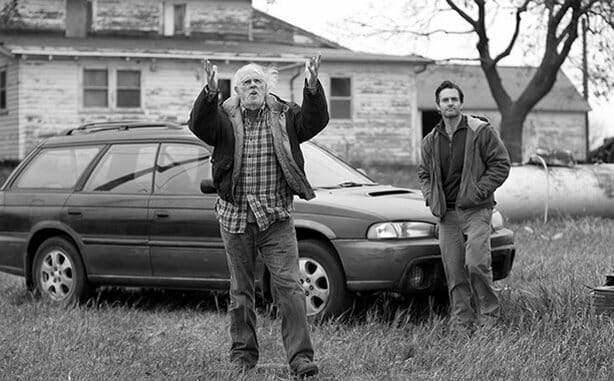 The first question at the Cannes press conference for Nebraska, the new film from Alexander Payne, was about why the director decided to shoot his comedy-drama in black and white. It's an understandable query. Studios don't like black-and-white movies from a commercial perspective and, because Payne's films emphasize character and dialogue, they're not necessarily thought of as being grandly cinematic, which might require such a striking look. But after seeing the film, the choice makes more than a little sense. Payne doesn't use black and white to make his movie grand. Quite the contrary, he uses the lack of color to illustrate his characters' tiny, quiet existence. To paraphrase a line from Paul Simon, their lives are so common they practically disappear.
Nebraska is much in the same vein as Payne's last film, The Descendants, in that it has inklings of being a comedy when really it's just a melancholy drama with the occasional chuckle. After venturing to California wine country for Sideways and Hawaii for The Descendants, he's back in his native Nebraska, which in his early films (best of all, Election) he chronicled with fondness but also a clear-eyed candor. In his Midwestern films, his protagonists are often coping with lives that aren't quite as happy as maybe they would have hoped. They don't have big dreams—it's not as if they want to be musicians or champion boxers or astronauts—but still they've fallen into mediocrity and regret. Payne may poke fun at them, but the deep affection for their foibles is just as evident.
His new film is filled with these disgruntled sorts. It stars Will Forte as David Grant, an electronics salesman living in Billings, Montana, the same town where his parents now reside. His father, Woody (Bruce Dern), is a miserable cuss: He drinks too much, can't hear very well, and generally wants to be left the hell alone, especially by his wife Kate (June Squibb). Woody's mental faculties are fading, demonstrated by the fact that he's giddy about winning a million dollars. He hasn't, of course, but he assumes that he has because of a sweepstakes offer that came in the mail saying that he did. (Woody isn't interested in the fine print.) The catch is that he has to go Lincoln, Nebraska, to redeem his money, and although David knows that the whole thing is nonsense, he reluctantly agrees to drive his father, figuring if it'll make the old man happy, what's the harm?
This father-and-son road movie has certain conventionalities embedded in its DNA. But whether because of the black-and-white images or the stripped-down sparseness of Payne's compositions, Nebraska feels somewhat different than his other films. It's a little more deadpan and a little more depressive. And it's the first time that Payne's ability to create emotional wallops based on understated scenes felt a bit mechanical. Such moments still work, but you can see the strings being pulled. Maybe not surprisingly, then, the movie represents a sort of crossroads for Payne—appropriate choice of words for a road-trip film—in which he's trying to find new ways to express familiar sentiments. (The critical consensus from Cannes about Nebraska is that it's "minor Payne." I think it might be more accurate to call it a transitional film, with one foot in his old techniques and one tentatively standing in new ones.)
Woody doesn't seem to like David all that much—he really doesn't like anyone—and part of Nebraska's spark comes from the oil-and-water relationship of the two men. The actors are studies in contrasts, as well. Forte, best known from Saturday Night Live and 30 Rock, shows a dramatic side he hasn't before, although it's a consciously muted turn, apropos for a character who struggles to assert himself in most aspects of his life. On the other hand, you have Dern, a veteran who gives a nicely controlled performance as an oblivious, crotchety, occasionally foolish elderly man. With his wild hair and grizzled stare, Woody seems to be just one more bad fall or one too many beers from the grave, and because he never wants to talk about himself, he's a cranky cipher, as frustrating to understand for us as he is for David.
Naturally, Nebraska's journey is about David finally cracking his father's façade to understand him better. But Payne (working from a script by Bob Nelson) is too smart to reveal Woody fully. An unexpected digression takes them to the small Nebraska town where David and his brother (Bob Odenkirk) grew up, and the community turns out to be filled with tantalizing clues about who Woody was as a younger man. The information sometimes contradicts itself, but it speaks to the mysteries we all have about our parents, these people we don't think of as dimensional, flesh-and-blood people but, rather, just as "Mom" and "Dad." Poignantly, Nebraska examines the impossibility of trying to figure out some profound "truth" about our families. They're just these strange creatures that we'll never quite understand—just as we can't ever get a handle on ourselves.
In later years, Payne has moved away from the piercing satire of his early movies for a more mature, sentimental tone. It flows freely through Nebraska, although this warmer approach seems to be softening his comedic instincts. None of his previous movies have such iffy bits of slapstick and strained comedy sequences as this one does. Rather than working organically within the story, these moments feel like a feint to break up the overwhelming sadness of the piece. (The only actor who's consistently funny is Squibb, who's just about perfect as the no-bull matriarch of this mopey clan.)
Nebraska reaches an emotional conclusion that has echoes of About Schmidt and The Descendants, and Payne handles his finale with grace and finesse. But there's also a bit of formula to it, the filmmaker perhaps spoiling us with so many finely tuned movies that sit on the precipice between laughter and tears. He chronicles his turf better than anyone, but that doesn't mean it can't sometimes feel a bit routine.
Director: Alexander Payne
Writer: Bob Nelson
Starring: Bruce Dern, Will Forte, Bob Odenkirk, June Squibb, Stacy Keach
Release Date: Screening in the Official Competition at the 2013 Cannes Film Festival