Quentin Tarantino's Once Upon a Time in Hollywood Casts its Charles Manson
Rumer Willis and Margaret Qualley have also joined the film's already-massive cast
Photos by Frazer Harrison/Getty, Matt Winkelmeyer/Getty, Rich Fury/Getty
Movies
News
Once Upon a Time in Hollywood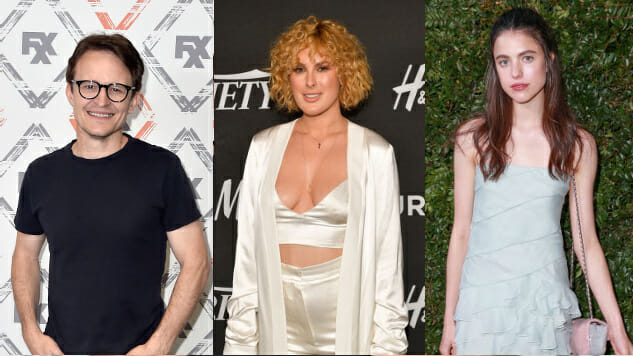 The sprawling cast of Quentin Tarantino's Once Upon a Time in Hollywood is getting even bigger. Tarantino's ninth film, set in late-'60s Los Angeles around the Manson Family murders, has cast Justified's Damon Herriman as its Charles Manson, plus (deep breath) Rumer Willis, Margaret Qualley, Joanna Pettet, Costa Ronin, Victoria Pedretti and Madisen Beaty, per The Wrap.
This isn't even the only Once Upon a Time casting update in the past week alone, as we found out last week that Uma Thurman's daughter, Maya Hawke, would be joining the cast, along with Austin Butler and Lena Dunham.
While the Manson murders play an important role in the film's 1969 L.A. period setting, it seems that the infamous cult leader himself will take a backseat to the Hollywood of it all, as Herriman's Manson is said to be a supporting player in the film.
Once Upon a Time in Hollywood will center on former TV star Rick Dalton (Leonardo DiCaprio) and his stunt double Cliff Booth (Brad Pitt), making their way through an industry they no longer recognize. And with no disrespect to Herriman, the Oscar-nominated Margot Robbie is a far buzzier choice as Manson's most famous victim, Sharon Tate.
And with the controversies around casting Thurman's daughter Maya Hawke, following recent revelations about Thurman's experience on the set of Kill Bill: Vol. 2, and no less a target of fiery thinkpieces than Girls creator Lena Dunham, it wouldn't be surprising if we didn't hear too much about Charles Manson as Once Upon a Time makes its rollout.
The film's ever-expanding cast also raises the question of whether Tarantino, whose already-overstuffed films have gotten even more bloated since the death of his longtime editor Sally Menke in 2010, will be able to get Once Upon a Time down to a manageable length.
Either way, leave plenty of room in your schedule on July 26, 2019, when Sony Pictures is set to release the film.