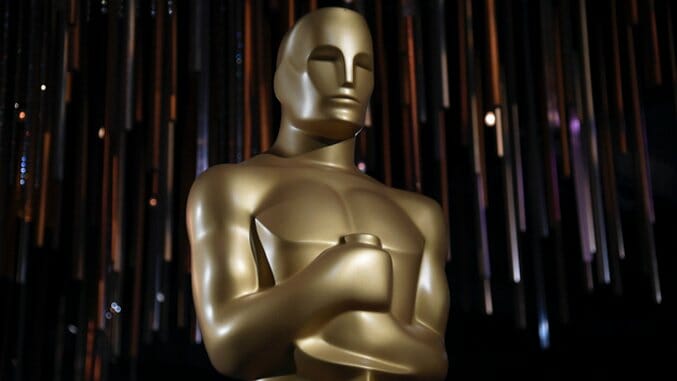 A truncated awards season comes to a close with the 92nd Academy Awards, happening earlier than ever tonight, Feb. 9, and as short as the red carpet-wrecking interval between now and Jan. 5's Golden Globes has been, it may as well have been even shorter: Some of tonight's biggest winners have seemingly been preordained, vacuuming up precursor after precursor on their obstacle-free roads to Oscar gold, and all that's left are their actual victory laps. But it's the potential for surprises (however small) we'll key in on tonight, and we cordially invite you to join us.
We'll be following along with all the action out of the Dolby Theatre at Hollywood & Highland Center in Hollywood tonight, where the Oscars will go without a host (ignoring our spot-on ideas) for the second year running, which is still just the third time in the Academy of Motion Picture Arts and Sciences' history. We can't blame them: Last year's laid-back, entertaining ceremony practically made the idea of an Oscars host obsolete, to the tune of a significant ratings boost, and this year will feature a similar approach, with another staggering array of stars acting as presenters:
Jane Fonda, Josh Gad, Tom Hanks, Oscar Isaac, Sandra Oh, Natalie Portman, Chris Rock, Taika Waititi, Mahershala Ali, Utkarsh Ambudkar, Zazie Beetz, Timothée Chalamet, Olivia Colman, James Corden, Penélope Cruz, Beanie Feldstein, Will Ferrell, Gal Gadot, Zack Gottsagen, Salma Hayek, Mindy Kaling, Diane Keaton, Regina King, Shia LaBeouf, Brie Larson, Spike Lee, Julia Louis-Dreyfus, George MacKay, Rami Malek, Steve Martin, Lin-Manuel Miranda, Anthony Ramos, Keanu Reeves, Ray Romano, Maya Rudolph, Mark Ruffalo, Kelly Marie Tran, Sigourney Weaver, Kristen Wiig and Rebel Wilson.
In between awards, we'll be treated to performances of all five of this year's Best Original Song nominees, courtesy of Cynthia Erivo, Oscar winner Elton John, Idina Menzel, Chrissy Metz and Oscar winner Randy Newman, as well as performances by stars like Billie Eilish, Janelle Monáe and Questlove. And Eímear Noone will guest-conduct a segment of the show, making her the first woman to conduct during an Oscars telecast—the Academy will take wins on gender parity wherever they can find 'em.
Don't begrudge us our digs, we beg of you. This year's slate of nominees shows how agonizingly slow the Oscars' progress has been, with just one actor of color (Harriet star Erivo) nominated in the four major acting categories, as well as an all-male slate of directors. Bong Joon Ho's Parasite and Todd Phillips' Joker might as well be locked in a battle for the soul of the Academy, but after all is said and done, it's Sam Mendes' 1917 that may end up the night's biggest winner of all. Make of that what you will.
The 92nd Academy Awards air live on ABC starting at 8 p.m. ET, leaving you a little while to look over Paste's preview of the evening, including the Movies team's predictions for who will win, arguments for who should win and righteous anger over who got snubbed. We've also assembled a handy streaming guide for you cinephile completists angling to squeeze in one last nominated film (or two, or more, if we're talking shorts) before the ceremony.
Watch this space to follow along with tonight's big winners in real time, starting alongside the ceremony at 8 p.m. and updating live throughout the night. In the meantime, you can brush up on the nominees for each category below. Winners will be denoted and offset in bold as they are announced.
---
Best Picture
Ford v Ferrari
The Irishman
Jojo Rabbit
Joker
Little Women
Marriage Story
1917
Once Upon a Time in Hollywood
WINNER: Parasite
Lead Actor
Antonio Banderas, Pain and Glory
Leonardo DiCaprio, Once Upon a Time in Hollywood
Adam Driver, Marriage Story
WINNER: Joaquin Phoenix, Joker
Jonathan Pryce, The Two Popes
Lead Actress:
Cynthia Erivo, Harriet
Scarlett Johansson, Marriage Story
Saoirse Ronan, Little Women
Charlize Theron, Bombshell
WINNER: Renee Zellweger, Judy
Supporting Actor
Tom Hanks, A Beautiful Day in the Neighborhood
Anthony Hopkins, The Two Popes
Al Pacino, The Irishman
Joe Pesci, The Irishman
WINNER: Brad Pitt, Once Upon a Time in Hollywood
Supporting Actress
Kathy Bates, Richard Jewell
WINNER: Laura Dern, Marriage Story
Scarlett Johansson, Jojo Rabbit
Florence Pugh, Little Women
Margot Robbie, Bombshell
Director
Martin Scorsese, The Irishman
Todd Phillips, Joker
Sam Mendes, 1917
Quentin Tarantino, Once Upon a Time in Hollywood
WINNER: Bong Joon Ho, Parasite
Animated Feature
How to Train Your Dragon: The Hidden World
I Lost My Body
Klaus
Missing Link
WINNER: Toy Story 4
Animated Short
Dcera (Daughter)
WINNER: Hair Love
Kitbull
Memorable
Sister
Adapted Screenplay
The Irishman
WINNER: Jojo Rabbit
Joker
Little Women
The Two Popes
Original Screenplay
Knives Out
Marriage Story
1917
Once Upon a Time in Hollywood
WINNER: Parasite
Cinematography
The Irishman
Joker
The Lighthouse
WINNER: 1917
Once Upon a Time in Hollywood
Best Documentary
WINNER: American Factory
The Cave
The Edge of Democracy
For Sama
Honeyland
Best Documentary Short Subject
In the Absence
WINNER: Learning to Skateboard in a Warzone (If You're a Girl)
Life Overtakes Me
St. Louis Superman
Walk Run Cha-Cha
Best Live Action Short Film
Brotherhood
Nefta Football Club
WINNER: The Neighbors' Window
Saria
A Sister
Best International Feature Film
Corpus Christi
Honeyland
Les Miserables
Pain and Glory
WINNER: Parasite
Film Editing
WINNER: Ford v Ferrari
The Irishman
Jojo Rabbit
Joker
Parasite
Sound Editing
WINNER: Ford v Ferrari
Joker
1917
Once Upon a Time in Hollywood
Star Wars: The Rise of Skywalker
Sound Mixing
Ad Astra
Ford v Ferrari
Joker
WINNER: 1917
Once Upon a Time in Hollywood
Production Design
The Irishman
Jojo Rabbit
1917
WINNER: Once Upon a Time in Hollywood
Parasite
Original Score
WINNER: Joker
Little Women
Marriage Story
1917
Star Wars: The Rise of Skywalker
Original Song
"I Can't Let You Throw Yourself Away," Toy Story 4
WINNER: "(I'm Gonna) Love Me Again," Rocketman
"I'm Standing With You," Breakthrough
"Into the Unknown," Frozen II
"Stand Up," Harriet
Makeup and Hair
WINNER: Bombshell
Joker
Judy
Maleficent: Mistress of Evil
1917
Costume Design
The Irishman
Jojo Rabbit
Joker
WINNER: Little Women
Once Upon a Time in Hollywood
Visual Effects
Avengers: Endgame
The Irishman
The Lion King
WINNER: 1917
Star Wars: The Rise of Skywalker