Peter Jackson's WWI Doc They Shall Not Grow Old Will Expand to Wider Screenings After Huge Box Office Success
Photos via Warner Bros. Pictures
Movies
News
peter jackson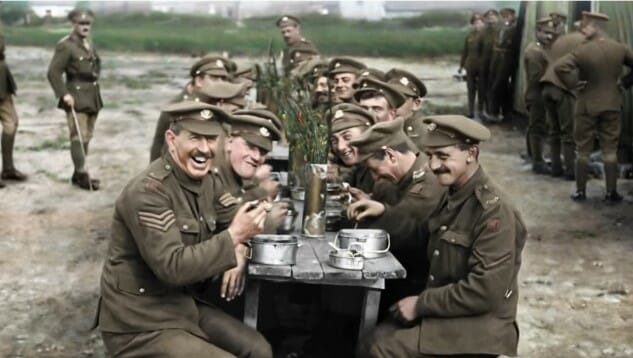 Peter Jackson's acclaimed new World War I documentary, They Shall Not Grow Old, has been lighting up the box office in limited release, and setting some records in the process. Released by Fathom Events, which specializes in one-day releases such as opera performances or live Rifftrax performances, They Shall Not Grow Old has made a rather incredible $5.4 million in only two days of showings, at a mere 1,142 theaters. And its second day of release was even better than its first, taking in $3.1 million from 1,122 theaters on Thursday.
Suffice to say, for a historical documentary these are pretty eye-popping figures, and they more than justify a wider release for They Shall Not Grow Old. As such, Warner Bros. will launch limited theatrical releases in NYC, L.A. and Washington DC starting on January 11, with plans to then expand into 25 more markets on Feb. 1.
We can only assume this is quite validating for Jackson, who approached the documentary as a passion project he'd been hoping to achieve for quite a long time. Using visual FX techniques that were first pioneered by his Weta Digital studio for The Lord of the Rings, Jackson and co. used the voices of more than 120 actual WWI soldiers and colorized countless hours of archival footage in order to present WWI in a way that it had never been seen before. The result is an immersive experience that has given modern generations an entirely new level of closeness to events that occurred a century ago.
Look for They Shall Not Grow Old in your own market, starting in early February.