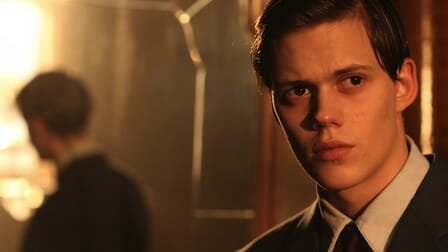 Simon and the Oaks is a lot of things, but above all, it is too much. The film begins on a note of magical realism, then rolls through wartime struggles, familial conflict and growing pains. At times, it seems director Lisa Ohlin might pull off an emotional study of lives changing drastically during World War II. But by the end, it feels like a symphony in which no two instruments can play at once.
It's a shame, because the film kicks off with some lovely visuals. It takes place in a village on the edge of Gothenburg, Sweden, during World War II. The title character rests in a giant oak tree on the rocky waterfront, looking at the golden fields and giant skies, seeing camels in the cloud shapes. Ohlin superimposes cinematographer Dan Lausten's shots over one another to suggest a sort of mystical power held within the idyllic scenery. Young Simon (Jonatan S. Wächter) views his oak tree as a magical force, whispering to it and asking it to help him get into grammar school in the city. Once the tree answers that favor, he asks it to make his dad let him go to the school.
Simon's disapproving father (Stefan Gödicke) is the perfect cliché, whining about how his son reads too much instead of playing sports and making friends. He laments that Simon never wants to pick fights with other boys, and teaches him how to throw a punch if someone insults him. This tip proves handy on the first day of school, when he meets Isak (Karl Martin Eriksson), a wealthy German Jewish boy. When some older boys start spewing Nazi hate at Isak, Simon simply clocks one of them in the face. Thus a friendship is cemented.
Isak is equally important to the story as Simon, especially during the film's first—and best—section. The boys' two very different families begin to interact. Isak's wealthy father (Jan Josef Liefers) runs a huge book shop, a spring of culture unlike anything Simon sees during life outside the city center. Isak's mother is a shut-in who has gone mad with fear of the Nazis. While such a fear is obviously justified, in her case she has lost all rationale, and soon becomes disturbingly volatile. Simon's parents offer to help take care of Isak, and he needs more attention as it becomes clear he still has emotional scars from his time is Germany.
The families begin to merge, and the actors play well off one another while portraying both bonding and friction. Isak learns to do woodwork with Simon's father, and Simon begins to take in more culture with Isak's father. A conflict surfaces between the two dads, as the wealthy one always wants to show his gratitude with money, while the poorer man is easily insulted and refuses to take what he sees as charity. These very different sets of people discover their importance to one another because of the war.
But each time, just as the story starts to draw one in, the story skips forward to the next chapter. Bill Skarsgård and Karl Linnertorp take over the roles of Simon and Isak, respectively, as boys enter adulthood. Their performances never capture the immersive quality of their younger counterparts, largely because they never have time to reflect.
The film is not aiming to be a tightly structured narrative, so it would be foolish to complain that it's not. But it lacks a clear sense of what each little episode achieves. I haven't read the 1985 source novel by Marianne Fredriksson, but suspect the filmmakers might have been trying too hard to include everything from the book. In particular, Simon's two romantic relationships lack any sense of payoff. They're so rushed that the film never has a chance to show how one meaningfully affects the next, or how both contribute to the character's worldview. In one case, a single meet-cute is the only interaction the filmmakers deemed necessary to establish a long-lasting relationship. Well, that's not entirely true—there's also an oh-so-original shot of them nervously holding hands while watching a movie.
Simon and the Oaks would have benefitted by either a longer running time or fewer thematic elements. As it is, the film lacks the sustained focus or theme capable needed to effectively convey its characters' journeys. It is merely 40 promising ideas, waiting to be gel into something meaningful.
Director: Lisa Ohlin
Writer: Marnie Blok; Marianne Fredriksson (novel)
Starring: Bill Skarsgård, Jonatan S. Wächter, Karl Martin Eriksson, Helen Sjöholm, Stefan Gödicke and Jan Josef Liefers
Release Date: Oct. 14, 2012