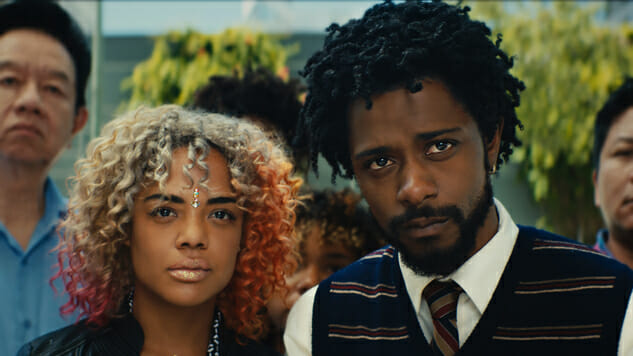 Boots Riley's directorial debut Sorry to Bother You has looked flat-out bonkers since it arrived on radar, premiering at Sundance in January and getting snapped up by Annapurna Pictures soon after. The film's first trailer dropped in March, around the same time it screened at SXSW, quickly earning Sorry to Bother You a reputation as the weirdest, wackiest movie of 2018.
Well, nothing has changed in the film's new red band trailer, which includes, among other things, protagonist Cassius Green (Lakeith Stanfield) telemarketing to a couple getting busy on their couch, Detroit (Tessa Thompson) modeling a bikini bottom shaped like a middle finger and one of Cassius' wild-eyed bosses repeatedly shouting "Fuck you" at his employees. It speaks to Riley's vision that all of the above feels completely normal in the context of the story he's telling, which is synopsized as follows: "In an alternate present-day version of Oakland, telemarketer Cassius Green discovers a magical key to professional success, propelling him into a macabre universe." That magical key—a "white voice," provided here by David Cross—is a clear sign that, for all its madcap energy, Sorry to Bother You has something serious to say.
Sorry to Bother You is out in select theaters on July 6 before going wide on July 13. It stars Armie Hammer, Patton Oswalt, Steven Yeun, Terry Crews, Danny Glover, Omari Hardwick, Marcella Bragio, Tom Woodruff Jr., Kate Berlant, Jermaine Fowler, Robert Longstreet and Teresa Navarro, in addition to Stanfield, Thompson and Cross. Watch the film's red band trailer below and revisit the previous trailer here.